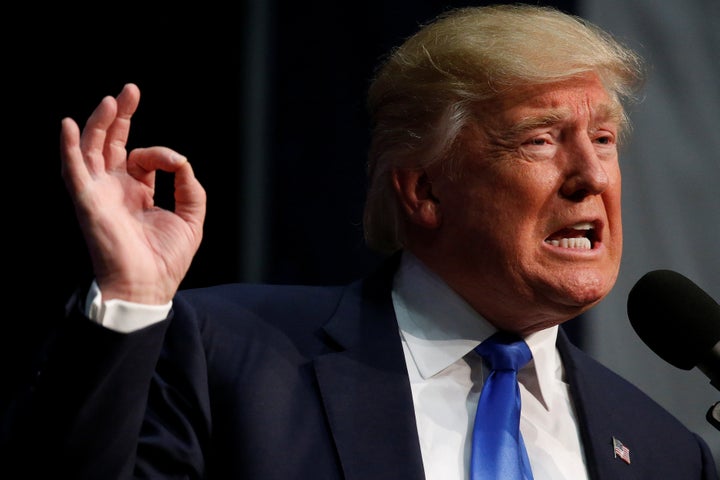 DES MOINES, Iowa -- It's probably too soon to run for the hills just yet.
But if you're worried about the possibility that the nuclear launch codes might a year from now be in the hands of a megalomaniacal strongman with a tenuous grip on reality, the scene on the ground in Iowa with just three days to go until the caucuses won't make you feel much better.
Donald Trump appears poised to notch a major victory in the first electoral test of the year -- a win that would further launch him along a once implausible path toward actually becoming the 2016 Republican presidential nominee.
This prevailing sentiment solidified during Thursday night's debate when Sen. Ted Cruz (R-Texas) failed to capitalize on the GOP front-runner's glaring absence from the stage, instead choosing to bicker with the moderators in Trump-like fashion but without the flair.
And in a clear indication of his campaign's new strategic priority of trying to hold onto a now-tenuous second-place standing in Iowa at the expense of competing more explicitly to win it, the Cruz campaign is turning its focus over the airwaves away from the front-runner and toward Sen. Marco Rubio (R-Fla.).
The New York Times reported on Friday that Cruz had shifted almost all of his negative advertising away from Trump and toward Rubio, in a last-minute attempt to prevent the upstart Floridian from surging into a second-place showing in Iowa -- a result that would upend the race and might prove fatal to Cruz's 2016 hopes.
GOP strategist Bob Haus, who ran Rick Perry's two Iowa campaigns and is a frequent Trump critic, is among the plugged-in Republicans here who senses that Cruz is heading in the wrong direction at the worst possible time.
"I think Cruz peaked too early, became the target, and has sustained over a month of concerted fire from all quarters," Haus said. "It's taken its toll."
In the insular world of political punditry, where clichés are the common currency, "it all comes down to turnout" may be the most vacuous of all platitudes.
But in an Iowa campaign unlike any other that has come before it, the size of Monday's caucus pool will indeed tell the story.
The 2012 GOP caucuses saw record turnout of 121,501 votes, but that relatively impressive number still represented a mere 20 percent of active registered Iowa Republicans who could have shown up that year.
With public interest in this year's Republican race at unprecedented levels, even Cruz's top backers here are predicting the 2016 caucuses will exceed the numbers of 2012.
Bob Vander Plaats, an influential Iowa Christian conservative leader who has endorsed Cruz and sparred with Trump publicly, predicted that turnout on Monday would be somewhere in the 135,000 to 150,000 range.
"We're in uncharted territory," Vander Plaats said.
That could mean bad news for Cruz, whose path to victory in Iowa has always been through a more traditional turnout that would favor his base of evangelical, longtime caucus-goers, who are highly engaged in the somewhat laborious process.
Shane Vander Hart, an influential conservative writer in Iowa who also endorsed Cruz, also said he expects record-breaking turnout of over 130,000 GOP caucus-goers.
Vander Hart added that he does not anticipate an explosive increase in turnout much higher than that, which others have raised as a possibility.
"I'm thinking it is going to be more like the traditional electorate, but more energized," Vander Hart said.
The Trump campaign has directed its organizational efforts here almost exclusively on identifying, registering and turning out caucus-goers from the vast pool of Iowans who have never before participated in the event.
The Iowa secretary of state has reported modest but potentially significant gains in the number of registered Republicans in recent weeks.
"Those are Trump people, I would fully expect," said Iowa Republican Party Co-Chair Cody Hoefert. "Trump can win with record turnout. It doesn't have to be a tsunami. If turnout's in the 140,000 or 150,000 range, I think Trump can win. He doesn't need 200,000."
In his public pronouncements, Trump has mostly played up his own expectations, and the priority that he is placing on notching a victory here can be seen in his upcoming schedule.
After a quick sojourn on Friday to New Hampshire -- where his position remains particularly dominant -- Trump will be back in the Hawkeye State on Saturday for rallies in the Eastern Iowa cities of Dubuque, Clinton and Davenport along the banks of the Mississippi River.
The relatively busy public schedule that Trump's campaign has laid out through Monday suggests that the candidate again will overnight in Iowa on Sunday -- an allowance to the rigors of the campaign trail that is commonplace for every other candidate but rare for the New York City billionaire, who prefers to fly home to sleep in his own bed whenever possible.
Though Trump's enviable position as the man to beat in Iowa is clear, the state has produced unexpected results in the past, and with so much uncertainty about the makeup of this year's electorate, a Caucus Day surprise is hardly out of the question
A winter storm is expected to hit Iowa on Tuesday, the day after the caucuses. But if the inclement weather were to come a little earlier than expected, especially in the conservative-heavy western part of the state, it could throw another wrench into turnout expectations.
Iowa Republican strategist Tim Albrecht, whose firm consults for former Florida Gov. Jeb Bush, did not rule out the possibility that Trump's apparent strength here could still end up being a mirage.
But he was also clear-eyed about the reality that so many people tried to ignore for so long.
"We may look back six months from now and say, 'Of course, you boneheads! He's turning out 4,000 people [for a rally] in Burlington, Iowa. Did you think he wasn't going to win?'" Albrecht said. "If he brings out these new people, he's in great shape."