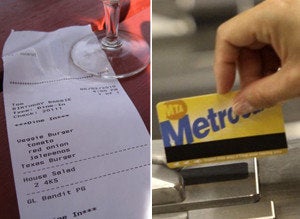 Hard times for New Yorkers means inventive ways of cutting back -- like stealing meals and subway rides!
At least that is the trend we are reading about today, as two reports of civil disobedience (or one, if you don't count flat-out stealing as something Thoreau would have condoned) are becoming trends in the city.
The New York Post says that in 2010, there was a huge increase in reports of those who bailed on a check at a restaurant.
Eating in a restaurant and leaving without paying the tab -- known in police parlance as "theft of service" -- rose almost 20 percent in the city last year, up from 315 arrests in 2009 to 376 in 2010, according to the NYPD. Of course, those numbers don't include the many scofflaws who successfully "lick and split."

The Post tells the story of a well-dressed man who bought five martinis at Union Square's posh Coffee Shop. He told his waitress he left his wallet in his car, and never came back.
Or the drunk 20-something who racked up a $300 bill at BB Kings, but "it wasn't until they saw a pedicab passing by that they decided the night's bill would be on the house." Explaining, "Sometimes you're drunk or, I don't know . . . "
Why the sudden spike in service theft?
Russia Today seems to have the answer. With falling wages, cuts in benefits, and alarming public transportation fare hikes, New Yorkers are fighting back with their own brand of economic disobedience. The video below is about the People's Transportation Program, an organization that is purchasing unlimited Metrocards and giving people free rides as a protest to the recent MTA fare increase ($104 for a monthly unlimited!).
Though perhaps a more common loophole in the Unlimited are those who ride the subway in tandem and share a Metrocard, waiting fifteen minutes before swiping the same Metrocard again.
WATCH: