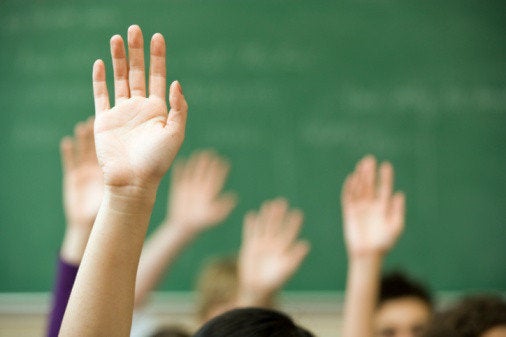 Despite a rise in test scores, 84 percent of Missouri's schools failed to make "adequate yearly progress," according to a report released by the state Thursday.
Margie Vandeven, assistant commissioner with the Office of Quality Schools at Missouri's Department of Elementary and Secondary Education, says she's frustrated with No Child Left Behind, a law that uses an "all or nothing" measure to rate her state's schools.
Vandeven said NCLB's broad brush, which paints schools as failing regardless of their growth, stigmatizes many schools that have improved. As a result, she's planning on requesting some sort of regulatory relief from the federal government by asking Secretary of Education Arne Duncan for a waiver.
She said she's not sure which provisions of the law the state would ask to waive, but the request is in the making. "We need to hold schools to a level that has that expectation of achievement, but you also need something in place that recognizes high achievement," Vandeven told The Huffington Post. "Now it's punitive."
With no tangible sign from Congress that relief in the form of an updated law will come any time soon, states from Missouri to Wisconsin are lining up to request waivers from the U.S. Department of Education as a means of getting around the statutes of No Child Left Behind. NCLB, a decade-old sweeping federal education law, requires schools to satisfy rising performance standards, working up to a demand of 100 percent proficiency by 2014.
In order to make "adequate yearly progress" (AYP) under the law, schools must satisfy ever-increasing state-set performance targets. AYP counts the percentage of students reaching such targets, regardless of students' individual growth. Schools that don't make NCLB for two years in a row in the same category receive the label "Needs improvement," and face escalating consequences that range from giving students the option to transfer out or, eventually, forcing staff turnover.
The law has been up for reauthorization since 2007, but the recent partisan climate of Congress seems to have halted any baby steps of progress the House of Representatives had made this year.
As a response to Congress's apparent inaction, Duncan announced in June that he would consider granting regulatory relief through waivers to states that signed on to a "basket of reforms" of his choosing. Duncan predicted that by the end of this year, 82 percent of schools would not be making AYP, a statistic he used to make his case to Congress for reauthorizing the law. In pushing his waiver initiative -- which, Department of Education spokesperson Sara Gast said, is not yet finalized -- he described the current state of NCLB as a "slow-motion train wreck."
Duncan is expected to issue regulations this month specifying which parts of the law he'd consider waiving in exchange for which conditions, said Jack Jennings, president of the Center on Education Policy. After that, the regulations would face a month-long public comment period before Duncan could move ahead. Still, the proposal has faced opposition from members of Congress such as Rep. John Kline (R-Minn.) and Sen. Tom Harkin (D-Iowa), who have chafed at Duncan's characterization of the legislative standstill. The opposition could potentially lead to Congress limiting Duncan's powers via an appropriation bill.
"It's a game of poker, and we don't know who'll fold their cards next," said Jennings. "Duncan could back away because of Congress's opposition, or stick to what he said he'll do." Jennings said he expects Duncan's reforms to mirror those he requested in Race to the Top, a national competition for education funding introduced by the Obama administration.
Meanwhile, with three statesopenly defying NCLB's strictures and at least ten states preparing waiver requests, it looks like "states may have a mishmash of different accountability systems," says Jennings, who expects "the vast majority of states" to apply for waivers by the time Duncan releases his regulations.
The DOE does not keep a comprehensive, up-to-date public list of states requesting waivers. Tennessee and Michigan are the most recent states to formally seek regulatory relief. Several more are preparing their letters to Duncan.
John Barge, superintendent of Georgia's schools, confirmed to HuffPost that his state is preparing a request. He declined to discuss its contents, saying "it's still a living document -- we're still putting the final touches on it." He intends to send it to Duncan in September.
In 2011, 63.2 percent of Georgia's schools made AYP, down from 71 percent in 2010. Barge is creating a new system that tracks student learning by 20 different measures -- only one of which will be test scores.
Connecticut may file a waiver request, State Board of Education Chairman Allan B. Taylor told The Connecticut Mirror Wednesday. Both Taylor and the state's education department did not respond to HuffPost's request for comment.
In Michigan, state officials are asking the federal government to waive the deadline for increasing proficiency levels. According to the state's request, NCLB's goal of 100 percent proficiency by 2014 makes operating schools difficult because Michigan would have to raise performance targets to make that goal -- a move that would penalize more and more schools that don't meet the rising grades. "Many schools will experience an initial drop in proficiency rates, which makes the 2014 goal of 100 percent proficiency unreasonable," Sally Vaughn, the department's deputy superintendent/chief academic officer, wrote in a letter to the U.S. Education Department last week.
Michigan raised the scores used to determine proficiency -- known as the cut score -- in order to better reflect actual college readiness. "To balance the cut score increase along with the AYP-target increase, we have asked the federal government for a waiver," Jan Ellis, a Michigan education department spokesperson, told HuffPost.
Michigan, she said, is already implementing other measures to "raise the bar on student achievement," such as enacting new high school requirements and adopting the Common Core.
"All of these things combined make it difficult to reach AYP," said Ellis. While AYP might sound like an abstract policy measurement tool, its consequences are very real, she reported: "Parents need to be notified, and with that notification comes concern. They don't understand what it means."
Wisconsin Gov. Scott Walker (R) announced last month that he is joining forces with the state's education chief to create a new accountability system for the state's schools. John Johnson, a spokesperson for the state's Department of Public Instruction, said Wisconsin is assembling its waiver request.
In New Mexico, 87 percent of schools did not make AYP, leading superintendent Hanna Skandera to discuss the possibility of waivers with Duncan as well.
"It's about being transparent and accountable," Skandera said, adding that accountability models should trace student growth, not just performance. "We need to capture student progress."
Related
Popular in the Community