If the music moves you, buy the CD's, book the bands and fly down to hear more at the Jazz and Heritage Festival. Once you're there, the Wednesday between Jazzfest weekends (April 28th) you can volunteer at the Jazz and Heritage Festival Musicians Village Day of Service. That night if you're not pooped, you're welcome to stop by nomRf's annual Mid City Lanes Rock n Bowl Benefit with The Subdudes and Creole Stringbeans. Also, watch Treme on Sunday. I believe that may be it for shameless plugs. From a Saints hit to a WWOZ DJ (not that one) to a jazz legend to a guitar hero, try not falling in love with this music.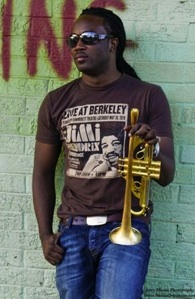 Shamarr Allen and the Underdawgs: "Box Who In?"
"Bring 'Em to the Dome" was a big hit. Do you have any tunes in the works for the Saints' second consecutive Super Bowl win?
I don't think I'm going to do another Saints song. I love the Saints and have been a huge fan since I can remember, but I think I should leave well enough alone. There's a lot of competition with Saints songs and everyone has one. I feel like "been there, done that" and had the best, most downloaded, original song this year. It's on to the next one for me, and the next one is going to be done by the School Boys (a group of 10-year-old rappers). I'm going to produce it, but I won't be doing another. "Bring 'Em to the Dome" will be around for a long time and I don't want to battle myself.
Wise thinking. I had a very entertaining interview with Bob French about playing the White House. You've played for the President twice now. How was the experience?
Security is not as bad as the airport. I got to keep my shoes on. Seriously, it has been an honor and privilege to play for President Obama. The thing that made me realize that he was down to earth was the fact that he remembered my name from months ago. That's crazy!
For a guy who might meet hundreds of people a day to remember a boy from New Orleans made me feel pretty good. The experience was one of a kind, not too many trumpet players get to play for him once. Twice!? I'm still not believing that.
You're on some of R.E.M.'s new tracks with Leroy Jones and the Bonerama horns. What can you tell us about the sessions?
Those guys are very professional, and I learned a lot that day. Leroy Jones has always been my favorite trumpet player. He's shown me a ton of things on the horn over the years. I finally got to record on the same song with my favorite trumpet player. The plus was it was on some of R.E.M's new record! It's always great to play with Bonerama but they always say I have to play trombone. I do, it's always fun to play trombone with those guys but this time it wasn't their call. So I got to play trumpet with Bonerama and play on a record with my favorite trumpet player all at one time.
The guys from R.E.M. are cool too. We all piled up in my Monte Carlo after the session and hung out at the Soul Rebels show. It was fun.
Nice. There's going to be a Jazz and Heritage Festival-sponsored Musicians Village Day of Service for volunteers on the 28th. As a Village resident, what's your message to those coming down to help?
My message to the people that's coming down to help is, Thank You and we appreciate everything that you're doing! Stay away from the food and the music if you like your hometown, because it will make you move here.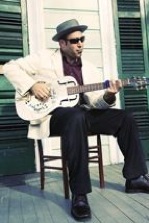 Marc Stone: Kickin' at the Old Point
Congratulations on opening the Jazzfest's (Ginormous) Acura stage on Sunday the 25th. You've also been working with soul legend Betty Harris. What would people be surprised to know about her career?
Well, first off that she will be back in New Orleans on Thursday, April 15th for a show at the Old Point with our 10-piece all star soul band, featuring Leroy Jones, Rick Trolsen and Loren Pickford. It will be a smoke free show, broadcast live on WWOZ. Tickets are available at www.marcstonemusic.com (pretty blatant plug, eh?)
Betty is well known for her great singles that she recorded in the 1960s for Bert Berns and Jubilee Records in New York and for Allen Toussaint and his Sansu label here in New Orleans. What a lot of people don't know is that her very first record, in about 1959 I think, was produced by a very young Michael Douglas, the future movie star, for his Douglas Records label.
I did NOT know that. What were some of your favorite sets in the Louisiana Blues Throwdown?
The time we played with the original line-up, Harry "Big Daddy" Hypolite, Mathilda Jones and Eric Lindell, at the Johnstown Folk Festival. It was one of our first gigs, and we were closing Saturday night in front of a big crowd. Everything really clicked musically and the energy level was really high. We wound up playing something like 40 minutes past curfew because the crowd wouldn't let Harry go, and he wasn't about to walk away. We got in some trouble for that, but it was a great set. I miss Harry, he was one of a kind.
All the shows that we used to do with Harry and Mathilda at the Delta Blues Grill on S. Jeff Davis were a blast too. That was a great little club.
I wish I could have heard those jams. Here's the lighthearted question: a WWOZ DJ is the main character in "Treme." His name is Davis but it's probably you, right?
I can't tell you how many answers went through my head, but I'm leaving that one alone!
Fair enough. As a DJ who's heard every song about the city of New Orleans, what's your favorite?
The Wild Tchopitoulas' version of "Indian Red."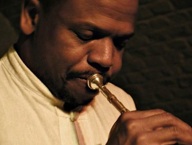 Leroy Jones: "Sweeter Than a Summer Breeze."
How do you feel about the world getting a look at New Orleans musicians in the new HBO series Treme?
I think it's going to be well deserved and needed visibility for New Orleans musicians and the city itself. I'd like to send a personal thank you to David Simon, the producer of the series, for picking the subject matter and filming on location in the Crescent City, in my neighborhood. It's great exposure for New Orleans culture and the individuals who make this city so special.
What inspired your focus on string arrangements in "Sweeter Than a Summer Breeze?" It's one of my favorite CDs.
I first started trying my talent at writing for strings on my 2007 recording "Soft Shoe," with that arrangement of "Alfie." Shortly after that I had an opportunity to write for strings again on a recording I musically produced for Japanese singer Kasumi Kawamura aka "Noon." The CD is on JVC Japan and titled "Walk With Thee In New Orleans." So when I thought about doing a recording totally consisting of ballads, along with the fact that I'd been inspired by jazz instrumentalists, like Clifford Brown, Billy Butterfield, Charlie Parker and Clark Terry to name a few, being accompanied by strings, I thought why not go all out and extend my production with the sound of a 10-piece string ensemble. Strings added the icing to my cake with excellent work from Helen Gillet and Matt Rhody.
How did The Helsinki Connection get its name? I'm guessing it's related to you and Katja's travels between New Orleans and Finland.
The New Orleans Helsinki Connection was founded by Katja Toivola, Thomas Ronnholm and Tricia "Sista Teedy" Boutte in the year 2001. The three of them decided since they had been doing so many gigs together in Finland under the cloak of another bandleader that it might be a hip idea to put together an international group consisting of musicians from New Orleans and Helsinki, record a CD and set up some tours for themselves. Katja is the designated leader of the aggregation. And because of my relationship with her, you could say that we're the real inseparable part of the New Orleans Helsinki Connection.
What New Orleans song best sums up how you feel about New Orleans?
You know, I've never given that any thought. But if I had to name one New Orleans song that sums up how I feel about New Orleans it would be "Way Down Yonder in New Orleans."
"Way down yonder in New Orleans, the land of those dreamy dreams. It's a garden of Eden, you know what I mean. Creole babies with flashing eyes, softly whisper their tender sighs. Stop. Oh won't you give your lady fair, a little smile. Stop. You bet your life you'll linger there, a little while. They've got Heaven right here on Earth, with those beautiful Queens, way down yonder in New Orleans..."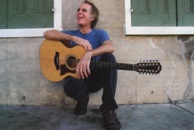 Jimmy Robinson: "Vibrating Strings."
As a big fan of your solo album Vibrating Strings and self-titled Twangorama CD, are there any recording projects you're currently working on?
I'm working on a new solo recording. Material has been piling up since Vibrating Strings came out, and I'll have to get it all out of the door before it eats me out of house and home. Also the new Woodenhead project is taking on a life of its own. Have been doing Whead since 1975, and it's a labor of love.
I can't wait to hear it. For this year's Jazz and Heritage Festival solo debut (Guests Theresa Andersson, Mark Mullins and Michael Skinkus), what's it like to be fronting the band?
I'm excited about my first solo Jazzfest slot, and thrilled to have Mark, Theresa and Michael on the gig. Three of my favorite people.
How did the Jimmy Robinson, Papa John Gros, Anders Osborne and Eric Lindell show at Carrolton (29th) come together?
I've been the opener for the John Gros, Anders Osborne Jazzfest show for a bunch of years. They always bring in a great third person, this year it's Eric, and we all jam at the end. I always have said that Jazzfest week is like your big prize at the end of the year of playing music in New Orleans.
We appreciate that you also rock out all year long. Twangorama has its "Pop (Culture) Goes the Weazel" song with a compilation of famous guitar licks. What's your favorite guitar solo to play?
"Secret Agent Man" and "Tommy"
Calling all HuffPost superfans!
Sign up for membership to become a founding member and help shape HuffPost's next chapter