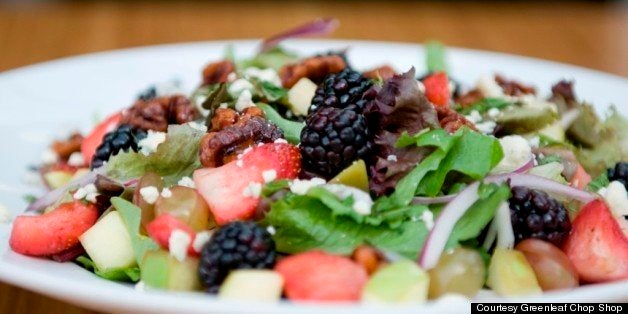 Summer is warming up in the on-deck circle. And if you've been indulging in Farmer John foot-longs all spring, you're probably not going to get as far as second base. So here's a half-dozen of my favorite healthy options around town to help you get back into the ballgame.
"Juicing" is all the rage right now so much so that the term no longer means what it used to -- to return to my baseball metaphor. At Clover, each fresh, cold-pressed juice is equivalent to three pounds of produce. Some selections from the menu change seasonally, relying on the bounty of the local farmers market. Healthy power shakes are also available.
Popular options include The Clover (kale, cucumber, celery, spinach, pear, cilantro, mint, lime); Go Big (beets, kale, carrot, apple watercress, lemon, ginger); Gingersnap (Fuji apple, green apple, lemon, ginger); The Quench (watermelon, lime, mint); The Seasonal (yam, carrot, apple, ginger, cinnamon); Rev'd Up (lemon, cayenne pepper, Canadian maple syrup, filtered water); Clean Green (chlorophyll, peppermint oil, water).
Clover currently has two L.A. locations: 342 S. La Brea Ave. and 8384 1/2 W. Third St. The former includes a shop that offers nutritional, health and wellness products, while the latter is a takeout window at The Churchill, where you can also get salads and bites from Executive Chef Bruce Kalman, including several vegan and vegetarian options.
"Handcrafted foods, to me, there's nothing better," says Kalman.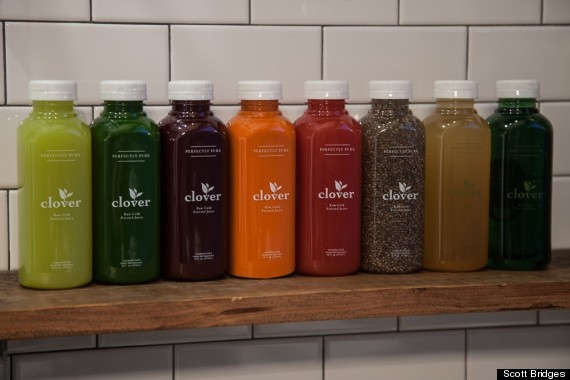 Clover offers a colorful array of juices. (Courtesy photo)
Macrobiotic eating has a long, rich tradition in the East. The recipes rely on a healthy balance of properties.
"It's like remembering our intuitive knowledge," says Consulting Chef Lee Gross.
M Café is reinventing traditional macrobiotic food as contemporary cuisine. The new summer menu is designed to promote a balanced diet and overall well-being with fresh seasonal ingredients emphasizing heirloom varietal whole grains, includes a quartet of soups and a dozen deli salads, while getting rid of red meat, poultry, dairy, eggs and refined sugar. Garden-fresh juices feature ginger, kale, almond and watermelon.
The restaurant currently offers a five-day macrobiotic cleanse to stay hydrated and energized during the heat of summer. The program was crafted with holistic nutritionist Elissa Goodman to reset body, mind and metabolism with an invigorated boost and healthy detoxification. The five-day program includes six-course food and beverage plan for $375.
M Café has locations at 9433 Brighton Way in Beverly Hills and 7119 Melrose Ave. in Hollywood.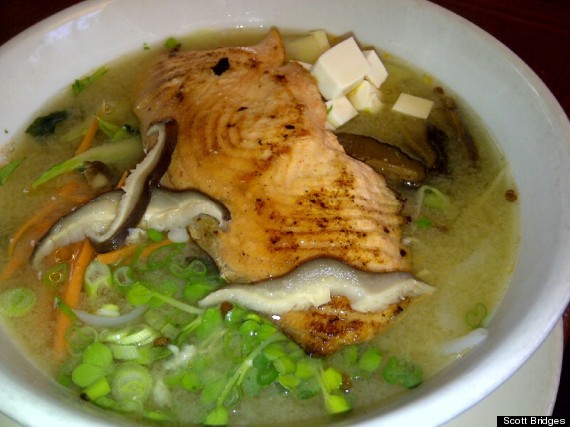 Miso soup with salmon, on the summer menu at M Cafe. (Photo by Scott Bridges)
Crossroads Kitchen is turning seasonal plant-based dishes into fine dining, with a variety of small plates. Among the partners is Chef Tal Ronnen, author of The Conscious Cook, whom Oprah Winfrey called "The best vegan chef in America."
The L.A. Times' Betty Hallock proclaims "Fancy vegan is here."
Ronnen told The Times, "I just can't do the 'throw some vegetables and a starch on a plate' thing ... That's the problem with most vegan dishes. It's a portobello mushroom cap, or a pasta primavera, and when you're finished with dinner you have to hit the drive-through."
Executive Chef Scot Jones' creative Mediterranean-influenced menu does just that with signature dishes like Artichoke "Oysters," with artichoke puree, crispy oyster mushroom, yellow tomato béarnaise and kelp caviar; Cassoulet with lentils, wild mushrooms, grilled treviso and buttered leeks, and "Crab Cakes," made from hearts of palm, apples, and beets, with horseradish cream.
Pastry Chef Serafina Magnusson's vegan dessert masterpieces include Citrus Panna Cotta with caramel and ginger-walnut biscotti; Chocolate Bundt Cake with chocolate whiskey sauce; and Carrot Cake Ice Cream with candied carrot chips.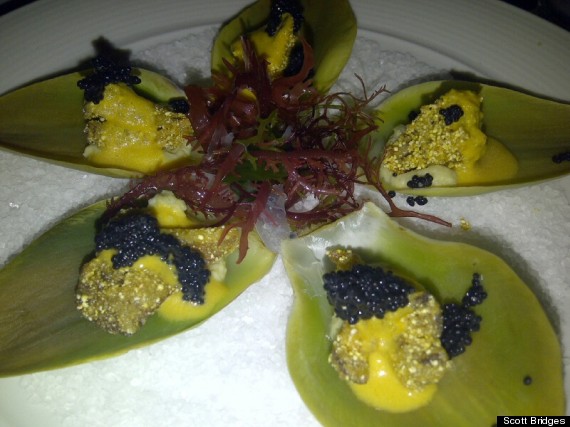 Crossroads Kitchen's Artichoke "Oysters." (Photo by Scott Bridges)
Executive Chef Kristi Ritchey knows a little something about shedding pounds. As a competitor on Fox's Extreme Chef, she lost more than 110 pounds over the last three years by adjusting her diet and exercise. She and Greenleaf Chop Shop owner Jonathan Rollow have put together a health-conscious menu of gourmet salads, sandwiches, hot entrées and build-your-own options to to fuel diners' workouts and busy lifestyles.
"It's an approachable menu with the healthiest possible options," says Rollow.
The most popular dish among L.A. diners is the Antioxidant Orchard Salad (baby mixed greens, grapes, celery, apples, walnuts, dried cranberries, blue cheese, mint, red onion, cucumbers, strawberries and blueberries with pomegranate whole grain mustard vinaigrette),
"My favorite is the Zorro the Greek ... a unique take on the Greek salad," says Rollo. He says he also enjoys the Mexplosion -- "a tangy, spicy combination" -- that he adds chicken to.
Another popular dish is the Wild Mushroom and Truffle Pizza, made on Greenleaf's signature low-carb, high-protein whole wheat tortilla, weighing in at less than 100 calories.
Greenleaf Chop Shop has L.A. locations at 1888 Century Park East, Century City and 9671 Wilshire Blvd., Beverly Hills.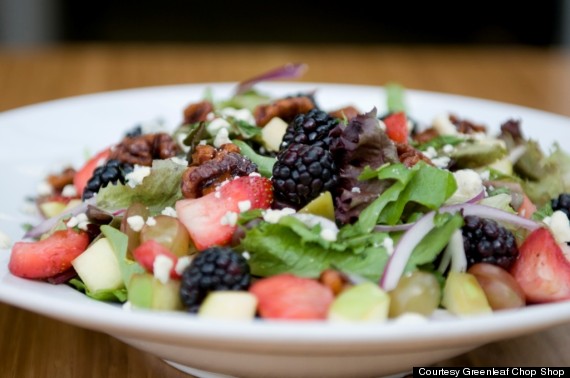 Greenleaf Gourmet Chopshop's Antioxidant Salad. (Courtesy photo)
M.A.K.E. has a simple mission: to use whole, organic, unprocessed, plant-based foods to achieve healthy, aesthetically polished, and delicious cuisine. To preserve essential nutrients and enzymes, nothing on the menu is heated above 105°F. And virtually no ingredients are processed.
"I hope to illuminate the benefits and desirability of a refined and forward-thinking plant-based diet with the opening of M.A.K.E.," says chef/owner Matthew Kenney, a two-time Beard-nominated chef.
"Southern California has some of the world's most amazing produce, and I want to share the lifestyle and enjoyment of raw cuisine in a place where a clean-living culture already exists, and for a community that can appreciate high-quality fare."
A signature dish is the Market Tomato Salad, with zucchini, macadamia nuts, Santa Barbara pistachio and basil. Other popular dish is the California Kale Salad, with blood orange, sun-dried olives, wild dulse and spiced almonds. There's also a variety of soups and snacks creatively using vegetables, fruits, legumes, spices and herbs, in addition to juices and smoothies. Desserts include Chocolate Walnut Cake with licorice pear, fennel and sassafras; and Honey Almond Semifredo, with Concord grape, thyme and pollen.
There's also a multi-course menu at the 12-seat "Raw" tasting bar at the exhibition-style kitchen, where chefs prepare the meal omakase style.
M.A.K.E. is located at The Market at Santa Monica Place, 395 Santa Monica Place.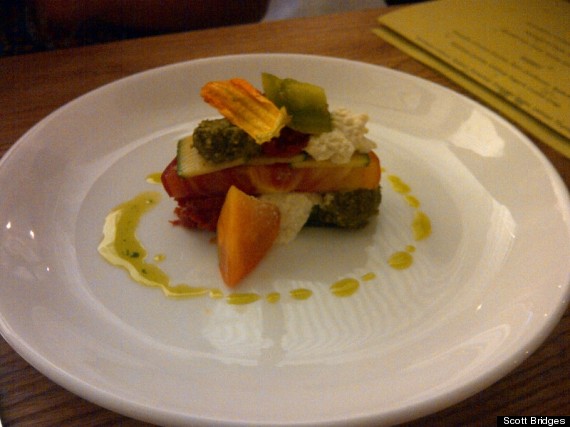 M.A.K.E.'s The Market Tomato Salad. (Photo by Scott Bridges)
Imagine a cafeteria-style, fast-casual restaurant that's entirely chef-driven, featuring local, seasonal produce, and you've just pictured Lemonade Café, the vision of Executive Chef Alan Jackson, one of the founders of The Farm Beverly Hills.
Jackson was fed up with the deli salads at local upscale grocery stores and came up with the idea by asking himself, "If I was cooking at home, what would I make? ... I like to think of Lemonade as opening your refrigerator and being able to pick what you want."
Managing partner Ian Olsen says he and Jackson are "Operations-driven, hands-on, curating all of our ingredients, sourcing our product." And on any given day, you'll find about 20 seasonal, market-based salads and about 10 slow-cooked soups, stews, roasts, ranging from slow-simmered red miso short ribs to Basque chicken with artichokes. The menu is changed twice per season.
There are, at last count, 11 area locations, with another on the way. Check out their website for the location nearest you.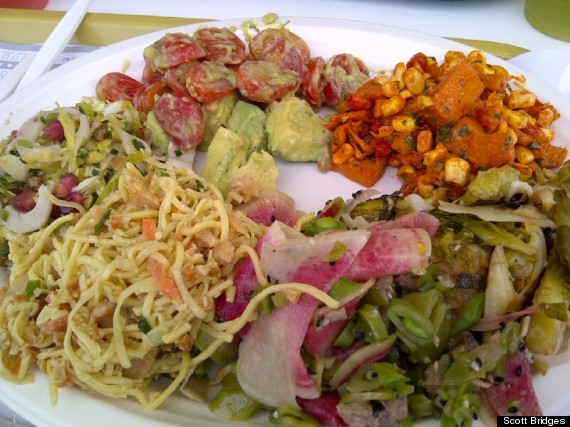 Lemonade Cafe has about 20 salads each day -- try six at a time. (Photo by Scott Bridges)