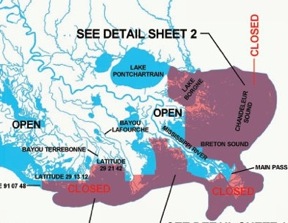 It was a grim holiday weekend for some fishermen in Louisiana's Sportsman's Paradise. Fishermen returning to the Rigotlets Marina this morning brought back samples of tar balls they collected while out on Lake Pontchartrain according to the Lake Pontchartrain Basin Foundation (ABC 26 Video Report).
Ann Rheams, Director of the Foundation, estimated to CNN that the amount of oil reaching the Eastern shore of Lake Pontchartrain near Slidell at under 100 barrels, with tar balls about the size of a silver dollar. Though hundreds of miles away, Hurricane Alex stalled Gulf Coast oil containment and the resulting storm systems have pushed the oil inwards.
Louisiana Department of Wildlife and Fisheries Secretary Robert Barham announced precautionary closures to fishing in parts of Orleans, St. Bernard, St. Tammany and Plaquemines parishes because reports of oil, easterly winds and high tides. Closures of recreational and commercial fishing are based on information from field biologists, staff and trajectory models from NOAA. Once reports of oil are received, the Department initiates a field survey and seafood testing. LDWLF updates maps of closed fishing areas daily as the oil pushes inward.
Coming during a popular holiday fishing weekend, today's closures are a gut punch to parishes fighting to keep the BP Oil Spill at bay.
In late May, New Orleans Mayor Mitch Landrieu and St. Tammany Parish President Kevin Davis asked the U.S. Coast Guard to approve the building a series of earthen berms and rock dikes in Lake Borgne from Alligator Bend to the East Pearl River. The Alligator Bend and Seven Lagoons Shoreline Projection Projects were originally developed to restore the coast as part of the Coastal Wetlands Planning, Protection, and Restoration Act, but can also prevent oil from encroaching into the marshland along Lake Borgne and can protect the lower Pontchartrain Basin.
"I was out at Fort Pike earlier this morning and can attest that our assets are in place and crews are picking up tar balls as quickly as the weather conditions permit," Landrieu said yesterday. "We have always asserted that this is going to be a long, tough slog, but I remain confident that every asset we have available is being deployed to protect the Lake."
And finally, because 11 workers died in the Deepwater Horizon rig explosion, it seems important to remember them on this weekend of national reflection.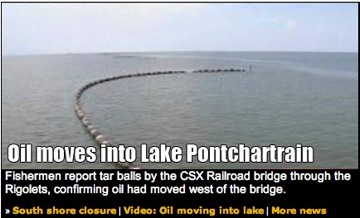 Related
Popular in the Community