According to the folks at Phrase Finder, when one is said to be " … putting on the dog, " that then means that they are " … dressing stylishly and flashily."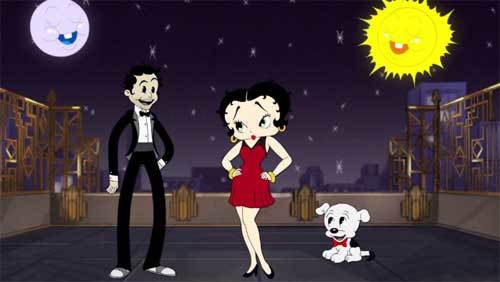 Well, Betty Boop certainly got to put on the dog earlier this year. Thanks to those two new dresses that Zac Posen designed for this classic cartoon character. Each of which were colored "Betty Boop Red," that bold new hue Pantone just created to celebrate this animation icon's adventurous spirit.
Speaking of dogs, did you know that Betty actually started out life as a cartoon canine? Strange but true, folks. Miss Boop's very first on-screen appearance was in "Dizzy Dishes," a Max Fleischer Talkartoon that was first released to theaters back in August of 1930. And in this short, while this animated character does say her famous "Boop-boop-a-doop" catchphrase, she certainly doesn't look like the Betty we know today. In her big screen debut, Boop seems to be some sort of weird amalgamation of a 1920s flapper & a French Poodle.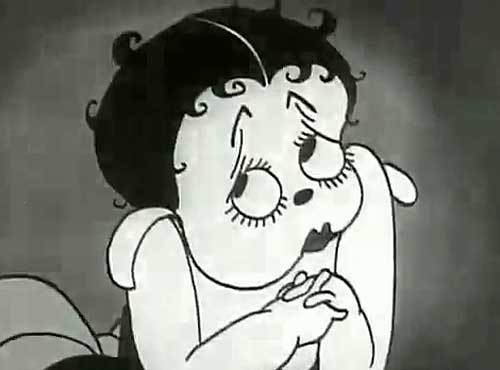 Even so, audiences seemed to spark to this animated character. Which is why – over the course of 10 or so shorts – Max continued to tinkered with Betty. Gradually refining her look from film & film (EX: Boop's droopy dog ears eventually became elegant hoop earrings). Fleischer even experimented with various different names for this character (In "Barnacle Bill," her second on-screen appearance, Betty was known as Nancy Lee. By her eighth animated short, "The Bum Bandit," Boop was now being called Nan McGrew).
It wasn't until "Any Rags" was released in January of 1932 that Betty finally lost her cute little poodle nose and became a fully human character. 1932 was also the year that Boop graduated from being just a supporting player at Max Fleischer Studio to being the star of her very own series of animated shorts. With the appropriately titled "Stopping the Show" being the very first Fleischer production to officially be designated as "A Betty Boop Cartoon."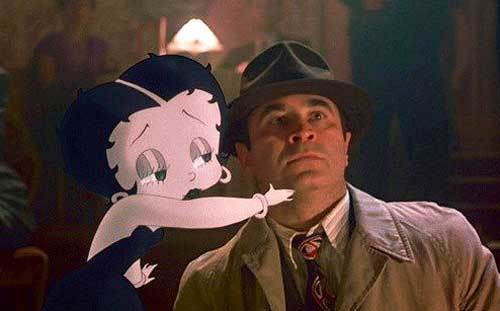 Since then, Betty had endured some tough times (When the powers-that-be in Hollywood began strictly enforcing the Motion Picture Production Code in 1934, that then forced Fleischer to cut back on the sly adult humor that made those early Boop shorts stand out from the cartoon crowd) as well as some genuinely sweet moments (EX: Betty's cameo appearance in 1988's "Who Framed Roger Rabbit" is – for many animation fans – one of the real high points of this Robert Zemeckis film).
But as they say, every animated-dog-character-that-eventually-gets-transformed-into-a-human-character has their day. And in Betty's case, her long overdue return to the spotlight started in the Spring of last year. In Italy, of all places. Which is where Athletes World AW-Lab (with the permission of King Features Syndicate, the New York City-based unit of Hearst which serves as Miss Boop's worldwide agent) plastered this animation icon's likeness all over all manner of fitness apparel. Hoodies, tank tops, sports bras and the like.
Z Palette helped add some momentum to the Betty Boop modern revival movement by – just ahead of The Make-up Show 2016 in NYC– launching an exclusive limited-edition collection of makeup palettes for the beauty industry that drew their inspiration from this Fleischer Studios star.
Meanwhile, in the Land of the Rising Sun, Betty's star experienced a dual ascension. With first the Nippon Professional Baseball Organization (i.e., the official league of Japan) producing a popular sportswear collection that featured her likeness. And then – in Shimbashi, Tokyo – the world's first official Betty Boop Diner (featuring authentic American cuisine circa 1950) opening for business in late January of this year.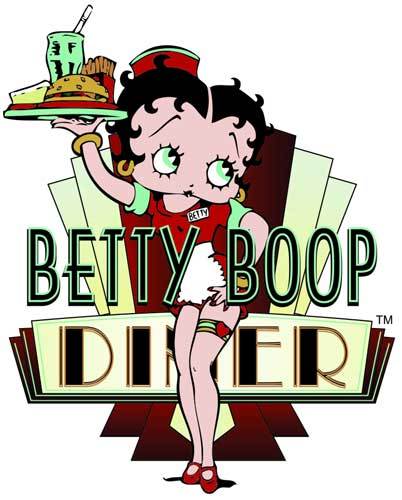 Mind you, given that Betty is also now associated with the Heart Truth … Well, she might advise you to go easy on those burgers & fries.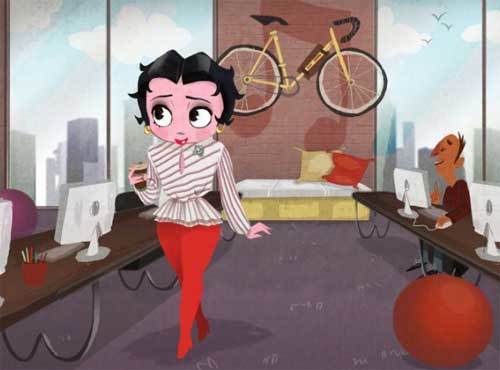 So what's next for Miss Boop? There was some talk in early 2016 about Betty starring in a brand-new animated series for television. But that project (which was to have been produced by Normaal Animation of France, the studio behind that new "Peanuts" series that bowed on Boomerang last Summer) has since been tabled.
For now, Boop will continue to concentrate her efforts on the fashion world. "Look for Betty to make another big splash in this space by year's end," teased Frank Caruso, Vice President of Creative at King Features. Who's been working very closely with Max Fleischer's grandson these past few years to stage manage Betty Boop's return to the spotlight.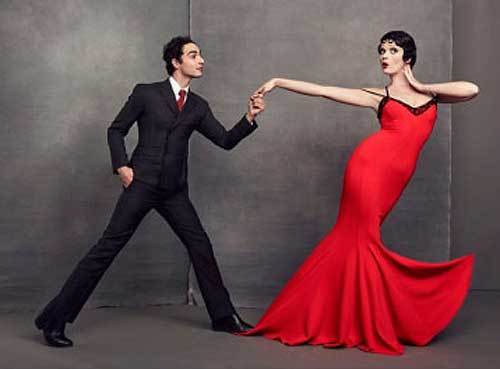 By the way, it is genuinely ironic that Boop's first official Betty-is-a-human-rather-than-a-dog cartoon was called "Any Rags." Given that – if you wanted to wear those Boop-inspired glad rags that Zac Posen designed earlier this year – you'd best be prepared to pay a pretty penny. For the flirty short dress sells for $250 while the full-length gown goes for $550.
But you'd definitely be dressed to the nines were you to wear either of these outfits. Or – given that these are Betty Boop-inspired dresses (and recognizing this animation icon's flapper-meets-French-poodle origins) – should I say " … dressed to the canines?"
Related
Popular in the Community