Thirteen of the world's best young chefs gathered last month for the 2nd freewheeling Cook It Raw! culinary event, this year held in the trendsetting wine-region of Collio in Friuli, on Italy's border with Slovenia. The theme: "Winter Was Hard."
As the partner of a food critic, I got to join New York's David Chang (Momofuku), Copenhagen's Rene Redzepi (his Noma restaurant is ranked #3 in the world); Barcelona's Albert Adria, formerly pastry wizard at brother Ferran's #1 ranked El Bulli; and Alex Atala, Brazil's dynamic top toque--not to mention San Francisco's Daniel Patterson (Coi) and two of Italy's supreme innovative chefs, Massimo Bottura and Davide Scabin . And a new Tokyo sensation, Yoshihiro Narisawa.
Chefs, with winemakers and journos, spent three hectic guerilla days tasting traditional Friulian/Slovenian cuisine and wines, attending a pig slaughter (I couldn't look), fishing on a wintry lagoon--all capped by their collaborative gala finale dinner with local ingredients using miminal carbon footprint. A mix then of regional tradition and gastro-eco high thinking and inspiration.
For me, an added bonus: Friuli was where Pier Paolo Pasolini was raised, and the region stayed dear to him long after he moved to Rome.
Some Notes and Highlights
- BREAKFAST AT LA SUBIDA: "Come in, have some poached eggs and grappa!" cries grinning Josko Sirk, proprietor of this beloved institution, both relais and regional restaurant, in the heart of the Collio wine zone. Well, all right! Josko, a double for Hemingway in a cheery mood, helps cook up eggs over an open fireplace, gives em a tangy squirt of his special vinegar spray, and points out the grappa selection. Ah, one of the pleasures of wintry travel surely is a tot at breakfast.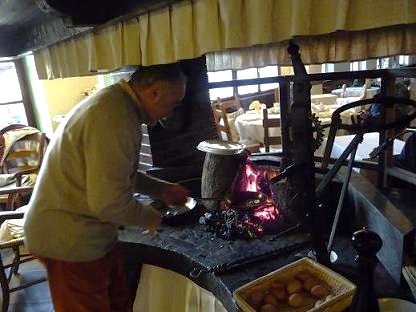 Josko Sirk mans the pan.
- PASOLINI'S ISLAND: Though a wild boar hunt's on offer, I turn it down to go watch chefs fish on Grado Lagoon, on the Adriatic between Triste and Venice. My real interest is the visit to Safon, a little tuft of island where Pasolini spent a couple summers in his maturity with painter-buddy Giuseppe Zigaina. (Zigaina was one of the friends who after his violent death would speculate that PPP somehow intended the whole thing).
First a bone-chilled turn on a boat, passing around a soda bottle full of grappa, before we brunch rough style in Safon's renovated thatched hut on local staple polenta (instead of pasta hereabouts) and wild duck.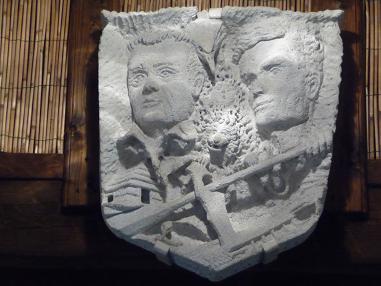 Pasolini and Zigaina plaque on Safon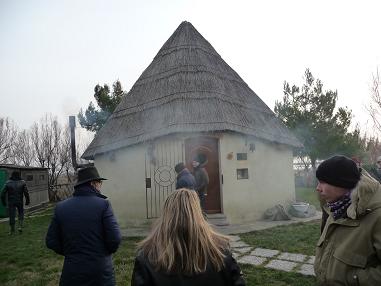 The Reconstructed Hut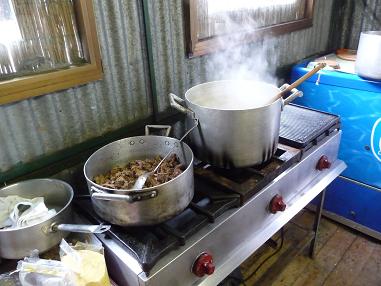 Safon Brunch: Wild Duck and Polenta
Pasolini filmed the opening scene of his 1969 version of Medea on Safon. Here it is, after the initial credits, as the centaur instructs the very young Jason:
Medea, as you may know, starred Maria Callas in her only movie role. She sang not a note, and spoke little. (More on Callas and Medea, from our own Arianna Huffington). The part of grown-up Jason, who betrayed her so catastrophically, was played by one Giuseppe Gentile. It was his only film role too: he was Italy's 1968 Olympic bronze medalist in the triple jump. (He jumped not in the film.)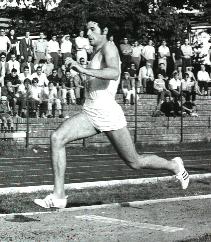 Jumping Gentile, pre-Jason
- The Final Meal: Scene: cellers of 19th century Villa Russiz (partly an orphanage as well as a winery). The sleep-deprived chefs greet us festively as we arrive through the kitchen--all pitching in together for the meal, a genuinely remarkable display of comraderie.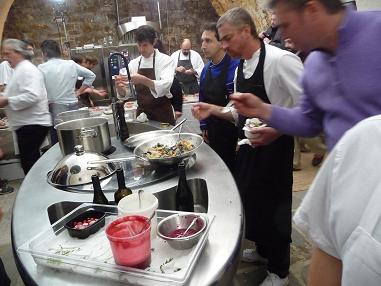 Chefs Collaborating 1: Atala, Patterson, Scabin etc.
For me, two individual dishes take the cake: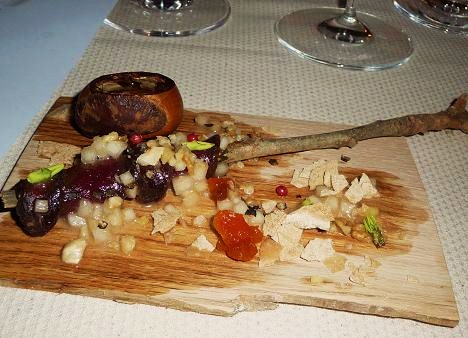 "Evolve with the forest" by Tokyo's Narisawa--a gravely playful fairytale evocation of 'woodsy,' featuring a nub of marinated venison spitted on a cedar twig with a chestnut shell as an accompanying minidrinking bowl. Magical.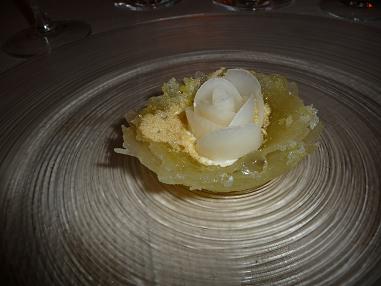 "Pink apple ice cream with its heart"--another fairytale, a trompe l'oeil by master trompe l'oeilst Albert Adria. This dessert, a faux-rose in homage to the local "Rose of Gorizia" raddicchio, is constructed entirely from apple, but tastes as if part complex pastry. A tour deforce.
I also like David Chang's power-spicy kimchi of Friulian veggies; and Rene Redzepi's delicately floral-like homage to a Danish common man's hard winter of 1941 (as someone said, The common man must have had it pretty good back then!) After-dinner sweets are a medley of exotically fabulous chocolates from Tuscan chocolate maestro Paul de Bondt. (Which I help 'distribute' by knocking a plateful flying from serving hands while saying enthusiastic arrivaderci's. A bit too much grappa-totting, ace?)
All 13 dishes, whatever their scale of success, are a delight: and an inspiration. A world-traveled non-gastro-pro beside me mumbles that this is the best meal of his life.
Here's the full menu of dishes and ingredients, with accompanying wines.
A Note on the Wines: Collio is long esteemed for its whites (it's been vinifying for centuries). It's home to one of the most influential innovative winemakers around, Francesco Gravner, who has resurrected old, militantly natural techniques, such as amphora maturation. The resulting style is very minerally, with a tangy oxidized edge. Such an approach showed beautifully in the Ribolla Gialla 2000 from Radikon served at the final meal.
Other wines I'll mention are the Sauvignon Blanc from Venica, a subtly voluptuous, tropical-nosed offering from young winemaker Giampaolo Venica; and the prize-winning pinot noir from Slovenia star winemaker Marjan Simcic --a passionate soccer player and fan who traveled with the national team just now to watch them beat Russia into the World Cup.
Cook It Raw is the brainchild of gastro-curator/gastronomist Alessandro Porcelli and food critics Andrea Petrini and Carla Capalbo. Upcoming editions are planned for later 2010 and 2011 in Sao Paolo, San Francisco, Melbourne and Kyoto. Last year's debut was in Copenhagen.
Some more snaps from "Winter Was Hard":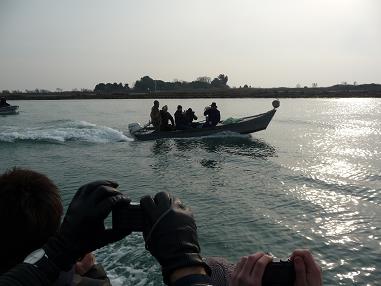 Chef Massimo Bottura Goes Fishing in his Stylish Hat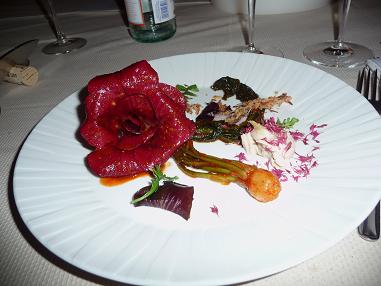 David Chang's Kimchi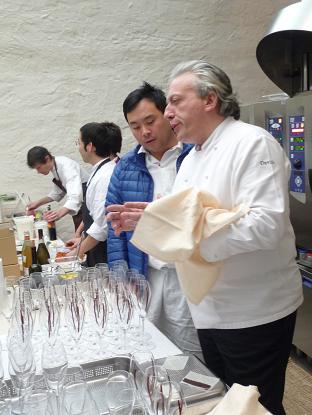 Chefs Collaborating 2: Scabin, Chang, Patterson, with assists for Japanese associates from Paris and Cadiz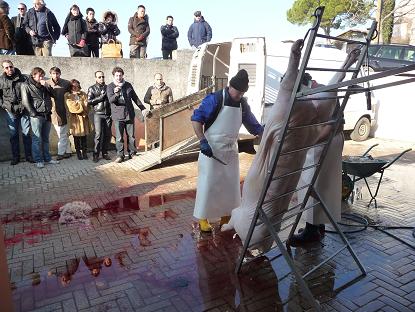 Oh Pig, Butchered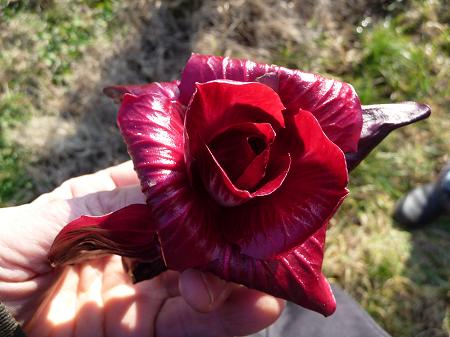 Oh Rose (of Gorizia, a kind of raddichio; Gorizia is the major Collio town)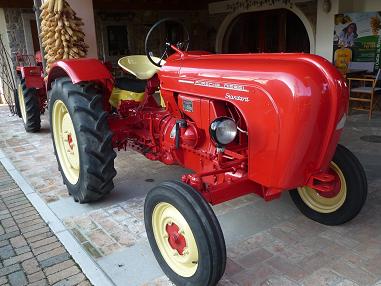 Oh Old Porsche Tractor, on the property of Vineca & Vineca winery. The winery also offers half a dozen rooms for rent. I stayed in an apartment-style one: very comfy.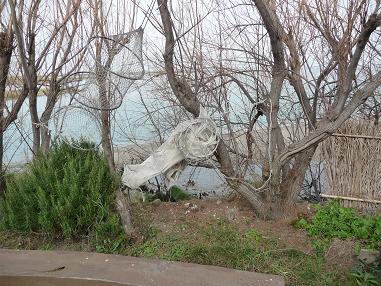 View from Safon Island... What Pasolini and the centaur saw?...