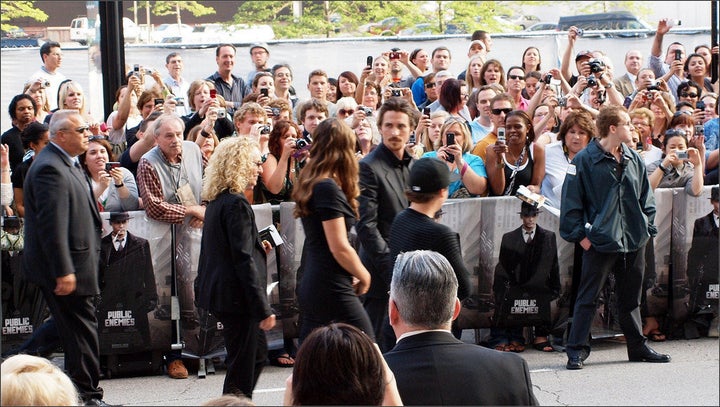 When the Michael Bay-directed summer blockbuster "Transformers 3: Dark of the Moon" opened nearly a month ago, some wondered whether the film, even with its expectedly cool critical reception, might finally be the one to seal the city's film industry reputation as something comparable to Los Angeles or New York.
Perhaps "Transformers" would, with its multi-million dollars' worth of exposure, give needed cred to a city that has sometimes struggled to compete in an industry that thrives on the coasts.
The film has certainly been a commercial success at the box office (as of July 25, it has reportedly grossed just under $900 million worldwide, about $325 million of that domestically) as well as for the city of Chicago more generally, bringing in an estimated $24 million in spending and 400 jobs during its month of filming here. But whether this and other recent high-profile films shooting in Chicago will help the many actors, directors and crew members who call the city home throughout the year remains to be scene.
Betsy Steinberg, deputy director of the Illinois Film Office, told HuffPost Chicago that "Transformers 3" is but one of many projects that helped make 2010 a record-setting year in terms of revenue generated by the film industry throughout the state. All told, the industry spent $161 million in Illinois, much of that in the Chicago area.
Films like "The Dilemma" and "Contagion," set to be released in September, as well as the since-cancelled "The Chicago Code," were among the other big-ticket projects. The commercial production and reality programming sectors were booming in 2010 as well.
And Steinberg has a feeling that 2011 numbers, anchored by high-profile television projects like "Boss," "The Playboy Club" and the forthcoming "Superman: Man of Steel," will continue, or improve on the 2010 momentum. Teen superstars Selena Gomez and Justin Bieber were even in town earlier this month, reportedly filming a television pilot.
"The more we get shooting here, the more we'll continue to build on ourselves and the more exposure we'll get," Steinberg said.
That growth is not wholly dependent on the headline-grabbing Hollywood blockbusters either. The spike in productions coming to Chicago and, more generally, Illinois is largely due to the 30 percent tax credit for projects utilizing local talent on their production teams. Before former governor Rod Blagojevich signed the law in late 2008, that credit was only 20 percent, which can make a big difference for bottom line-focused decision-makers.
In addition to its tax credit allowing the state to stay competitive with other locales -- such as Michigan and Louisiana -- who offer similar sorts of incentives to filmmakers, the Illinois Film Office also claims the state offers a fresher, more unique creative look, too, than the more familiar filming locations on the coasts, Steinberg pointed out. And based on the experiences of filmmakers who have come to the city, Chicago appears to be establishing some solid word-of-mouth rep within Hollywood circles, too.
The Midwestern charm seems to be working, especially when compared to filming statistics coming out of Los Angeles, whose film office, Film LA, reported in early July that on-location filming "saw marked slowdowns" [PDF] and "underwhelming numbers" in the most recent quarter.
"We'll not only continue on the track we're on, but I think we'll see a lot of growth [this year]," Steinberg said.
But despite the array of projects coming down the pike that are filming in and around Chicago, jobs for professionals working in the industry can be difficult to come by. Because of the city's oft-treacherous winter weather, several months of the year can be slow times for some in the industry, meaning that summer is a particularly important time for film types to get to work.
In any case, Ruth L. Ratny, publisher and editor of ReelChicago.com says Chicago's film industry talent pool is "second to none" -- and claims that "the good ones are always in demand." She admitted that the city could probably stand to have a stronger marketing program, as well as a better infrastructure in place to benefit smaller, independent films whose budgets do not meet the state's film tax credit minimum of $100,000 (for any project longer than a half hour).
"I think Chicago has everything, but if we needed anything, it would be a stronger marketing program to make more industry decision-makers aware of Chicago," Ratny told HuffPost Chicago.
While she felt that the city's new mayoral administration (not to mention the governor and state legislature) is supportive of the film industry, funding remains an obstacle for the sort of investments that she feels would help the city's film business take off further. One floated idea involved the city participating in the conversion of Oprah Winfrey's old Harpo Studios into a film studio or increasing the allocated funding for the state and city's film offices, both of which operate with incredibly lean budgets currently.
Actor, director and author Anna Carini said she would also like to see more diverse city projects that involve more female talent both in front of and behind the camera. The majority of the recent films and television shows that have been set in the city have been somewhat male-dominated. Only four of the highest profile 15 recent productions in town have involved any women in a directorial or major writing role.
Though an issue across the board in the industry, she added, she hoped the recent success of a film like "Bridesmaids" will lead to some more gender-diverse projects in the near future.
"A lot of the stuff that comes to Chicago is male-heavy, which I think is great in terms of offering opportunities to the men in this city, but I think they do have more opportunities than women here," Carini said.
Earlier this year, Canadian studio Cinespace opened the first phase of a 50-acre Chicago studio. The space, which has already hosted several productions, could help provide an additional piece of infrastructure – a sprawling sound stage-- that the city's film industry has been missing. At its ribbon-cutting ceremony in May, Governor Pat Quinn applauded the facility, which reportedly received a $3 million contribution from the state, as a job creator.
Still, Chicago filmmaker Mario Bucca wondered whether the space would be accessible to productions of all sizes. He also wondered if Cinespace would be able help create a community that stays put and develops their own new, ever-broadening opportunities of varying sizes. He looks to Austin filmmaker Robert Rodriguez ("Grindhouse," "Sin City") as an example of someone who helped to create a filming community able to stand independent of the two coastal film powers.
"A lot of people don't know what the rates will be and whether it will be a place that's accessible to lower budget films," Bucca said. "Perhaps a community will grow from that and there may be a trickle-down effect generated but it's hard to say right now."
Cinespace officials declined HuffPost Chicago's request for comment.
Chicago may not be taking Los Angeles' place as the go-to film capital of the U.S., but the city's many filmmakers, actors and crew members still do find plenty of reasons to stay.
"You don't feel the cutthroat competition [here] like you do in New York or LA," Carini said. "That feeling that someone will only talk to you if you can get them somewhere or something. That doesn't happen here and I love that."
"Film is still a novelty here, so people are more willing to open their doors and be accommodating," Bucca said. "In LA, it would be competitive for those sorts of resources and endeavors because it's so commonplace. In Chicago and Illinois, film is exciting and growing, not stagnating like it has in LA."

REAL LIFE. REAL NEWS. REAL VOICES.
Help us tell more of the stories that matter from voices that too often remain unheard.