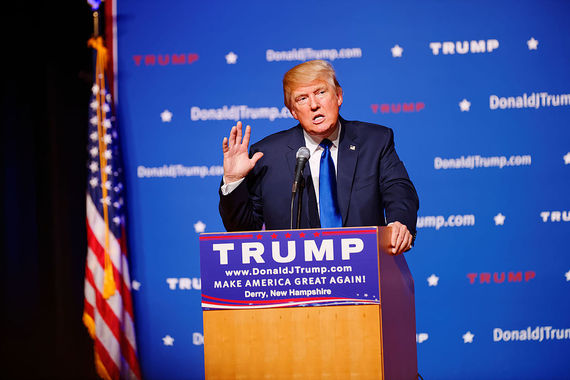 Donald Trump's failure to select a woman as his running mate is more evidence that his party is out of step with voters. At a time when Americans are wrestling with deep divisions of all kinds,, 51 percent of the population has just been foolishly ignored.
It's been exactly a century since the first woman was elected to Congress: Republican Jeanette Rankin of Montana. Today, women number just 19 percent in the House. (Tiny Rwanda is first in the world, with 64 percent of lower chamber seats held by women - who, by the way, have been leaders in that nation's rebirth since the 1994 genocide.)
Democrats have been way ahead of Republicans in electing women to high office in this country since the 1990s. Female Dems outnumber Republicans by a three-to-one margin.
The Congressional gender imbalance probably won't change much in November. The Center for American Women and Politics at Rutgers says 15 Democratic women are in the running for Senate seats compared with seven Republicans. On the House side, 138 Democrats are still in races, yet just 64 from the GOP are running.
Sure, many of us advocating gender parity are cheering the prospect of Hillary's joining Theresa May in Britain and Angela Merkel in Germany, at the helm of three of the world's most powerful countries. But it's cool comfort when we look at the obstacles blocking women from Congress - structural, financial, and personal.
Incumbency may be the most enormous barrier. Incredibly, some 88 percent of office holders are regularly reelected, thanks to their built-in fundraising muscle. When the huge majority of incumbents are men, women are essentially shut out. Republican women have an especially hard time reaching financiers and other power-brokers. Meanwhile, Democrats get a tremendous boost from the political action group EMILY's List. After all, "Early Money Is Like Yeast."
But once women do break through, the gains are lasting. We've seen the long Senate tenure of Republican Susan Collins and Democrats Barbara Mikulski, Dianne Feinstein, and Barbara Boxer. (Boxer is retiring, but California's duet is likely to continue: Kamala Harris is expected to succeed her.)
Democratic women in Congress have reached critical mass -- and they're critical actors. Why does this matter? For one thing, when women help lead a governing body, the culture changes. As Senator Mikulski says, "We work on macro issues and macaroni and cheese issues."
For Republican women, problems start in the primaries, thanks to too little mentorship, minimal early funding, and the assumption that they're not conservative enough. Facing these hurdles, many pragmatic GOP women don't bother to compete. The one area they do show progress is at the state legislative level, where the party has seriously invested in growing the base of young female candidates.
Especially if the Republican Party suffers major losses this year, the post-mortem should address not only diversity writ large but also strategies for getting women in their "pipeline" to move up.
Why do I as an ardent Democrat care about the other party? The short answer is I want our country to work. Dozens of women in Congress have told me stories of how they reach across the aisle. An example: Three years ago, women forged a Senate compromise just days before we were going to plunge off the fiscal cliff. Sen. John McCain wondered aloud how much the Senate could get done if it were 50 percent female.

Women who want to go to Washington need path pavers, not wall builders. Mr. Trump has blown his huge opportunity. The rest of us don't have to.
Swanee Hunt founded Political Parity, a program advancing women's leadership in the United States. She is a former US ambassador and teaches at Harvard Kennedy School.
Popular in the Community