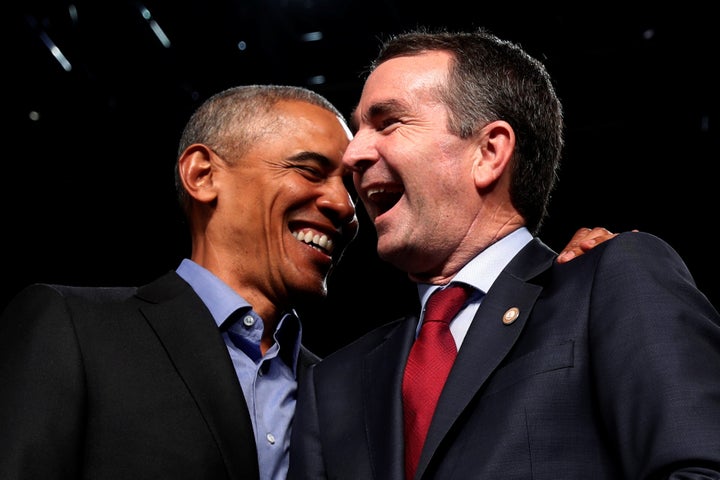 The Democratic Party, Democratic voters, and grass roots progressive activists should be in a state of high agitation, focused on one thing — containing Trump, his fake populism and his Republican allies.
Instead, the party of the people is withering. Energy on the ground is low, infighting is high. The run-up to the Virginia gubernatorial election is feeling sickeningly like the last days of Hillary Clinton's campaign.
The polls show a race tightening by the week. The most recent reliable poll, the New York Times/Siena poll, shows the Democrat, Ralph Northam, up by just three points, 43 to 40, with 17 percent undecided. There is the same sort of chasm by race and class as in the Clinton-Trump race, with non-college educated whites favoring Republican Ed Gillespie by forty points.
These are people, based on social class, who should be Democrats. If the lackluster, accident-prone and risk-averse Democrat, Lieutenant Governor Northam, does pull out a narrow win, it will only be because his Republican rival Gillespie, is a longtime party hack and lobbyist, and even less convincing than Donald Trump as a populist.
That, however, has not stopped Gillespie from using the Trump playbook of stirring up racial and anti-immigrant hatreds. And in the absence of a compelling economic-populist alternative, it works.
"If Democrats can't find areas of common ground, then Trump and his imitators will keep winning."
Gillespie baited Northam into saying he'd sign legislation banning sanctuary cities, even though there are none in Virginia and this is a non-issue. That was sufficient to cause Democrats for America, the group founded by Howard Dean, to announce it was no longer supporting Northam. It's hard to know which action was more perverse — Northam's stance or DFA's.
Gillespie is also running an ad with the tagline, "You'd never take a knee — so take a stand on Election Day: Vote Gillespie." Nice touch.
Voters will only fall for this stuff if the other side is not offering anything real. But if you asked a computer to design a Democrat who is the opposite of an economic populist, it would devise a creature like Northam. The other day, pollster Stan Greenberg, who has advised the Clintons for three decades, and who recently wrote a scathing critique of the sheer incompetence of Hillary Clinton's presidential campaign, told the New Yorker magazine: "Look at Virginia right now. We have a candidate running as Hillary Clinton. He is running on the same kind of issues, and has the same kind of view of the world. It's the Republicans who talk about the economy, not the Democrats."
Meanwhile over in New Jersey, the Democratic nominee, Phil Murphy, is comfortably ahead, thanks to the gift that keeps on giving, incumbent governor Chris Christie. Murphy's opponent is Christie's lieutenant governor, Kim Guadagno, who is lagging well behind.
But wait ― Hillary Clinton got tarred for taking some speaking fees from Goldman Sachs. The Democrat in the New Jersey race, Murphy, comes from Goldman Sachs. So did the last New Jersey Democratic governor, Jon Corzine. These guys are actually relative liberals, but can't we look elsewhere for Democratic candidates? Corzine, as the incumbent, was beaten by Chris Christie.
In the past couple of weeks, the Chairman of the Democratic National Committee, Tom Perez, has executed a purge of leading Sanders supporters. Donna Brazile, who served as interim DNC chair after Debbie Wasserman-Schultz, the Obama-era chair, was forced out, published book extracts supporting Bernie Sanders' view that the nomination was effectively stolen by the DNC, which was supposed to be neutral, but instead supported Clinton. Maybe Brazile could have waited until after Tuesday's elections?
Oh, and one of the wealthiest and best connected Democratic lobbyists, Tony Podesta, brother of Clinton campaign chair John Podesta, managed to get caught in special counsel Robert Mueller's dragnet. Tony Podesta evidently was working with Paul Manafort on behalf of a front group for the pro-Moscow Ukrainian government in power at the time. It's stories like this that display a bipartisan special interest swamp, and turn working people against both parties.
Meanwhile, recriminations among the diverse elements of what should be the Democrats' broad coalition are at a rolling boil. There is bitterness among feminists that deeply seeded misogyny cost Hillary Clinton the presidency.
I have had arguments with numerous feminist friends to the effect that a more compelling woman candidate such as Elizabeth Warren could have defeated Donald Trump in 2016, and could win in 2020. But some of my feminist friends counter that it would be more prudent to nominate a Midwestern white guy, say Ohio Democratic senator Sherrod Brown. There has to be something perverse about feminists arguing that misogyny is so pervasive that it's better not to nominate a female.
Meanwhile, on the racial front, there is understandable bitterness among many African American Democrats that whites, even progressive whites, failed to protect blacks from deepening racism. Conversations about the need to talk about class as well as race tends to produce vituperation about white privilege.
In short, the progressive side of the political spectrum is a cauldron of grievances, each understandable and legitimate in its own right. But if Democrats can't find areas of common ground, then Trump and his imitators will keep winning.
Somehow, Democrats need to nominate more compelling candidates, who can narrate the grievances of ordinary Americans in a convincing way and propose drastic remedies. Democrats need to remember the larger stakes and try to limit the infighting.
Out of this mess, a leader will emerge as the Democratic standard bearer for the 2020 election. Before that nominee can take on Donald Trump, or Mike Pence, or whoever the Republicans put up, he or she will need to restore some semblance of Democratic purpose and unity. Right now, that challenge seems more daunting than the election itself.
Support HuffPost
The Stakes Have Never Been Higher
Popular in the Community