The 2016 elections are heating up. And so is the planet. According to NASA, there is a 99 percent chance that 2016 will be the hottest year on record, surpassing the current record set in 2015.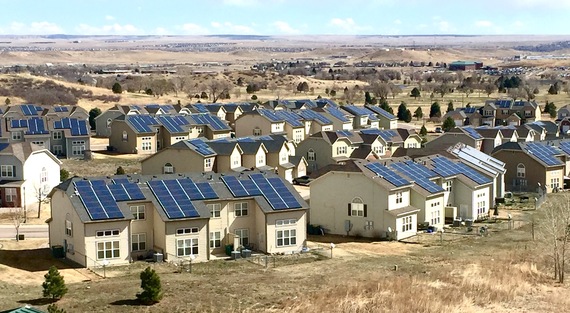 Where does that leave Republicans who think the GOP should pay attention to climate change and support clean, renewable energy sources?
GOP Stirrings in Congress
A week before the convention, 33 House Republicans joined Democrats to successfully defeat a proposal that would have stripped funding of climate change science at the Environmental Protection Agency.
It's not a vote that will set us on the path to doing something about climate, but the growing number of Republicans who are willing to vote independently on the issue is a notable shift. Just two years ago, only one House Republican, Rep. Chris Gibson of New York, voted against an amendment that would have prevented federal agencies from assessing the costs and risks posed by climate change.
This is the latest, but not the only, sign of heightened interest among Republicans in Congress. Fourteen House Republicans have now supported a resolution calling for action on climate change. When the resolution was introduced last September, Republican Carlos Curbelo explained the reality faced by his constituents in Florida.

"South Florida is the frontline of climate change, where we have seen its negative impact in the form of rising sea-levels and the erosion of our coastal communities. Our goal...is to shift the debate from whether climate change is real to what we can do to mitigate its effects."
In the Senate, a coalition of five Republicans and five Democrats, led by Senators Lindsey Graham, the South Carolina Republican, and Sen. Sheldon Whitehouse, Democrat from Rhode Island, introduced an amendment calling for the United States to be a world leader on climate change and for Congress to act.
Voters Heading in Different Direction
The GOP's slide into climate denial with Trump should alarm strategists who put together the Republican National Committee's post-mortem analysis of Mitt Romney's 2012 defeat. Their conclusion: the GOP lost the hearts, minds and votes of young voters, swamping the GOP's edge among older voters.
Democrats came to the same conclusion. Jim Messina, who ran President Obama's re-election campaign, revealed after the election one of the secrets to their success: climate change.
"In the 2012 election we did focus groups with young voters...and we asked them to describe a Republican, and their #1 word was 'dinosaur., We asked them why, and their biggest example was 'climate change.'"

The shift is also pushing against the trend of public opinion, and in particular a complex and evolving set of views among Republican voters.
Notably, there has been a 19 percent increase over the past two years in the share of conservative Republican voters who think global warming is happening. That's a larger jump than any other group of voters. Altogether, 73% of voters think global warming is happening.
And when it comes to addressing the problem, a May poll also found that 67 percent of Republicans support a Clean Energy Commitment and believe that "moving rapidly to clean energy is a big step toward reducing the damaging impacts of climate change."

Organizing Around a Moral Cause

"First and foremost, it's a moral issue." Climate change is "negatively impacting people, as well as the environment, which we're called to take care of by God."
A Road Back from the Abyss?
"If we have an environmental policy, I don't know what it is....we're virtually defenseless on this issue. Any purple state, we are at risk and we don't know it. Period."
The GOP's road back from the abyss of denial is anything but clear.
Perhaps mayors will lead the way. After all, mayors from both parties have to deal with the real climate damages to their communities.
Or perhaps the growing unrest among Republican rank-and-file in Congress offers a glimpse of a more hopeful path beyond the elections. If more republicans are ready to bring their ideas on climate solutions to the table, who knows what can happen?
Calling all HuffPost superfans!
Sign up for membership to become a founding member and help shape HuffPost's next chapter