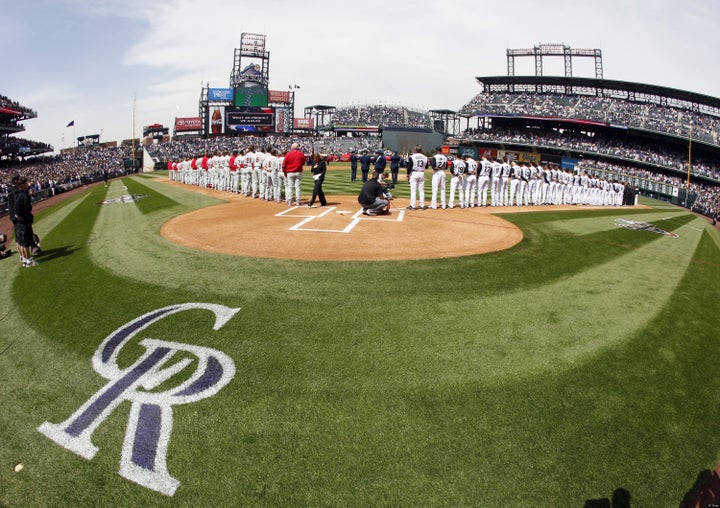 Denver is all excited about the Rockies, unless they lose tonight of course. Then the mood shifts.
But for now, there's a lot of Rockies warmth in the air, even if people are freezing at midnight and Jason Giambi is striking out.
The cultural ga ga-ness over sports creates destructive myths. One of them is the notion that Coors Field is responsible for the transformation of LoDo from a crime-infested wasteland into the developer's paradise it became as expensive lofts and restaurants were built.
The truth is that Coors Field actually hurt lower downtown Denver, in a big way. By the time Coors Field opened in 1995, lofts and businesses, including Hick's Wynkoop Brewery, were already multiplying.
Artists were living and working in LoDo (so named by Denver Post columnist Dick Kreck in 1983, way before the ballpark was built).
You could walk around and find galleries with cutting-edge work, not just the establishment galleries you find today -- and even these are fleeing LoDo. Westword's offices were in LoDo. How hip is that, especially then?
There were empty buildings, for sure, but the area was growing slowly and tastefully. It had already become an Historic District in 1987. (Lodo's official historic designation, preserving old buildings in the area, did more for Lodo than anything else, since old buildings were being demolished by developers at the time.)
There were bars, like El Chapultepek and others, that were run-down and dirty, but you wouldn't say they were soulless, like the sports bars that cluster around Coors Field today -- and spill out into the entire area. On the contrary, the dive bars and characters therein were vintage Denver.
If there was no Coors Field, life would be better in Lodo.
The development of the area would have been slower, but that would have been a good thing, as a more diverse group of loft owners could have bought into the area. More varied and funky restaurants would have been established -- and maybe they could have afforded to stay. Parking would be easier, and you'd still get plenty of people coming to LoDo to play and eat, with all the other entertainment venues, from the DCPA to Pepsi Center close by, but not in LoDo's back yard.
In any case, you can be sure that the area would have thrived anyway, even if the today's mob mentality and formulaic quality of the bars, with the big TVs that you can see from the street, would have come anyway -- as they have in other historic parts of other cities, even without a baseball stadium.
Still, the myth persists that Coors Field was the savior of LoDo. And, no surprise, the Rockies promote it. I was touring the ballpark last week with my baseball-crazed son, holding my nose as we toured the suites, and the tour guide told us that before the existence of Coors Field, there was nothing in lower downtown to speak of. And now we have all these expensive lofts around the area, she said.
To her credit, she reminded us that Coors Field was built with a temporary tax (corporate welfare) that was later extended to fund the construction of the new football stadium, hooray, hooray.
In fact, hooray, hooray is exactly how they want you to feel. That's the marketing goal of the Colorado Rockies and the giant corporate interests and super-rich individuals that make so much money on sports in America.
They want us to feel good about the home team, for as long and as deeply as possibly. And right now in Denver we're feeling good about the Rockies.
And a lot of people feel good about LoDo. But please, Coors Field and the Rockies have actually degraded LoDo, not led its revival.

Related
Popular in the Community