Donald Trump is running behind where a Republican nominee should be this year. Who says that Trump's behind? Well, polls. All of them. And while some rare good news for Trump came out of Indiana, it wasn't good news for the GOP's Senate candidate. This is HuffPollster for Thursday, August 18, 2016.
REPUBLICANS ARE PAYING A 'TRUMP TAX' - Dylan Matthews: "The 2016 presidential election was supposed to be close — but Republicans should have had the edge. An election forecast built by Vox and a team of political scientists projects that a generic Republican should win 50.9 percent of the two-party vote in 2016. But Donald Trump isn't a generic Republican — and he is polling at 45.1 percent of the two-party vote, according to the Huffington Post Pollster. The difference between those numbers — 5.8 points, as of today — is what we're calling the Trump Tax: the electoral penalty Republicans appear to be paying for nominating Trump…. The Trump tax waxes and wanes with changes in Trump and Clinton's polling…. [A]fter the Democratic Convention, Clinton's bump pushed Trump further behind than he'd been all summer, and weeks later, that bump shows no signs of dissipating." [Vox]
That could cause problems for congressional and state-level Republicans, too - Seth Masket: "Republicans are worried that Donald Trump, losing badly to Hillary Clinton, is dragging down the party's candidates for Congress and state legislatures with him….There's a pretty clear relationship — for each additional percent of the vote a presidential candidate receives, his or her party will gain several House seats and about two dozen state legislative seats, according to my analysis. But there's quite a bit of leniency in that relationship. While having an unpopular candidate at the top of the ticket is certainly a challenge, it's not necessarily a death sentence. Candidates can sometimes successfully distance themselves from their presidential candidate… [C]ongressional and state legislative seat shares track each other closely… Another trend we see is that presidential results do not map perfectly onto the shifts in state legislative seats. Yes, when a party wins a presidential race, it tends to win legislative seats. But the president's coattails aren't necessarily very long." [538]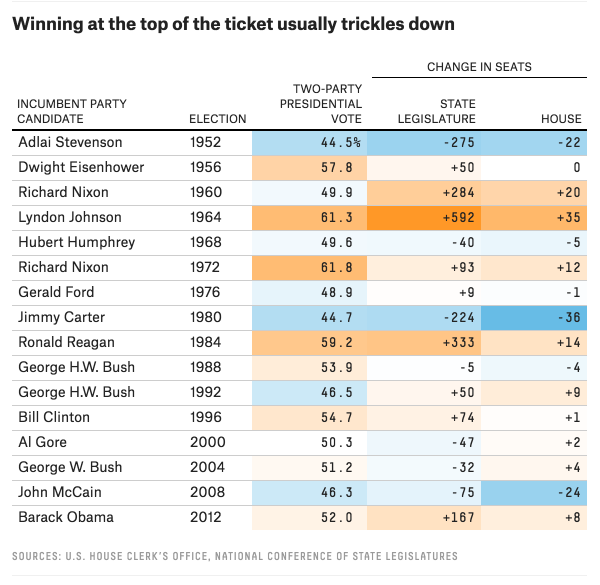 TRUMP ADVISER FACES OFF AGAINST ACTUAL POLLING DATA - A transcript of a conversation Wednesday between Trump surrogate Michael Cohen and CNN's Brianna Keilar, via HuffPost's Nick Wing:
BK: You say it's not a shakeup, but you guys are down.

MC: Says who?

BK: Polls. Most of them. All of them.

MC: Says who?

BK: Polls. I just told you. I answered your question.

MC: OK. Which polls?

BK: All of them.

MC: OK.
HuffPost Pollster Fact Check: True - Trump hasn't led in any national poll in the Pollster chart since he had narrow leads in a few polls right after the Republican convention. That was nearly a month ago.
And no, crowd size is not more indicative of support than polls - Ed Mazza: "Fox News host Eric Bolling is sick of polls. Not only are they wrong, he said, but it's the size of crowds at Donald Trump's rallies that's much more important. 'We have to stop with these polls, they're insane,' Bolling declared on 'The Five' on Wednesday. 'You look at a Trump rally and there's 12, 15,000, 10,000 people and then you look at Hillary Clinton and you have, I don't know, 1,500, 2,000.' None of his cohosts were buying it, though. Especially not Dana Perino. 'It's a real disservice...,' Perino, the former White House press secretary to President George W. Bush, began. 'To whom?' Bolling interjected. 'His supporters,' she replied. 'To lie to them that the polls don't matter.'...Perino pointed out that the same thing happened in 2012, when Mitt Romney supporters were told by Fox News and others on the right that polls showing President Barack Obama leading were wrong." [HuffPost]
SOME RARE GOOD NEWS FOR TRUMP IN INDIANA - Nick Bayer: "A new Monmouth University poll out Wednesday shows Republican nominee Donald Trump keeping a safe distance from Democratic nominee Hillary Clinton in Indiana ― something that shouldn't come as a surprise since 54 percent of the state's likely voters surveyed approve of the job Gov. Mike Pence, Trump's running mate, is doing in office...while the presidential race numbers might not be shocking, the races for both Senate and gubernatorial elections are a reason to take a closer look at Indiana this year. There's good news for the Democrats in the Senate race. The new poll shows former Democratic Sen. Evan Bayh has a 7-point lead over Republican candidate Todd Young in the race to succeed retiring Republican Sen. Dan Coats…. This most recent statewide poll, the third in a series of Monmouth surveys, shows Republican Lt. Gov. Eric Holcomb nearly tied with Democratic former legislator and 2012 gubernatorial candidate John Gregg." [HuffPost]
HUFFPOLLSTER VIA EMAIL! - You can receive this daily update every weekday morning via email! Just click here, enter your email address, and click "sign up." That's all there is to it (and you can unsubscribe anytime).
THURSDAY'S 'OUTLIERS' - Links to the best of news at the intersection of polling, politics and political data:
-The newly-launched Daily Kos (D) presidential forecast predicts Hillary Clinton will win 316 electoral votes. [Daily Kos]
-Harry Enten looks at how Clinton could still lose the election. [538]
-Mark Blumenthal explains that most Americans don't hate both Donald Trump and Clinton. [SurveyMonkey]
-David Rothschild finds no evidence of social desirability bias hurting Trump in the polls. [HuffPost]
-61 percent of Americans think racism against blacks is widespread. [Gallup]
Popular in the Community