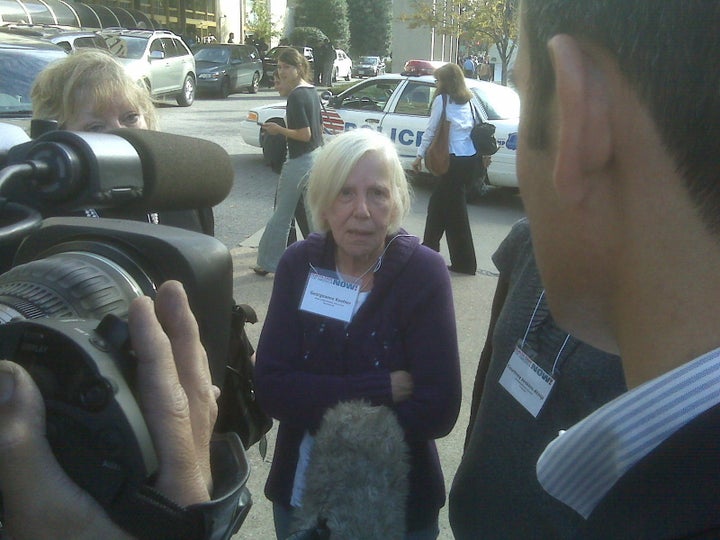 In 2003, William Koehler of Pittsburgh, Pa. lost his job as an electronics technician. He lost his health insurance, too, but he'd been lucky enough to have the defibrillator battery in his heart changed just the previous year. No insurer would cover him except for one company which refused to cover anything related to his arrhythmia, says his sister.
He survived as long as his battery did, dying on March 7, 2009 at 57. His sister, Georgeanne Koehler, has become an activist, telling the story about how her brother died to anyone who will listen. On Thursday, she traveled to Washington, D.C. from Pittsburgh to join a protest outside a conference for America's Health Insurance Plans, a lobbying group for the insurance industry.
"I blame insurance companies, I blame his doctor, and I blame politicians," Koehler said to a gaggle or reporters asking about her brother's death after the protest.
In an interview with the Huffington Post, she explained that after he was laid off, her brother found part-time work delivering pies for Vocelli Pizza, putting in about 30 hours a week. In 2007, as he was closing up shop, he collapsed. His coworkers called an ambulance, and his sisters joined him at the hospital.
"The doctor said that the defibrillator battery was extremely low, and he needed studies done, but not as an inpatient," said Koehler, who is 63 and works as a unit clerk at a hospital in Pittsburgh. Asked if he needed to pay for treatment upfront, her brother's doctor said he would, and that it would cost thousands of dollars.
"I'm a pizza delivery guy, I don't have insurance," Koehler recalled her brother saying. She said the cardiologist walked to the side of the bed and asked her brother if he put oil in his car. When he said he did, the doctor told him that's what he needed to do for his heart.
"You're talking about a $8.50 can of oil and my battery's going to be ten thousand dollars," Koehler recalled her brother saying. "The doctor said, 'Get your priorities straight and you'll come up with the money.'"
Instead, the lesson William Koehler took from the episode, his sister said, was that "You have to have money to have your health." Over the next two years he'd have episodes where he couldn't catch his breath but he always shrugged off going to the hospital.
Georgeanne Koehler said her brother's boss saw him leaning against a table in the shop on a Saturday in March. He said he was tired, so his boss sent him home early.
"He drove two blocks, swerved a little bit coming to a stop sign, came to the stop sign, put his car in park, and slumped against the steering wheel," Georgeanne Koehler said. A paramedic told her, she said, that it appeared as though the defibrillator implant gave her brother's heart a jolt, but the battery didn't have enough juice to save him.
Koehler said she and her brother had both been lifelong Republicans, but she said he voted for the current president in hopes of health care reform. Now an activist, she travels to rallies with a packet full of her brother's doctor's notes and EKG diagrams. The progressive pro-reform group Health Care for America Now, which heard of her case through the Service Employees International Union, of which she is a member, paid for her bus ticket to and from Washington.
Aside from attending events, Koehler said she's gone door-to-door asking her neighbors to sign rectangular pieces of construction paper. She's been pasting them to poster board in a brick pattern. When the president signs a health care reform bill, she said, "We're gonna take it down to the neighborhood and people are going to take the bricks down."
Related
Popular in the Community