By Yasmine Saleh and Tom Finn
CAIRO, Aug 14 (Reuters) - First came the tear gas, the bulldozers and the flames. Then came the bullets and the blood.
Egypt's security forces arrived after dawn on Wednesday to disperse the camp where thousands of Islamists have held vigil for six weeks. Helicopters roared above. Police fired tear gas into the crowd. Armoured bulldozers knocked down the makeshift walls made of sandbags and piles of rocks.
Inside, thousands of supporters of deposed President Mohamed Morsi were waking up into panic. Reuters correspondent Yasmine Saleh reached the camp shortly after the assault began, to hear desperate residents reciting Koranic verse and screaming "God help us! God help us!"
Masked police in dark uniforms were pouring out of police vans with sticks in one hand and tear gas bombs in the other. They tore down tents and set others ablaze.
"They smashed through our walls. Police and soldiers, they fired tear gas at children. We are peaceful, no weapons, we didn't fire a shot, we threw stones. They continued to fire at protesters even when we begged them to stop," said Saleh Abdulaziz, 39, a secondary school teacher clutching a bleeding wound on his head.
After shooting began, wounded and dead lay on the streets near pools of blood. An area of the camp that had been a playground and art exhibit for the children of protesters was turned into a war-zone field hospital.
Seven dead bodies were lined up in the street, one of a teenager whose skull was smashed, with blood pouring from the back of his head.
At another location in Cairo, Reuters reporter Abdul Moneim Haikal was in a crowd of Morsi supporters when he heard bullets whizzing past and hitting walls.
The crowd dived to the ground for cover. When Haikal looked up he saw blood gushing from the skull of a man next to him, killed by a bullet to the head. Police were firing from armoured vehicles across the street.
At the Western entrance to the main sit-in as the assault was under way, Reuters reporter Tom Finn saw troops turn away ambulances sent to evacuate the wounded. A woman in a pink hijab stood in front of the soldiers holding up her ID card and screaming: "I'm a doctor, I'm a doctor let me through!"
There were 50 or so pro-Morsi supporters behind her, mostly middle-aged men. Some were crying and had blood on their arms and faces. One man named Yusuf said he had seen his son injured on TV and was trying to get in to find him.
Three ambulances arrived, their sirens wailing. Men began banging on the back of the ambulances shouting "Let them through!" The soldiers turned the ambulances back and fired tear gas canisters at the men.

Later at the eastern side of the camp, Finn saw tents burning. There was a near-continuous rattle of machinegun fire; most of it sounded like it was coming from balconies above.
Morsi supporters, mainly bearded men in their mid-thirties, were sawing branches of trees and piling them onto a huge fire to counter the effect of tear gas. Men were arranging piles of stones around pools of blood on the ground. Others were trying to reassemble the walls that bulldozers had smashed down.
Protesters were smashing up the pavement and hurling rocks at the police.
A woman in a blue hijab was crying as she handed out gas masks. The injured were ferried out of the camp on stretchers and on the backs of motorbikes. One man was bleeding so badly that blood was dripping through the stretcher.
The wounded and dead were brought to a field hospital in a building beside the mosque, hot and chaotic and rammed with people screaming and shouting. Blood was streaked on the white walls. The injured were taken upstairs. The dead were carried in rugs to the basement.
Most of the dead were in one small room, laid out in a line head to toe, their heads wrapped in white bandages. Some were stacked on metal shelves. There was a 12-year-old boy bare-chested with tracksuit trousers laid out in the corridor, a bullet wound through his neck. Young men writhed in agony on shabby mattresses in corridors.

His mother was bent over him, rocking back and forth and silently kissing his chest. One of the nurses was sobbing on her hands and knees as she tried to mop up the blood with a roll of tissue. Reuters reporter Finn counted 29 bodies, mostly men in their 20s, with bullet wounds to their heads, necks and chests.
Throughout the day, the death toll was disputed, with Brotherhood figures reporting scores or even hundreds killed and the authorities giving smaller figures.
Journalists were among the dead, including an Egyptian reporter and a British TV cameraman. Reuters photographer Asmaa Waguih was shot in the foot and was taken to hospital.
Young Brotherhood supporter Majdi Isam, his hair matted with blood, said it was time for holy war.
"Is our blood this cheap? We are waging jihad now. God will have vengeance on these butchers. The streets are full of blood," he said.
By late afternoon, the campsite where Morsi's supporters had maintained their vigil for six weeks was empty. One man stood alone in the wreckage reciting the central tenet of Islam: "There is no God but Allah."
He wept, and then his voice broke off into silence. (Writing by Michael Georgy and Peter Graff)

Before You Go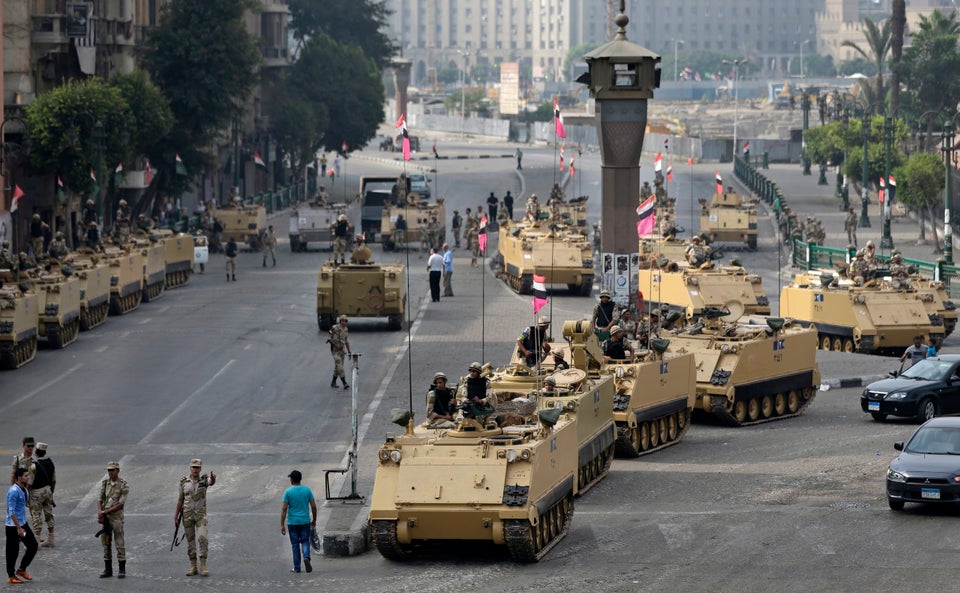 Clashes In Cairo (Warning: Graphic Images)
Popular in the Community