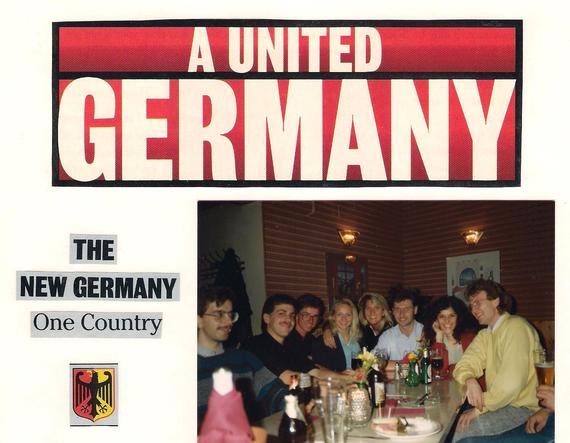 Celebrating the fall of the Berlin Wall with Student fellows at SUNY Albany
Back in time. I just remember exactly the day when the Berlin Wall came down. I studied in Albany, New York, as an exchange student. Me and some German fellow students decided to spend a long weekend in Washington D.C.
And there we got all the news. We could not believe it: The Wall was breached by jubilant Berliners on November 9, 1989, unifying a city that had been divided for over 30 years.
Back in the year 1989, there were dramatic events such as a massive flight of inhabitants of East Germany (GDR) via Hungary and big demonstrations in Leipzig on Mondays. After weeks of discussion about a new travel law, the leader of East Berlin's communist party (SED), Günter Schabowski, said on November 9, 1989 at about 7 pm in somewhat unclear words that the border would be opened for "private trips abroad".
Soon thereafter, an onrush of East Berliners towards West Berlin began, and there were celebrations at the Brandenburg Gate and at the Kurfürstendamm in West Berlin. On November 10, demolition work began with the aim of creating new border crossings. On November 12, a checkpoint at the Potsdamer Platz was opened, and on December 22, a checkpoint for pedestrians was opened at the Brandenburg Gate. So-called "wall woodpeckers" hammered pieces out of the wall, many of which were sold as souvenirs. A few larger segments were officially donated or sold.
On November 10, 1989 me and my fellow students went straight to the German Embassy at the US capital. There we got the confirmation of what we had seen the day before on television.
One year later, on October 3, 1990 happened the reunification of Germany. At this time I still lived in the US. Me and my friends had a big party.
We were witnesses of history!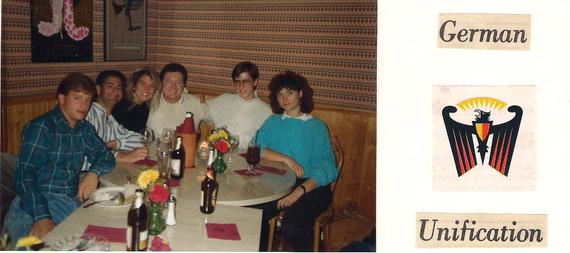 Calling all HuffPost superfans!
Sign up for membership to become a founding member and help shape HuffPost's next chapter