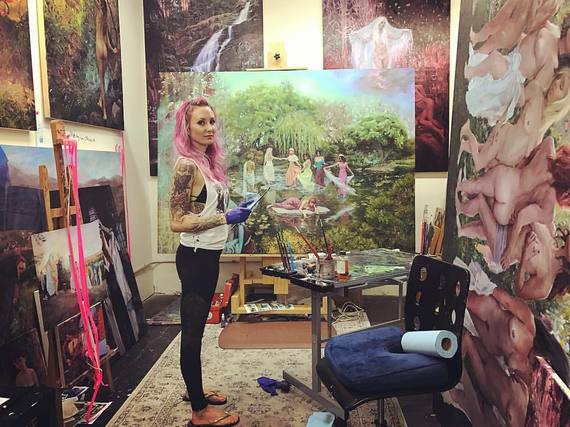 (Artist Natalia Fabia in her studio in front of "Knowingness," oil on panel. Image courtesy of the artist.)
Natalia Fabia is an artistic junkie. She's constantly jonesing for creativity; if you follow her on social media, you'll see posts filled with amusement, whimsy, and more often than not, over the top sparkles and pops of pink.
In person, the artist is unequivocally a full-on extrovert, one who engages and envelopes all that come into her path - she's sort of a cheerleader for the art set. Her work is very much the same way. Yet with her exhibition opening Saturday at Corey Helford Gallery and entitled "Rainbeau Samara," there is a quietness infused into this body of work - but at the same time, it is just as engrossing in its explosions of sentiment and color as Fabia is in real life.
Here the artist weighs in on what this exhibition means to her as well as some of her influences of the past.
Why is this show called Rainbeau Samsara?
Natalia Fabia: "Rainbeau " is a play on my daughter's name (Peribeau) for her youthful and uninhibited innocence, and the rainbows than can be found in any environment if you take the time to look, [as well as] the colors and jewel tones of my paintings. Samsara is Sanskrit, and roughly translated means "sequential cycles of life." Inspired by recent personal events, I am exploring what's known as the seven year life cycles and the stages and emotions within those time frames, from birth to transition, and our shared connection universally by stardust, incorporated into my work with rainbow sparkle splatters and expressive marks.
There is a quietness and solitude in this work - a very meditative quality. It is definitely an evolution, but was there a trigger?
Fabia: The birth of my daughter, the death of my brother and falling into a painting funk. I wasn't really excited with my work, and the process was not enjoyable to me anymore. I was constantly avoiding, so after some meditation and self analysis, I had to tear it all down and rebuild.
There are works that seem reminiscent of John Everertt Millais, and even hints of Matisse and Manet. Can you talk about who some of your influences are?
Fabia: I referenced a few artists preparing for this show: John William Waterhouse, Lisa Yuskavage and Lawrence Alma-Tadema. I also found myself enchanted by a score of 19th century European landscape and figurative artists, some suggested by artist friends in Poland and some randomly appearing during my searches for inspiration imagery.
Natalia Fabia: Rainbeau Samsara
Corey Helford Gallery, 571 S Anderson St #1, Los Angeles, CA 90033
Calling all HuffPost superfans!
Sign up for membership to become a founding member and help shape HuffPost's next chapter