NRDC co-founder John Adams attended the world's first global environmental conference in Stockholm in 1972, accompanied by wife Patricia and two law school students. Their goal then was simply to learn more about global environmental issues and how they could play a role in addressing them. Adams and NRDC have been a part of every major international environmental conference since.
This week, Adams and I will be among the expected 50,000 attendees at the Rio+20 Earth Summit. In advance of Rio+20, I turned to Adams, who retired as NRDC's president in 2006, for perspective and advice. Here's what he had to say: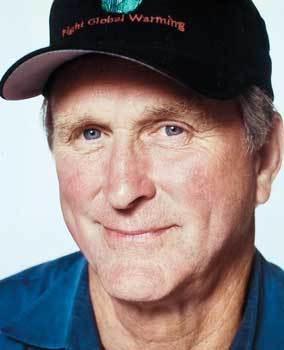 Q. You've attended every major international environmental summit the world has ever had. This is my first. What should a newbie like me expect at Rio+20?

A. Bring two pairs of shoes. You'll be walking a lot.
It really is a whole different world being shown to all of us when you go to these kinds of events. At the last Rio meeting (in 1992) there were huge demonstrations by thousands of people from all over their world. They brought their crafts and their art -- and, of course, their concerns about the environment. There was every kind of color, every kind of demonstration you could imagine. It's great.

Do these big summits really make a difference?
Well, the world has moved a great distance on the issues of climate, oceans, mercury, lead in gasoline, international fishing and whaling, in part because of events like these. So yes, I think they're extremely important. They spotlight the people and the countries and things that are going wrong -- and the things that are going right.

Of course some observers are already predicting failure at Rio and say conferences like these in the past haven't been very effective. UN Secretary-General Ban Ki-moon has said negotiations on just the working document are going "painfully slow." What's your feeling headed into Rio+20?
You know, we always focus on the things that don't happen. But all I can say is, you have work at it and you have to understand it.
When I was young, I thought everything could be done in five or 10 years. What I've realized is that it's not always five or 10 years; it's always a progression. Sometimes it's up and sometimes it's down.
This summit might come with some frustrations, but I think we will move the ball a little bit further and make some progress.
Besides, we don't have much choice, do we?

President Obama has indicated he won't even be there. Is that important? And as a recipient of the presidential Medal of Freedom, can't you call up the guy who gave it to you and encourage him to come?
I think it's too bad if he's not there. I think this is a very important time for him to be there. The climate and other issues that will be addressed are his legacy, and the environmental world is counting on him. He needs to reach out to people and let them know he really cares about these issues. He can't do that by sitting at home.

What's the role of groups like NRDC at these events?
I think our principal role is to make sure our country does the right thing. Very often, the staff of NRDC knows these issues and knows the science behind these issues as well as or better than anybody else. We know the positions the United States should take if it wants to do the right thing. But these officials have to take a political position too. Our team has to put pressure on them to do the right thing, to move forward and advance the ball on all of the issues. I think if we weren't there, (world leaders) would be more likely to take the easy way out -- the political way out. We have to try not to let that happen.

Not to date you, but things have obviously changed quite a bit since Stockholm and 1972. We can connect instantly with each other over the Internet. We can drive action through Twitter or crowdsourcing. Is it time for a different approach that doesn't involve big and laboriously long meetings with government officials in different parts of the world?
You know, technology is great and I think things like NRDC's Cloud of Commitments (a database of country commitments at Rio+20) is going to make a big difference in holding people accountable.
A lot of countries are already suffering from climate change, from overfishing, from unhealthy foods and other issues. Bringing people who know about these issues and who are suffering from them together with the leaders who can make changes is important, and I just haven't figured out another way we can do that.
These meetings force the leaders of these various countries to at least think about these issues and these people for a few days anyway while they're there. And if we don't do that, they (world leaders) will hide from you. They'll hide from the problems.

What keeps you optimistic that we can turn things around on this big planet and avoid - as UN Secretary General Ban Ki-moon has described it -- the possibility of "very negative tragic consequences for humanity?"
I now have six grandchildren. I have to worry about their future, so I don't have any trouble staying optimistic. I don't think anyone who really understands what's at stake has a problem making themselves get up in the morning and working for change.
I have this feeling that we're never going to lose. We're going to win; it's just going to take a while. This is all just part of a large, long haul and the world is a complicated place. I mean, we've been using fossil fuels now for hundreds of years. It's going to take a few years to get off of it.
Any personal goals for Rio+20?
I want to meet people from all over the world who are positive and thinking about how we're going to move the world along, and try to work with them over the next years to do it.
We now have lots of smart people at NRDC who are working on the nitty-gritty of moving ahead on laws and regulations. And we have some great young people at NRDC who are working on motivating younger people.
I think I want to work with the grayer crowd there because, unfortunately, I'm getting a lot grayer.
But I don't intend to go to fancy dinners and all that stuff. I intend to meet people, to listen to people.
I'm going there to be a witness.
REAL LIFE. REAL NEWS. REAL VOICES.
Help us tell more of the stories that matter from voices that too often remain unheard.