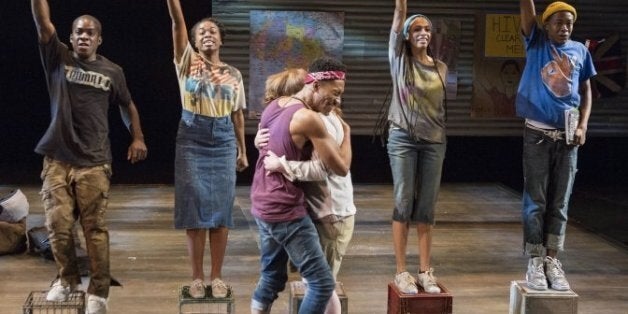 When Griffin Matthews was 23 years old, the director of his church choir found out he was gay and asked him to leave the congregation. A broke, struggling actor living in New York City, Matthews decided it was time for a change. On a whim, he cashed in his entire savings account and bought a one-way ticket to Uganda.
Within a few weeks of his time overseas, Matthews realized that the volunteer program he was working for, an orphanage that purportedly built schools in needy areas, was embezzling money and failing to deliver on its promises. On a walk one day through the small village he was living in, he met a handful of local Ugandan children and decided to take matters into his own hands. He set up a makeshift classroom in a library and taught them himself. And when he returned to the United States, he began raising money to pay for their education, food and health care.
Matthews' experience forms the basis for "Witness Uganda," the buzzed-about new musical which premiered last month at the American Repertory Theater. Directed by Diane Paulus, who won a Tony award last year for her work on Broadway's revival of "Pippin," and written by Matthews (who stars as himself) and his partner Matt Gould, the show closes out a nearly sold-out run this weekend.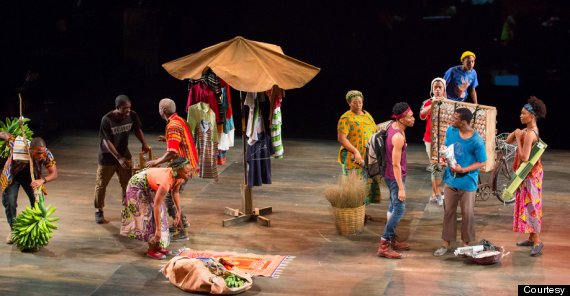 A scene from "Witness Uganda."
Gould and Matthews describe themselves as equal-parts activists and artists, and "Witness Uganda" takes place in that sweet spot where the two collide. The story explores Matthews' own struggle to incite change while grappling with the harsh realities of aid work. But it's told through the lens of a "self discovery" narrative that even less-altruistic audience members can relate to.
"Life, love, aid work...enter any word here, followed by 'is complicated,'" Gould told The Huffington Post when asked about his show's message. "Life is complicated, and that's not an excuse not to live it. It's not an excuse not to help."
In 2005, when Matthews returned from his overseas trip, he formed The Uganda Project, a nonprofit dedicated to nurturing the children he'd met abroad. He raised money by throwing loft parties and performing arts events throughout New York City, and met Gould, who had been a Peace Corps volunteer, a few years later. The two men instantly clicked.
Around that time, the recession hit. "We were crumbling under the weight of losing donors," Matthews said. "We were several thousand dollars in debt."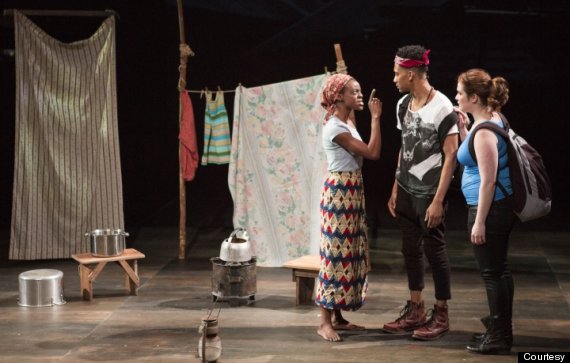 Adeola Role, Griffin Matthews and Emma Hunton in "Witness Uganda."
One night, while Matthews was venting about the troubles facing his organization and the misconceptions of volunteer work abroad, Gould secretly opened GarageBand on his laptop and pressed record. The next day, he composed music to accompany it, and "Witness Uganda" was born.
Gould and Matthews used the earliest iterations of the show as a two-man traveling fundraising operation, performing vignettes and series of songs as an effort to raise funds and awareness about the Uganda Project. Eventually, their piece grew, and with it, so did their following. The duo performed at TEDx, presented at the high-profile Disney/ASCAP musical theater workshop (where they caught the attention of legendary composer Stephen Schwartz) and, in 2012, nabbed the prestigious Richard Rodgers Award, which helped fund the musical's development. Earlier this year, right before "Witness Uganda" was set to debut in Cambridge, they won the prize again.
Though rumors are rampant that the show's next stop will be a certain New York City theater district adjacent to Times Square, Gould and Matthews remain coy about Broadway ambitions, focusing instead on the importance of spreading their message. Merchandise sold at each performance directly supports the Uganda Project, and ticket sales from a benefit performance this Friday will also go directly into its coffers. The two men return to Uganda at least once a year.
"We believe artists are activists, and it's our responsibility to let the world know what's going on in Uganda and how that affects us," Matthews said, noting that in addition to the complexities of aid work, his show touches on a number of other poignant issues facing the country, including the AIDS crisis and homophobia. The original script, for example, didn't address Matthews' homosexuality, but the pair rewrote it after Uganda first introduced its sweeping anti-gay legislation.
"Religion, sexuality, cultural questions -- we felt the need to talk about it, and we want to get other people talking about it," he said.
It's those very conversations, Gould argues, that eventually inspire real change. "Things can be broken, things can be messy, but in that brokenness, you can get to the core of who you are," he said. "The biggest tragedies of our lives can lead us to incredible opportunities."
Learn more about "Witness Uganda" and the Uganda Project here.
Related
Popular in the Community