What started as a night of dining, drinking and televised sports turned into harrowing stories of survival and bloodshed for many Londoners on Saturday.
Witnesses have recalled running, hiding and fighting for their lives, as well as the lives of others, after three terrorists turned their sights on central London's pubs and restaurants just after 10 p.m.
"Everybody was running around and there was a lot of panic," Joe Palermo, who took shelter in a local pub, described the chaos to the London Evening Standard.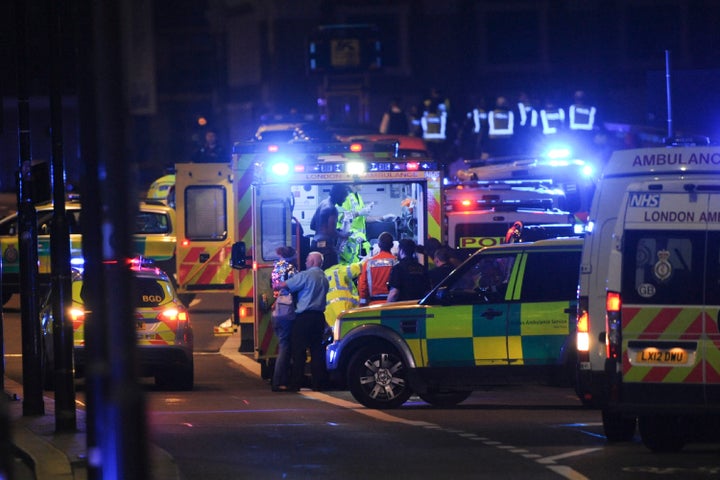 Palermo had just stepped outside of a pub near London Bridge, where the coldblooded attacks began, when he said he saw a bloodied woman staggering towards him with a "clean cut" across her throat.
"She was speaking English, saying, 'help,'" he recalled to the local paper.
Palmero said he helped the woman inside, where staffed worked to bandage her neck. When he went back out to look for help, he heard sirens, saw bodies lying on the ground, and armed police officers ordering him to run.
He tried to get back into the pub but found its doors locked. Hurrying, he was able to get inside of a nearby restaurant where around 20 others had taken refuge.
Similar scenes were reported elsewhere.
Jag Sandue was at the nearby Black and Blue restaurant when he said he saw several men, armed with knives, make their way inside.
"There were people throwing chairs and glasses outside and I thought it might just be a fight. Then I realized it was more than that, people were running," he told The Herald Sun.
As Sandue ran towards the back of the restaurant, he said a man directly behind him was cut down by one of the attackers. That man's blood had splattered on his T-shirt.
Another witness, only identified as Jamie, similarly recalled hiding in the Black and Blue restaurant's kitchen with one of the victims who he described to The Guardian as "bleeding quite a lot."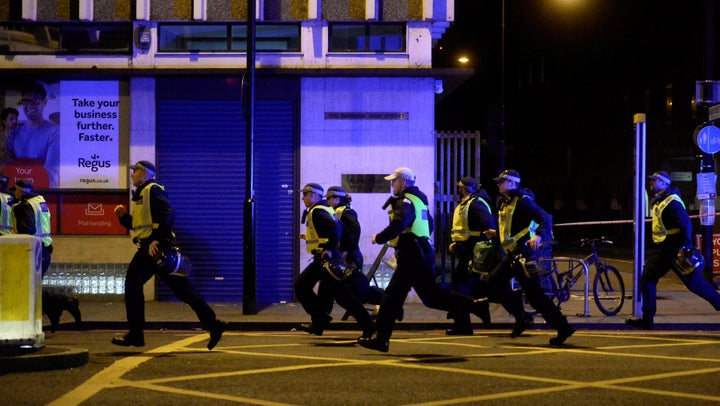 At the nearby Wheatsheaf Pub, Owen Evans said he was out with friends when he described seeing as many as 30 people rush inside and try to reach the cellar.
"We saw police lights and everyone got down under a table. People turned tables over," he told The Guardian.
As he and the others hid in the back, they heard gunfire begin outside. Soon after there were cries that someone at the front of the pub had been shot.
"There were bullet holes in the windows," he said. "The people near the person called for a medic, shouting: 'He's f―king bleeding to death, we need a doctor.' The bar staff were amazing, I think they locked the door so no one got in."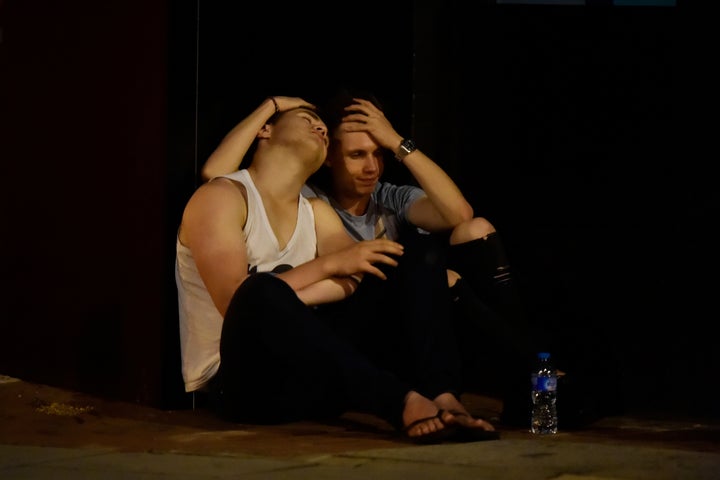 At another pub, Gerad Vowls, speaking to ITV London, recalled witnessing at least three people being stabbed by an assailant, prompting him to fight back with thrown bottles, a chair and "anything I could get my hands on."
A man named Liam, who said he witnessed some of the chaos on the street from his apartment's window, said he saw people directing police officers to the suspects' location.
"A crowd of people were pointing into the market saying 'he's down there,'" he told the Evening Standard. "They got the attention of what looked like an armed police car, and pointed down Borough Market. The car screeched in that direction and we heard what sounded like five or six very loud gun shots."
One graphic video, obtained by The Sun, shows a bloodied victim sitting on the ground as someone applies pressure to his or her wounds. Outside the windows, emergency lights flash widely as people call out orders to move upstairs.
"Ladies first, ladies first!" a man appears to holler over the chaos. 
"When it comes to taking on extremism and terrorism, things need to change," she said in a televised speech on Sunday.
REAL LIFE. REAL NEWS. REAL VOICES.
Help us tell more of the stories that matter from voices that too often remain unheard.
BEFORE YOU GO
PHOTO GALLERY
London Attacks Aftermath