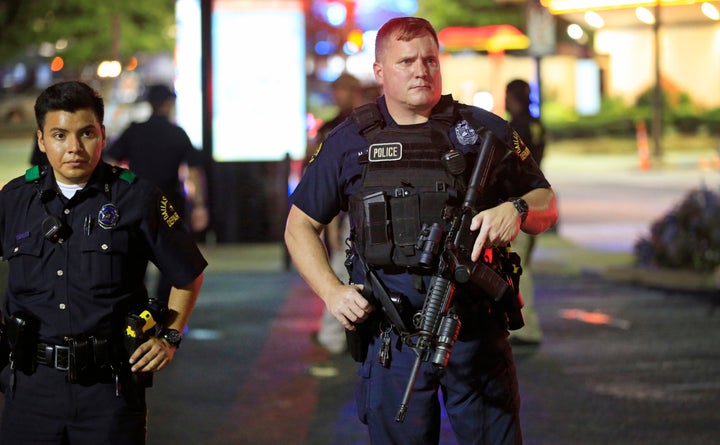 The grim footage of the deadliest day for U.S. police since Sept. 11, 2001, attests to the ways social media and handheld cameras have revolutionized the way we experience major news events.
Michael Kevin Bautista, a participant in the Black Lives Matter protest in Dallas on Thursday evening, streamed video of the shootout between the gunmen and city police officers on Facebook live.
Bautista had been streaming videos of the march earlier in the evening, celebrating the strong turnout.
He was nearby when shots broke out and resumed streaming. "Holy shit," Bautista exclaimed repeatedly, facing the camera.
Bautista captured several officers exchange fire with the gunmen in the three-minute video. Baustista was filming from across the street and appeared to be just a few dozen yards away from the action.
"They're shooting right now. And there's an officer down," he said. "It's coming from the right over there, from around these buildings."
Bautista identified the location as the intersection of Main Street and Lamar Street.
The footage shows the officers advancing closer toward the direction of the gunshots.
"They're moving in on somebody," Bautista said. "I think they might have got somebody."
Bautista later said he thought he heard a second officer being shot and zoomed in on an image of the cops treating someone on the ground. He ended the broadcast after it sounded like law enforcement officers asked him to withdraw further from the scene. The video had garnered more than 3.5 million times early Friday.
In a second video that lasts nearly 40 minutes, Bautista filmed from behind a truck, continuing to narrate the police pursuit of the suspects. He still had a clear line of vision of several of the police cars across the street.
Bautista's Facebook profile says he works for the United Parcel Service, but it also says that he studied digital filmmaking at the Art Institute of Dallas. Bautista claimed in the second video that he knew how to take cover from his time serving in the U.S. Army.
Another amateur video posted on social media appears to show one of the gunmen who ambushed police. From an overpass, the camera captures a man standing behind the column of a building firing from a rifle.
Witnesses captured the event from multiple perspectives and posted their footage online.
At first, Ismael Dejesus thought the noises were fireworks. He told CNN that he looked out the window of his hotel, and believes he saw one of the shooters killing a police officer.
"It looked like an execution," he said.
READ MORE ON THE DALLAS POLICE MASSACRE
Related
Before You Go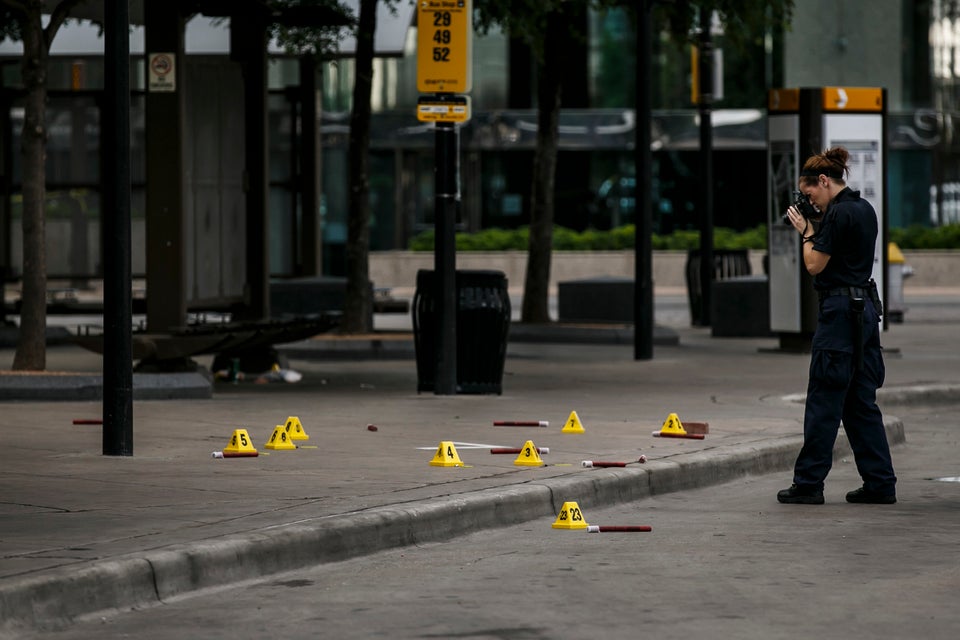 5 Officers Killed By Sniper Attack During Dallas Protest
Popular in the Community