I have often thought about HOW my parents felt when they participated in the historic March on Washington, or just HOW the anti-apartheid advocates felt when Nelson Mandela walked out of jail on Robbins Island after 27 years in prison, and certainly HOW our elders who lived through Jim Crow segregation felt when Barack Obama took the oath of office.
Last night I experienced it--as Hillary Clinton accepted the nomination for President of the United States of America.
As a faith feminist, and women leaders' advocate, I approach life through the prism of human rights in general, and gender, race and justice rights specifically.
This past week I had the privilege of attending the Democratic National Convention. I had gone to all but one in previous years, but this one was special. Not only was there a woman being nominated by a major party for the first time in American history. But this was someone I knew. I've walked beside her,as she was candidate, and then became US Senator; worked for her as US Ambassador for International Religious Freedom, and worked WITH her in every capacity., Now I will go all out and campaign for her.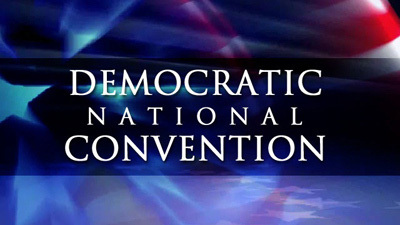 Monday was Day #1 and I was able to open up the Convention with an interview on CNN's Carol Costella show, seated next to Emily's List's CEO, Stephanie Schriock. Emily's list had helped me start my campaign, but with Hillary, we saw years of putting on the "finishing" touches, and helping a woman get closer to victory.
I had no major role this time, not leading the opening prayer, which I had done on four occasions, not being a delegate, but sitting in the stands, with my girlfriends, from both near and far. For those who couldn't physically be there, I sent text and camera messages, so they could have some of the raw excitement in the room.
Many women were at the helm of the planning for this year's convention, and I have to give it to them ---Executed with EXCELLENCE!
Keynote speakers Michelle Obama, Donna Brazile, Rev. William Barber, my co-Fellow at Union theological Seminary, President of the NAACP in NC and organizer of the Moral Mondays there, which has exploded into a national revival, were my all time "hits".
They resonated and spoke with fluidity, warmth, elegance and eloquence, and Chelsea Clinton just pumped with poise. . Dr. Barber just took us back" home" and started speaking./preaching with power, until all faith,s ethnicities, races, were on their feet and in the aisles, slapping high five's and even shouting "Hallelujah: "Wonders never cease to amaze me", My late grandmother used to say.
A brilliant, yet touching, presentation came from the Mothers of the Movement, all mothers of sons and daughters killed by guns. I know each of the mothers has had their cry. but I HEARD their cry.
From my early days in politics, when my late Brother, Charles became the first Black Assemblyman in the Bronx, to this moment, I am charged more than ever, to support those who care. Hillary Rodham Clinton cares--and I believe, will be unstoppable.

WE have l00 days; young millennials have a few weeks to register if they want to vote-in person or by absentee--but my all means, VOTE
I'm a woman, proud of what I experienced these past four days. I'm on Fiya. This girl is on fiya. and we made HISTORY, as Hillary made HER STORY. Si se Puede!!! We can do this
I am SO ready to go forward. It's time!!!
Ambassador Suzan Johnson Cook was nominated by Secretary Clinton And appointed by President Barack Obama, as the 3rd US Ambassador at Large for international Religious Freedom. She leads the ProVoice/ProVoz movement for Black And Latina women. Author of Soul Sisters, recently released by Tarcher Penguin, she is a frequent Huff Post columnist and Media pundit .
She may be reached at CharismaSpeakers.com
REAL LIFE. REAL NEWS. REAL VOICES.
Help us tell more of the stories that matter from voices that too often remain unheard.