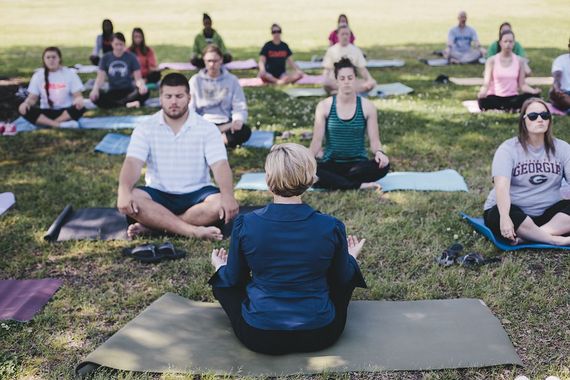 This is an interview with Dr. Kate Hendricks Thomas, a Marine veteran and public health researcher who is interested in finding ways to promote mental health for military-connected personnel. She believes passionately in behavioral health solutions beyond the clinical realm. Kate is a college professor and trained yoga instructor. In 2013, she completed levels I & II of the Warriors at Ease Trauma-Sensitive Teacher Training for Military Veterans. She writes a monthly column for the digital magazine "Grow" about the importance of yoga for veterans' health, and her articles about her research in this area have been published in scientific journals. Her first book, "Brave, Strong, & True: The Modern Warrior's Battle for Balance" was published last fall.
Rob: What originally motivated you to do this work, and what continues to motivate you? How, if at all, has that motivation changed over time?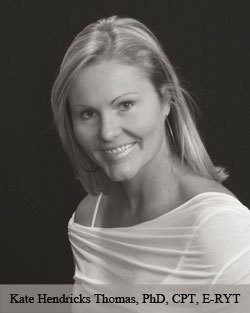 Dr. Thomas: I joined the Marine Corps in college to test myself, to see whether I could do 20-mile hikes or back-breaking obstacle courses. I quickly learned that I could. In those early years as a Marine, I got very good at presenting a veneer of stoic professionalism at all times. Presenting the certain, effective façade required some incredibly useful skills - skills that become very destructive when you don't know how to turn them off.
The above description fits most Marines. We tend to be a driven, dysfunctional lot. When I left the Marine Corps, I had a hard time carving a new identity for myself. I was terribly invested in what others thought of me. My public story was of crisp uniforms, physical fitness metrics, and successes. I always looked good on paper. My private story involved destructive choices, broken doors and holes in the walls, hiding weapons in the house, and getting dragged across the living room floor by my hair. I share this not because any of it is particularly interesting, but because it's particularly common and normal in the military community I call home.
I was floundering through my own transition of Marine-to-civilian. It was at this critical juncture that I came to yoga as an athlete looking for something fun to try, something new to master, and something to help me bend my unyielding muscles a bit more easily. What I found on the mat changed my life entirely. I found a practice that was about more than my body, my training, and was something I could practice and study while joyously never "mastering" it.
I teach yoga today because it saved my life, because it asks the practitioner to work at creating mental fitness and resilience. I know no other way to reach my peers with such effect.
Is there a standout moment from your work with the veteran population?
I love teaching meditation for VA patients on the inpatient mental health ward. They are often so open and curious. Time commitments and distractions are completely eliminated by the confined surroundings, and we have the chance to truly breathe together.
What did you know about the population you are working with before you began teaching? What were some of the assumptions you had about this population and how have those assumptions changed?
I am a member of that population. The idiosyncratic messages of warrior subculture make sense to me; I grew up in a military family where "civilian" was pejorative, so I'm very familiar with military life. My own mistakes almost leveled me: I had no words to explain the disaster that had become my personal life, and felt crippling shame about being one of "those people," with disordered drinking behavior going through a violent divorce. I would have fit right in on the Jerry Springer show. I knew the military intimately and I think I imagined that if I shared any of this with other veterans, they would dislike the authentic me that was full of flaws. In actuality, those flaws are my greatest offering as a teacher.
What is the role of "warrior-ness" in the healing process for veterans?
Marines and soldiers are competitive people who respond much better to notions of challenge than to victim or patient identities. We veterans won't ask for help. The answer has to lie outside the contemporary standard of care. Yoga can address that. When we discuss the sorts of trauma and injuries our veterans have experienced, we need to bring mindfulness into the conversation around treatment and prevention. Pills and therapy are not enough to return this active, passionate community to full health after trauma.
Right now we are losing more veterans to suicide than to combat. I'm a pretty decisive person with limited ability to ask for help and zero trouble taking risks; I'm motivated in part because there was a time when I could have become one of those statistics. While there are clinical health services for soldiers and Marines with existing mental health conditions like post-traumatic stress, these services are not stemming the rising tide of service suicides. Framing mindfulness training as a way to "bulletproof your brain" renders the practices palatable within the confines of warrior culture.
What has been the greatest challenge in your teaching experience, and what tools have you developed for addressing that challenge?
Teaching from a place of flawed authenticity was a skill set I never used to possess, and I have to work hard to overcome my ego. A great example is my lifelong struggle with demonstrating balance poses. I've always had trouble in balance poses. To be honest, I'm not terribly balanced in general - I have been accused of displaying control-freak tendencies many a time. To learn to embrace my imperfect pose, laugh about it, and then share that in public has been tremendously liberating. I think our veteran students need approachable yoga.
What advice would you give to anyone who is going to teach yoga to veterans?
Learn the language, take some trauma-sensitive training, be willing to listen and learn, and focus outward. When we teach, it is not about us.
What are some of your ideas about, or hopes for, the future of "service yoga" in America in the next decade?
The yoga community has a real opportunity now to move into the mainstream health and wellness realm in a balanced, authentic, healing manner. Sometimes I think we focus too much on sexy poses or yoga pants, but when I spend time with fellow Yoga Service Council members who care so deeply about using this practice to make a difference in the world, I have confidence in the potential of our little subculture to bring about change.
Calling all HuffPost superfans!
Sign up for membership to become a founding member and help shape HuffPost's next chapter