Danielle Braverman is the quintessential California Girl. With her blonde hair, blue eyes and sunny disposition, she always has a smile on her face. Even when she's dealing with the ups and downs of her modeling career, and the challenges that balancing her career and motherhood can present, this model keeps on smiling and thinking positive.
Recently, Danielle has made headlines worldwide after going public with her eating disorder.
"I was often told by my agency that I needed to lose weight and to do 'whatever I needed to do.' They even pointed me in the direction of a place that would prescribe me diet pills and B6 shots," Danielle recounts of her experiences as a straight size model, early in her career.
I remember one time when my mom was out visiting me in LA and she saw me and immediately said 'Danni! You have gotten so thin! You are too thin now!' And that entire trip she was trying to get me to eat more, but I was very rigid about what I would eat. I wouldn't even eat an apple because it had too many calories, and I was trying to maintain a size 2/4. I didn't realize it at the time, but she said I was very lethargic and didn't have a lot of energy (due to not eating enough). I probably wasn't very much fun to be around.
Though the pressures of trying to stay thin enough to get booked out as a straight size model drove her to unhealthy habits, Danielle eventually decided that enough was enough.
Danielle says of her decision to quit modeling and get healthy:
After hearing over and over again that you are not enough, it really wears on you. Also, I was so sick and tired of watching every crumb I put in my mouth, because I love to eat. It was torture to have to focus on food 24/7 and to not be able to enjoy it. I just wanted to go back to being a normal person, and if that meant I couldn't be a model, then I was ready to let it go! After I let it go, I was happy that I could live normally and healthy, but I missed modeling because I loved the artistic side of the business.
Though Danielle was able to get healthy again, she missed the creative outlet that modeling provided.
"Modeling has always been my dream. I have always creatively expressed myself through fashion ever since I was a little girl, and I have always enjoyed it! I would 'model' my clothes around the house when I was young," she describes her natural love of fashion.
True to her personality, Danielle didn't let the setback of hitting the "pause" button on her modeling career get her down. She kept smiling as she took care of herself and established her family, and kept a space for that dream until the timing was right.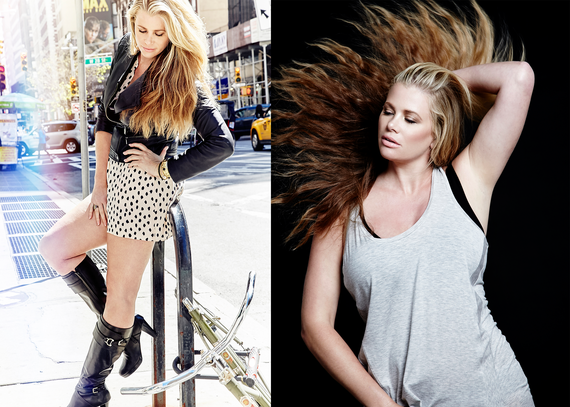 Danielle, working her stuff as a plus size model! Photographs by J Clynes Photography.
She says of beginning her career as a plus size model:
As my body gradually got back up to my natural size and I had my children, I was in such a good place, physically and mentally, that I decided I should start modeling again! When I was signed as a plus size model, I was over the moon that I was able to be myself, embrace my shape and still live my dream.
Danielle has had great success since getting back into the modeling game at a more healthy size! Her beautiful shape has been all over American and European plus size fashion events, campaigns and print media. And she is a source of inspiration to many since sharing her experiences with her eating disorder.
"I was touched by the responses from women who have had lifelong struggles with eating disorders and were inspired by my message. It made me feel as if I made the right decision about going public with my experience and sharing what my experience has been like on both sides of the modeling world."
Although the majority of the feedback has been positive, there are always a few haters that chime in on body positivity stories like Danielle's.
"There were some people criticizing me and questioning whether I should have been a model in the first place saying I wasn't thin enough even back then, and that surprised me!" she says of the naysayers.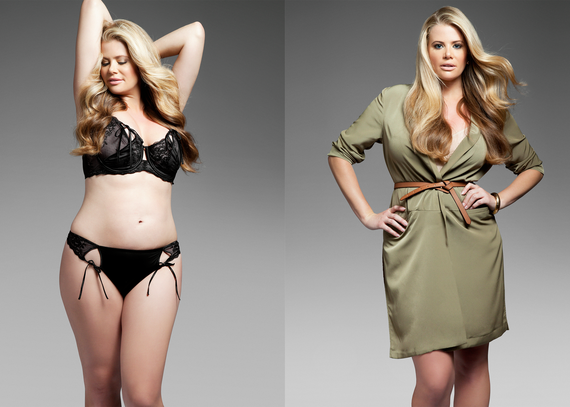 Danielle, proving that she has the goods to succeed as a plus size model! Photographs by Enrique Vega.
But this lady has way too many things to smile about to let a few negative comments get her down! And as a mother trying to balance her career and her family, she doesn't have much time to focus on stuff that doesn't involve staying on top of things so that she can "have it all."
She says of her approach to having it all:

I surround myself with an A+ team. I have a very supportive husband, an amazing preschool and an exceptional nanny. Without them, I wouldn't be able to travel as often as I do and leave town at the drop of a hat! I always put aside time for my family and make sure that everything is taken care of and everyone is happy! I plan everything out for the family before I leave town. I am very organized, and I think that helps me manage my life.
"I have one son, age 4 and one daughter, age 3. They are both in preschool now. The school has so many events and unfortunately I have had to miss -- I have missed recitals and other events, but luckily, my husband is able to be there for the events I miss, and he sends me photos and videos!" she says.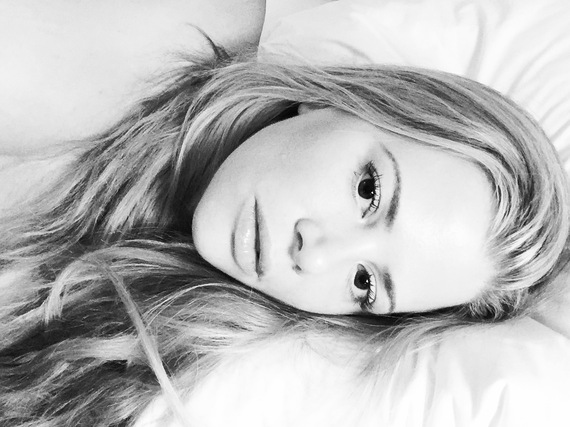 Danielle posts a selfie during her travels, keeping up with her followers. But her heart is really with her family!
"I try to stay as connected as possible. Even when I am halfway across the world, I am facetiming with the family and emailing teachers. All of the teachers know I travel often, so they text me photos of the kids and keep me up to date."
Being both a mother and a model who work internationally means that Danielle has to shift gears dramatically from week-to-week. But her laid back, sunny attitude enables her to do this without driving herself crazy.
"I try not to stress too much. I naturally have a pretty laid back personality, so I have the mentality that 'everything will work out.' I also don't put pressure on myself to be perfect, because who needs that! I surround myself with a supportive team. I have to lean on others because I travel for my job, so I believe that 'it takes a village'," she smiles as she describes her approach to juggling her multiple roles.
What does this model have to smile about in 2016?
"I have a long list of brands and designers that I would love to work with. I take every opportunity that is given to me and I work my hardest to be all that I can be. I believe that hard work equals success. Luck is only a very tiny part of that. So, in 2016 I plan to accomplish A LOT!"
To see more of Danielle's smiles and follow her career, check her out on Instagram @daniellebrave.