Lexi Placourakis may be the closest thing we have to a Greek Goddess walking among us today! She has a smile that could melt an iceberg, and a killer figure that she routinely shows off both in her social media presence and in her work as a face on the #TRUEcurves board at TRUE Model Management. By putting her beauty out there, Lexi is helping to bring confidence to women everywhere and showing those that bullied her and put her down in high school what resilience looks like.
"I have definitely always been taller than everyone else my whole life. Weight started becoming an issue in my life when I started high school. Throughout high school, my confidence level was at a zero, even though I was not overweight. After I graduated, I gained a lot of weight, bringing me to the heaviest I'd ever been. I lived with that a few years and then around 21, I woke up and decided to make a change," says Lexi of her journey to find peace with her body.
Lexi credits a strong family support system with helping her to navigate this journey successfully.
"Over the years my family had done everything to try to help me feel better about myself, from hiring trainers to cooking my meals everyday for me. My stepmom is even a personal trainer, so I definitely had the tools around me to lose the weight in a healthy way, I just never wanted it bad enough," she says.
Lexi found victory in the small successes along the way as she strove to improve her health and show her body more love.
"Around age 21, I decided to do things differently. The routine that helped me get 60lbs off started with me making small goals. I would have things I love maybe once a week. I wasn't unrealistic--instead of saying, 'I'm not going to touch pasta for a month,' I would restrict bread and pasta for one week. After I got through the week, I felt accomplished and that motivated me to keep going," says Lexi.
Lexi made changes to her routine incrementally and didn't force herself to jump right into a crazy fitness routine. Rather than obsessing about her weight loss and getting wrapped up in the numbers, Lexi focused on how she was feeling in her body, which allowed her to get to a point that she was happy with.
"Once my diet was better, I added walking a few miles a day to my check list, and about 6 or 7 months later I was down 60 lbs. I wasn't going for a particular weight loss number. I just looked in the mirror one day and was like, 'I feel freaking amazing!' I hopped on a scale, and I was down 60 pounds. I couldn't believe it!" shares of her transformation.
Although Lexi looks amazing at her current weight, vanity wasn't her primary motivation to begin transforming her relationship with her body and showing her body love through movement. Now, as a mother and a model, Lexi strives to maintain a balance between self-care and the other priorities in her life, like many women.
"It was a health thing for me, as diabetes runs in my family. Today, I have my three-year-old, so I'm not as consistent as I once was, but walking is my thing. I was never a runner, that's not my thing, so I just walk when I can, and try to eat well and eat enough. Some days, my issue isn't what I'm eating, it's that I'm going thru my day forgetting to eat. I don't intentionally skip meals, but I'm sure other moms can relate to this. When your focus is on your child, it's easy to overlook your own needs," she explains.
I asked Lexi what her standard of beauty is and who she grew up idolizing,
having been both an overweight young adult struggling to fit in, and now a beautiful, aspirational-looking plus size model.
"I'd say my mom was the women I was most influenced by. Before I was born, she was Miss Hawaii USA, and then moved to Japan and modeled for years out there, so I was always looking over her portfolio, drooling over how lovely she is! I just never thought one day I'd have my own port. But I just always looked up to her beauty, style, and class, and I still do!" says Lexi of her beauty icon.
Although Lexi doesn't meet the societal norms for the female body that her mother exemplified, she has loved her experience in the plus size fashion world. While some models describe their experience of the term "plus size" as negative or isolating, Lexi has relished having her size celebrated and gets frequent compliments on how she looks.
The scars from the bullying and mean-spirited comments she received during her teenage years still linger, but Lexi takes it in stride and applies those experiences to trying to relate to and motivate others.
"High School wasn't easy for me. I was bullied, I had been around people that would call me hurtful names as I walked by. But, I feel like discrimination happens in many forms, and I'm sure it is something many people experience whether you are plus size of not. I'm grateful that I can relate to others in this way, because I wasn't always celebrated for my looks," Lexi says.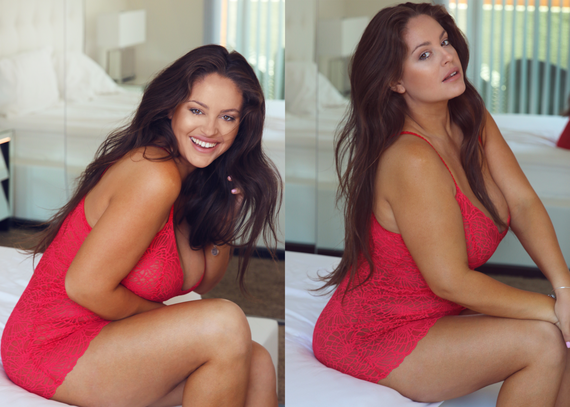 Lexi had to endure cruelty for her looks growing up. Now, she lets her beauty shine from the inside out!
Despite her stunning exterior, Lexi still has moments where she doesn't feel like the gorgeous Greek goddess that others see when they look at her.
"I definitely have those days where I'm not always feeling the confidence that I project. I don't let it get to me anymore, I know everyone has their off days. I feel like something clicked in my head one day, one day I was just like, 'If I'm not happy with myself, do something about it.' Once I did something about it, and got to a point where I loved myself and my body, I honestly stopped caring what other people's opinions of me are," says Lexi.
In addition to her job as a plus size model, Lexi is a social media influencer with hundreds of thousands of followers. Lexi has worked to leverage this following to grow her modeling career and her presence in the fashion world. But ultimately, Lexi wants to use her platform to give women confidence in their own beauty and uniqueness.
"I have definitely made more professional relationships, and gained many new clients, through social media. But I have also realized that with my following, I have the opportunity to make an impact on people in a positive way. It may be a small impact, but an impact at that. And that responsibility is something I take seriously. I may not relate to every woman, but I relate to a some, and that's what's important. I don't want girls to feel alone or awkward because they don't look like what society expects them to. Everyone is beautiful in different ways, and your own uniqueness is what makes you lovely," she explains.
Although being a plus size model and a social influencer is enough to fill anyone's plate, Lexi takes the role of mother to her son Jaxson very seriously and makes that a priority over her career.
"Being a Mommy is my first and most important priority, so anything I can fit in around that I will do. Even when there are slow periods in my modeling career, I don't get discouraged, because all of my free minutes gets to go to him and our adventures. So I'm grateful for how everything is currently playing out. I don't want to miss a thing in Jaxson's life!" Lexi says of the balancing act.
What is Lexi's tip for finding happiness as a working mom, and creating time for self-care in your life?
"Happiness at home will bring out happiness at work, and vise versa. Make time for yourself when you can, even if your 'me' time involves your little ones, just make some time for you. Remember to love yourself, because I believe you won't be able to love others to your full potential until you have all the love and respect you can for yourself."
To see more of Lexi's life as a plus size model and mother, follow her on instagram @lexieleni (https://www.instagram.com/lexieleni/).