Theatre22's latest production Wizzer Pizzer is an offbeat, timely, enjoyable journey down an LGBT Yellow Brick Road. The play uses The Wizard of Oz as its foundation with the Dorothy character played by Eric Mulholland as a drag queen struggling with his identity.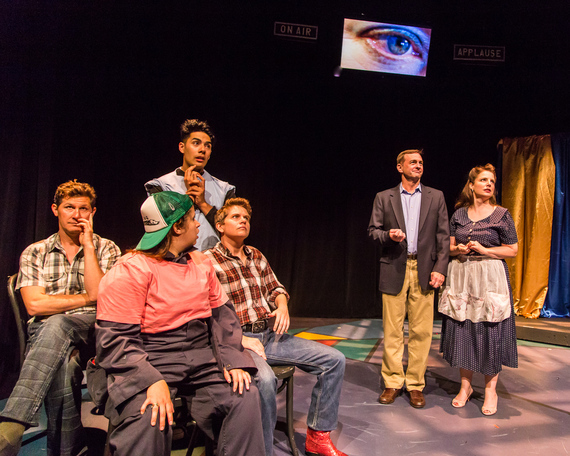 Over the course of the two hours, this show addresses all the LGBT issues in a way that asks the audience to consider them while laughing at the absurdity of our current prejudices. Key to the production is Dr. Marvel who is seen only on screen just as the Great and Powerful Oz was in the book and movie. Dr. Marvel runs a Reparative Therapy Clinic, where an ex-gay, ex-lesbian couple try to teach people to be born again straight.
Naturally, that couple. Steve and Helen Eden (brilliantly portrayed by Chip Wood and Alyssa Keene) are born again Christians who are only pretending to have changed. Thus, the great humor and irony, but more important the opportunity to explore issues that run deep throughout the Capitol Hill community and beyond.
This is the right show in the right neighborhood to fill all the seats for every performance, and opening night was a full house. Wizzer Pizzer is outrageously funny much of the time, and it presents plenty of issues to consider. The show continues at 12th Avenue Arts in Seattle's Capital Hill neighborhood through August 1.
Popular in the Community