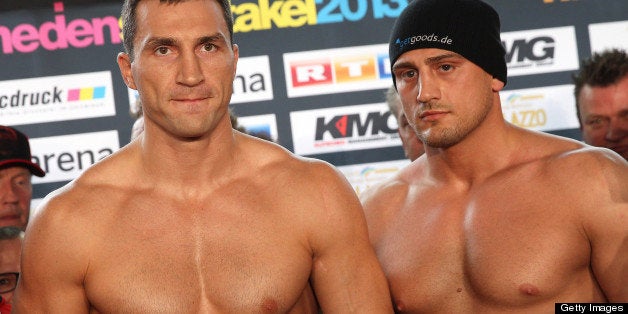 The attention of boxing fans in the U.S. will be riveted on a ring in the MGM Grand in Las Vegas this Saturday. There, pound-for-pound king, Floyd Mayweather will be defending his welterweight world title against Robert Guerrero.
However, on that same night, thousands of miles away, another milestone fistic event will be in process. World heavyweight champion, Wladimir Klitschko (59-3, 50 KOs) will defend his title against Francesco Pianeta (28-0-1, 15 KO's) of Italy. The contest will take place at the SAP -- Arena in Mannheim Germany (and will be televised on EPIX, beginning at 4:30 ET).
Pianeta, who now lives in Germany, is a former Klitschko sparring partner who insists that when working with his boss, he detected flaws that he will exploit on Saturday night. Pianeta is a southpaw with good boxing skills but is not in the same ball park as Klitschko in terms of speed and power.
Though undefeated, Pianeta's biggest victories are over heavyweights on the senior circuit. In 2012, he earned decisions over 43 year-old Frans Botha and 47 year-old Oliver McCall. Pianeta is not ranked in the top ten of the heavyweight division by Ring Magazine and were he to win this weekend, it would be an upset of the Tyson vs Douglas magnitude.
The IBF, IBO, WBA and WBO heavyweight king, Wladimir Klitschko, has not lost since 2004, nor has he been tested by any of his opponents. This will be his 14th title defense.
Not long before he died, Klitschko's trainer, Emanuel Steward confided, "I hate to say it but Wladimir has cleaned out the division. He always stays in shape but it is getting hard to motivate him. I tell him that he can break Joe Louis's record of 25 title defenses. And I think he can."
Steward, who transformed Klitschko's once faltering career, always insisted that he and Wladimir worked everything out together. It was a collaborative as opposed to master-student relationship.
Still, the Hall-of- Fame trainer understood that his charge didn't have the greatest whiskers and that he would never shine at the inside boxing game.
Steward helped Klitschko develop his balance and one of the best jabs in heavyweight history. Dr. Steelhammer's left is a quick head snapping punch that will knock anyone off of their game and sometimes out of their senses. Over the last few years, Wladimir has become very successful at dropping a left hook after the jab and at turning the jab into a hook. After his opponent becomes hypnotized by the left, Klitschko begins launching his highly concussive right.
Klitschko's right is a weapon of beauty. He does not telegraph it by bringing his elbow out and when it arrives it often leaves the recipient blinking and horizontal. George Foreman once remarked to me that he was sure Wladimir had the hardest right hand in boxing since -- well, George Foreman.
But Steward understood that the only way to beat his charge would be to get inside the perimeter. And toward that end, the Kronk headmaster was always trying to add a right uppercut to Klitschko's arsenal. The uppercut is a shot that not only devastates but will give a fighter like Klitschko space to get off the ropes and back to where he is most effective, namely, center ring.
Shortly before he passed away, Steward told me, "Wlad is throwing the uppercut in sparring and hurting people with it but he is not quite comfortable using it in fights yet. He is a perfectionist and won't do anything new until he is completely comfortable with it."
If the 6' 5" Francesco Pianeta is lucky on Saturday, he won't have to worry about any punches coming at him from underneath, just that freight train of Klitschko's right steaming down the pike of Pianeta's lefty stance!
Related
Popular in the Community