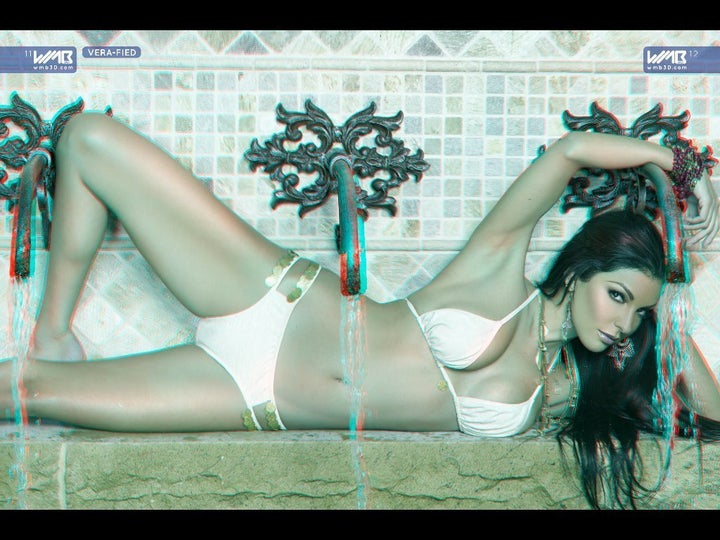 Perhaps it was naive of me to think that the first ever 3D magazine for the iPad would feature anything besides page after page of eye-popping photographs of boobies.
I don't know why, but I had expected something more natural. When I heard the title of the magazine -- "World's Most Beautiful 3D" -- I imagined seascapes, waterfalls, perhaps some majestic birds; and while the negligee and underwear models featured therein are "majestic birds" in the 1940s-ultra-macho-private-eye sense of the phrase, and bikini model Sonia Vera does luxuriate in some kind of lagoon at one point, nature photography is otherwise absent from WMB 3D. The magazine instead opts to showcase barely-not-naked women (including inaugural cover-mogul Kim Kardashian) licking their full lips out toward the reader; to publisher and head photographer Nick Saglimbeni's credit, suggestive lip-licking has never been so striking, thanks to the magic of a clever, if exploitative, use of 3D.
WMB 3D aims, per an introductory letter from publisher Saglimbeni, "to capture the most beautiful people, places, products, and fashion on the planet, and bring them closer to you than ever before, in an unprecedented hi-resolution 3D viewing experience." It has absolutely nailed bringing "people" (especially barely-clothed people) closer in its first issue, released in August in both print and on the iPad, in both 2D and 3D; but so far it is a bit scant on the whole "places, products, and fashion" thing. Despite some fairly stunning views of the interior of a Mercedes Benz-McLaren "supercar" and of Rome's architectural landmarks, the focus of WMB 3D is more on Double Ds; by my count, 66 of the 99 pages feature a heavily made-up woman in some outfit that couldn't be worn to most New York City steakhouses.
Though Playboy has previously featured a 3D centerfold, WMB 3D is almost certainly the first magazine that consistently utilizes three-dimensional views to showcase the more -- ahem -- projecting parts of the female anatomy, and also the first to do it with the intent to be seen on the iPad. A mammoth print copy of the biannual is available for $19.95, though most readers will almost certainly prefer to see it on the iPad: I tried both, and viewing WMB 3D on the iPad is the much stranger, more futuristic and, at $4.99, more cost-effective experience.
The cover photo, which features a come-hither Kim Kardashian wearing a dress made out of what appears to be strips of electrical tape, accentuates in 3D all of the, erm, protuberances that Kardashian has come to be known for; it is an excellent preview of why the magazine might be a suitable alternative for those who buy Maxim for the pictures. The subtle way in which Kardashian seems to pop forth ever so slightly from the pages, the way the outline of her body separates upwards from the flat iPad screen, might prove appealing to a certain kind of visually-inclined reader; in both an aesthetic and tactile sense, a 3D picture of Kim Kardashian is far more satisfying than a 2D one, even if you do have to wear goofy glasses to view it properly.
Below, we've picked out some of the most representative uses of 3D from within the debut issue. Put on your 3D glasses...now!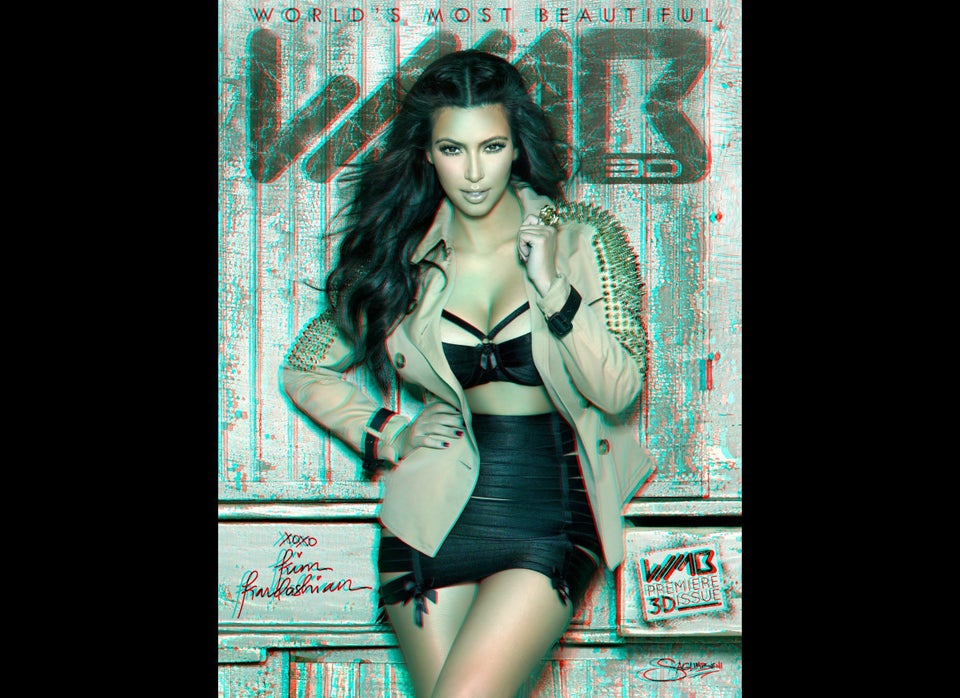 Popular in the Community