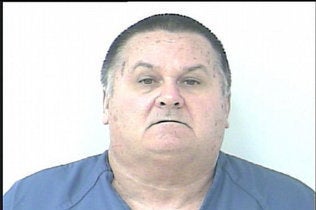 You ain't nothin' but a diabetic bomb hoaxer, cryin' to the cops.
Michael Conley, a 64-year-old Elvis impersonator, allegedly locked himself inside a Florida motel Monday along with his 28-year-old son, after Ft. Pierce cops came to arrest him on an outstanding warrant.
Authorities say Conley held up a vial filled with white powder, claiming that it was Ricin, a poisonous plant byproduct that could kill a human with very little exposure. The suspect also claimed to have C-4 explosives.
"[The alleged Ricin] was just salt," Conley told the Herald in a jailhouse interview. "I apologize to the public. I was disoriented."
His disorientation led to a four-hour standoff between him and the FBI, local and state cops, bomb and SWAT squads at an area motel. He told the Herald that he lost his composure due to a diabetic reaction, but came to after his son cooked him some oatmeal in the motel room.
In 1990, Conley was convicted of murdering a Canadian tourist at a Fort Lauderdale motel, but his conviction was overturned two years later because of a prosecution foul-up. Conley was best known for doing renditions of Elvis Presley songs outside the courtroom to entertain courthouse personnel during that case.