 "Tall," "lanky," "uncoordinated" were words used to describe me growing up; so were "poor," "shy" and "self-conscious." I was raised in rural Indiana by an extremely hardworking woman who was left with the challenge of bringing up three young children on her own. My mom did everything from waitressing to working in factories to hairdressing out of our home, but without child support from our father it was hard to make ends meet sometimes.
As a child, I was clueless to the level of poverty we were living in. I always felt loved, and my mom miraculously found a way to keep food on the table. As I got older, we qualified for the free and reduced lunch program and that is when I started to realize that we were different from everyone else. Sadly, there is a negative stigma around those programs that inhibit children from readily participating and receiving the necessary provision. Fortunately, my mom was someone who raised us to work as hard as possible at whatever task was before us, be willing to help others in need and be grateful for what we are given... all lessons that would prove to be the foundation of who I am today.
By the time I was a freshman in high school, I was taller than all the girls in the school and all the boys but a few, which only added to the uncomfortably that accompanied my uncommon height. My self-esteem began to grow exponentially with my basketball development. Working as hard as possible at the task before me provided me with the grades and athletic ability I needed to gain a scholarship from the University of Notre Dame.
My college experience brought everything full circle for me. Throughout my childhood, I had so many people help my family and I along the way, from family and friends to my AAU coaches and church members. As a collegiate athlete experiencing a certain level of success, I was introduced to the platform sport has to make a difference in people's lives.
Walking into an elementary school for the first time, I was extremely nervous. I still was not completely comfortable with the spotlight that was starting to shine brighter on me because of my career or the stage that was being set for me to speak from. I questioned if my words would be adequate or if my story would be inspirational. Then I saw the look on the kids faces. Appreciation and excitement beamed from them, and it was then that I knew I was called to do more than just play the sport of basketball. It was then that my humanitarian spirit was born.
When I reached the WNBA in 2001, the stage only got larger, and so did my philanthropic efforts including work with WNBA Cares. I have participated in dozens of local community events during my 12 years with four WNBA teams, but I have also had the opportunity to make strides on a larger scale through organizations like Nothing but Nets and Share Our Strength.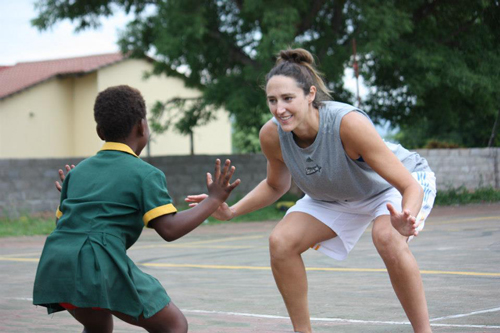 My childhood experiences allow me to sympathize with kids growing up in low-income homes that are benefactors of Share Our Strength's No Kid Hungry program. Reducing the stigma around such programs, encouraging families and children to utilize them, and advocating for funding are all things that I have tried to be involved in on a local and national level.
I first traveled as an ambassador with Nothing But Nets in 2007 to Nigeria and Angola. The organization distributes life-saving and cost-effective bed nets to families to prevent the spread of malaria, which is transmitted through mosquito bites. Malaria is a leading cause of death among children under the age of 5 throughout Africa.
Just as I had an eye-opening moment that first trip with my team at Notre Dame to the elementary school, I had an even larger one in Angola with a woman in the village we visited. She sat there with a child in one arm and the new mosquito net we were delivering in the other. With an immeasurable amount of gratitude, she went on to tell me that she had recently lost one child to malaria, but now she had hope that her youngest would have a chance to live. As I listened to her story, I recognized the same strength and determination that has always been exhibited by my mom.
Just a few weeks ago, I returned from a month-long trip to South Africa and Namibia. These are two countries where sports for girls have generally been an afterthought, and when given the opportunity they are raised to play netball instead of basketball. Having an entire clinic full of girls excited about the sport of basketball and eager to learn and work hard on their game showed me a level of progress that I could not have imagined five years ago. Being there was more than just teaching skills on the court. It was during the conversations about athletics, school and life that I could see dreams forming before my eyes. I hope that their story, although different in ways, might still lead them places they could never imagined -- just like mine did!
We have entered a time of year when giving back weighs heavily on people's minds. The beautiful thing about acts of kindness is that you do not have to be a professional athlete to have a platform to do something good. We all have our own unique area of influence, mine was shaped by my faith and my upbringing and then extended out by the sport I play. It is only fitting that Thanksgiving comes before Christmas on our calendars, because out of my gratitude comes my passion to give. This holiday season try sharing some of your life experiences, resources or skills with others -- undoubtedly your life will be changed in the process as well!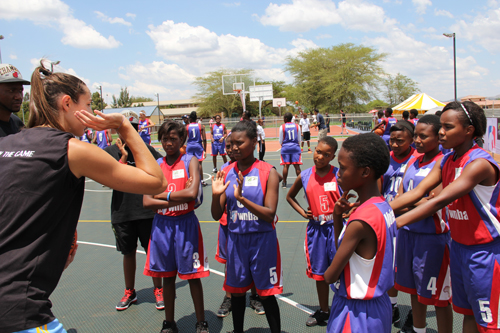 Calling all HuffPost superfans!
Sign up for membership to become a founding member and help shape HuffPost's next chapter