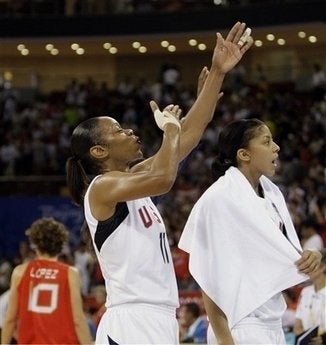 I wish I could actually start this blog describing my emotions of how nervous and anxious I was in anticipation of my name being called and placed on the Draft board. Um, not so much!
The WNBA has come a long way since then, to say the least. My Draft Day experience was just a little different from what you all see on television today. There was no nervousness, very little anxiety and no anticipation. I actually knew I was going No. 1 overall and so did everyone else participating in the Draft; no uncertainty in any of our futures. This was all possible in large part to our Draft being what was referred to at that time as a Mock Draft. Therefore, any emotion you saw, credit my acting skills. How did I do? No Academy Award, but I think I did a pretty good job of looking surprised.
My decision to play in the WNBA had more drama than my Draft Day itself. I was very unsure whether the WNBA was my future or not. I had just graduated from college. I was in the middle of taking an LSAT prep class in hopes of getting into a top law school. Then there was the other league, the ABL (American Basketball League), referred to by most as the "players'' league. Decisions, decisions, decisions! Too many decisions for a kid right out of college.
So there I was with a clear plan of what my future would look like. I had prepared most of my life to get to this point. And in a matter of days it was turned upside down. What I remember most from this experience is my cell phone ringing in the middle of my evening LSAT class and me struggling to stop it from ringing in the midst of sheer embarrassment! Everyone I knew was aware I was in class studying, so why is my phone ringing? I didn't recognize the number at all; it would have to wait at least until class was over.
On the walk back to campus I listened to my voicemail; there was a message from a lady by the name of Renee Brown (WNBA Chief of Basketball Operations and Player Relations). She was calling to inform me that the WNBA was inviting me to play in their league. I have to admit -- I listened to the message at least five times! Was she sure? Did she have the right number? Did she say Tina Thompson? Dude, was I stoked!
But what exactly did that mean? When I came back to my reality, I started thinking about the very real things. How will this affect my present plans? Will I still be able to go to law school? Can I afford to take such a risk? I was very aware of the history of women's professional sports leagues in America. Not so good. So there was fear on my part for sure.
Obviously I did decide to play in the WNBA and things have worked out for the best. Although I made my decision at the final hour, it was the right one. I have been blessed to have a wonderful career in the WNBA with many successes. I'm happy to see that we are doing much better with our Draft Day experience for the young ladies now. It's all about progression and we have definitely done that.
To be honest, I don't believe any of the young ladies present on my Draft Day cared much about the presentation itself. We were all so happy just to be there, to have the opportunity to play in America, in front of our family and friends.
That exact attitude is what I believe has given the WNBA the opportunity to grow. That attitude built the foundation of what the WNBA rests on. There was a sense of pride and ownership, a sacrifice everyone made for the greater good of the WNBA. We knew we were pioneers and the ultimate prize may not be in our reach during our lifespan in the WNBA.
I am blessed to still be here but my want and will has not wavered. I hope that attitude continues to drive the WNBA; it is necessary for our future success and longevity. Do the work to produce and make a difference, not to be rewarded. With hard work done the right way, rewards are sure to follow it just may not always be in the form of an individual trophy.
I wish all the ladies in the Draft this year much success. Keep getting better, good is never enough. I challenge them to know their history, for it is difficult to know where you are headed if you do not know from where you came.
The 2012 WNBA Draft presented by Boost Mobile will be held Monday, April 16, at the ESPN Studios in Bristol, Conn., and televised on ESPN2 at 2 pm.
Related
Popular in the Community