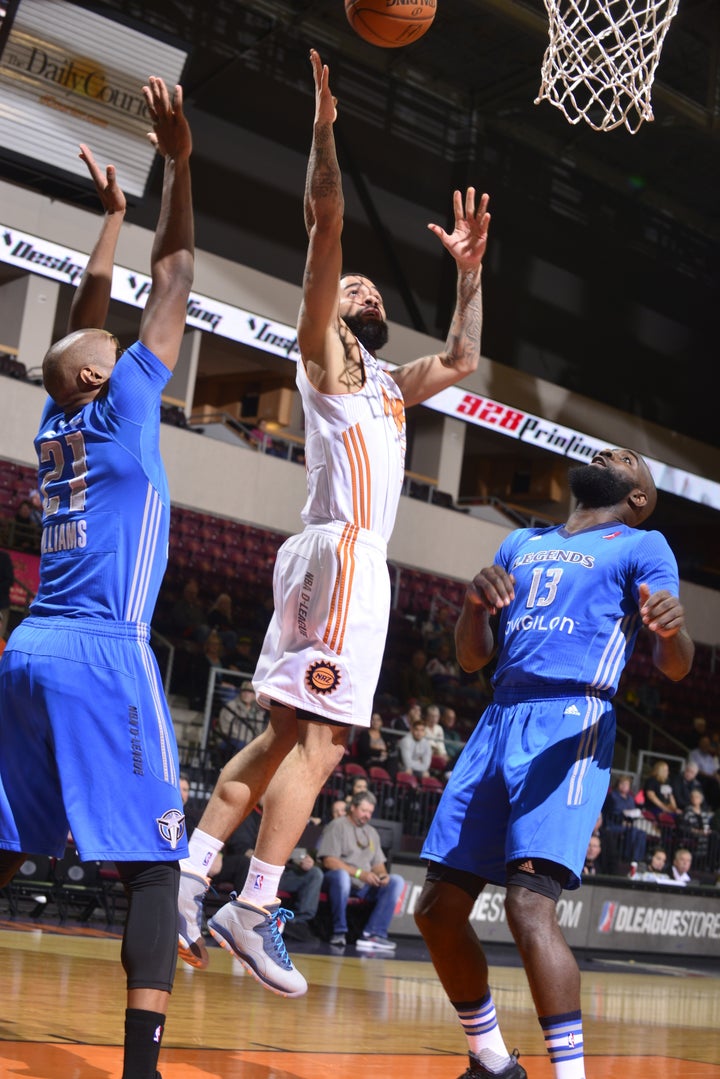 This summer's traumatic shootings of innocent black men and police officers across the United States has prompted many professional athletes use their platforms for social activism. During their season, WNBA teams and players have led by wearing pregame protest shirts and speaking at press conferences ― but it's now costing them thousands of dollars.
"We are proud of WNBA players' engagement and passionate advocacy for non-violent solutions to difficult social issues but expect them to comply with the league's uniform guidelines," WNBA President Lisa Borders said in a statement provided to the AP.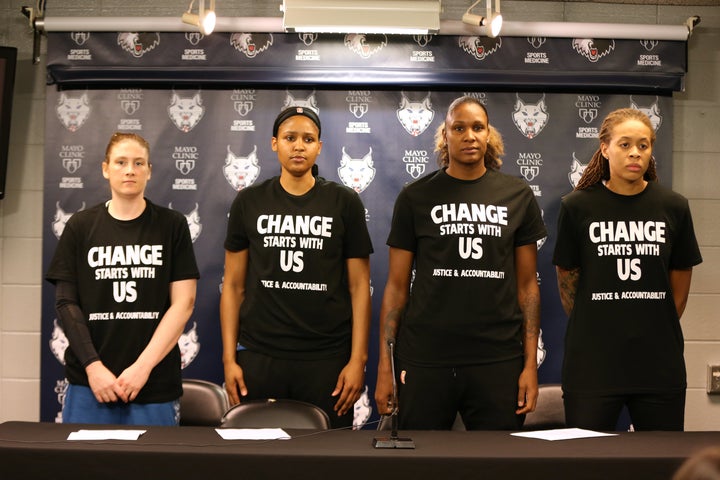 However, the WNBA's apparent pride in its players' activism and media attention is up against a stiff and unsettling adherence to the rule book. The Liberty have worn the plain black shirts four times total and did it again on Wednesday against the Washington Mystics on the road. Mercury and Fever players wore them Tuesday night. WNBA rules state that uniforms cannot be altered in any way.
It didn't matter that the shirts were made by Adidas, the league's official uniform supplier. It also didn't matter that wearing plain black warmups — as opposed to shirts with text — began as a compromise between the Liberty and its players, who wanted to build off the momentum sparked by the Minnesota Lynx's protest shirts and a press conference given earlier this month. Aware of the uniform rules, players informed the league office last week of their protest plans. In a laissez-faire manner, the WNBA decided to not prohibit the shirts for that week's games.
The WNBA's decision to take action against its players has already drawn sour reactions from around the league. Last night, Mercury forward Mistie Bass vented her frustration with, in her mind, the league's double standard.
The league's fine is surprising given that dozens of players wore the black warmups with approval from their teams ― and considering that other professional leagues have not issued fines after player protests.
In December 2014, many NBA players, lead by superstars LeBron James and Kobe Bryant, wore black "I Can't Breathe" warmup T-shirts in protest over grand jury decisions not to indict police officers who killed Eric Garner and Michael Brown. NFL players have also made "hands up, don't shoot" gestures during games.
But the NBA and the NFL ― yes, the same NFL that fined players last season for dedicating a small uniform accessory to a dead parent ― decided against punishing its players. Fining LeBron James or any other major star for social activism is a bad public relations move.
More voices need to be encouraged, not fined ― and silenced.
CORRECTION: The players were fined $500, not $5,000 as previously stated.
Support HuffPost
The Stakes Have Never Been Higher
Related
Popular in the Community