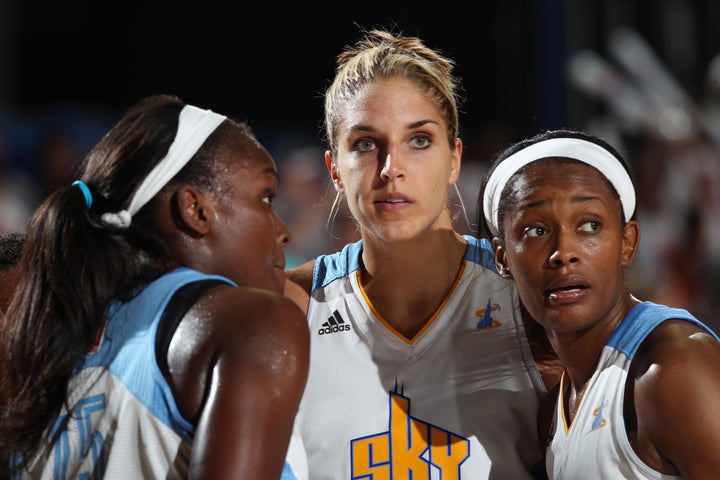 After former NBA star Gilbert Arenas expressed a series of sexist, denigrating thoughts about the state of the WNBA and its athletes on Wednesday, the female athletes themselves expressed their own about him, calling Arenas out for his hypocrisy and blatant objectification of women. 
Arenas' Instagram posts claimed that many WNBA players are "ugly chicks," and suggested that they compete in virtually no clothing to entice more people to watch their games. WNBA players weren't having it, declaring that Arenas' remarks exemplify the sexism that female athletes are subjected to on a regular basis that their male counterparts never even have to consider. 
 Swin Cash, three-time WNBA champion (2003, 2006, 2010)
Elena Delle Donne, WNBA MVP (2015) 
Candace Parker, two-time WNBA MVP (2008, 2013)
Mistie Bass, WNBA champion (2014) 
Well, I think what he said was sexist and I'm not ugly. I know that, and I don't need him to tell me I'm not. But I honestly think he should be a lot more concerned about what example he's setting. I think he needs to really realize that his words do hold some weight. We don't go watch men play in Speedos, that's not what we're looking for -- we're looking for awesome dunks, great passes, we're looking for a show. And the kind of show he wants us to be out there doing is not getting us the attention that we want. We want people who enjoy what we're trying to do.
Stefanie Dolson, WNBA All-Star (2015) 
Ivory Latta, two-time WNBA All-Star (2013, 2014)
They are, of course, completely correct. Arenas' comments make all the more evident the double standard that still rages on in sports today. NBA players would never be asked to strip down on national TV to more fully engage their audience. These WNBA stars are some of the most skilled athletes in the world. It's time we start treating them as such.
PHOTO GALLERY
Photos From The 2015 WNBA Season
Calling all HuffPost superfans!
Sign up for membership to become a founding member and help shape HuffPost's next chapter