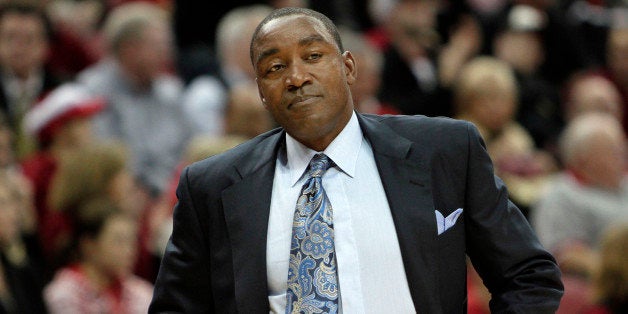 The WNBA announced Monday that the league and the New York Liberty have together decided to indefinitely suspend Isiah Thomas's application for partial ownership of the team. He will continue in his role as president of the team with responsibility for both basketball and business operations.
"After further discussion and with the season underway, the WNBA and the New York Liberty have agreed to suspend consideration of Isiah Thomas' application for an ownership interest in the Liberty until further notice," a statement announcing the decision said. "The process will resume at a future time as determined by the Liberty."
The team's decision to name Thomas the president of the team led to widespread outrage when it was first announced in May. Many believed it wholly inappropriate that Thomas be tasked with running a women's basketball team after a jury determined in 2007 that former Knicks executive Anucha Browne Sanders had been improperly fired for complaining about Thomas' behavior toward her while he was coach of the team. The Liberty and the Knicks are both owned by The Madison Square Garden Company.
"Every day, young girls across the country hone their skills in hopes of one day scoring the winning basket on a college court or in the WNBA Championships," the Women's Sports Foundation said in a Change.org petition to deny Thomas an ownership stake in the Liberty. "The WNBA's message to those girls if Mr. Thomas is approved as part-owner of the New York Liberty is that sexual harassment -- inexcusable behavior in any other workplace -- is not only tolerated but is instead rewarded at the WNBA."
WNBA President Laurel J. Richie told the AP that the committee is still vetting Thomas' application. For now, it appears that Monday's statement is the culmination of that investigation.
Popular in the Community