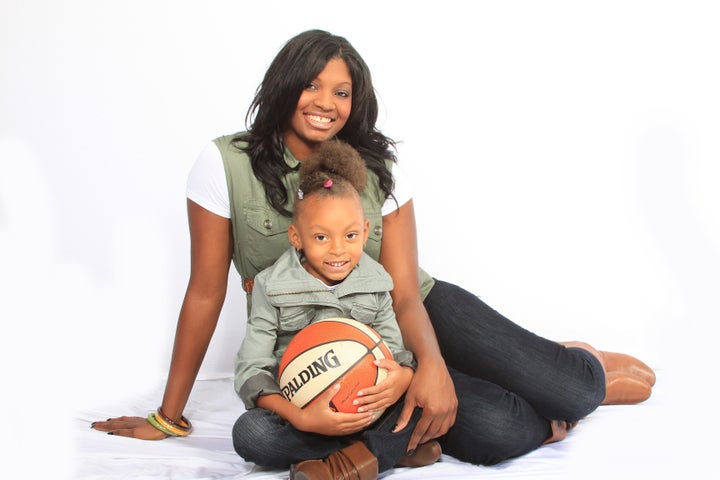 When DeMya Walker, forward for the Connecticut Sun and now an 11-year WNBA veteran, became pregnant in 2006, the hardest part of her excruciating, 96-hour-long labor was the ultimate decision that she would need a cesarean.
"They cut through my abs!" she said on the telephone, the exasperation still present in her voice five years later.
"No, my abs!" Walker repeated, unable to consider her midsection as anything other than a six-pronged mass of core strength. "I kept saying, 'You don't understand. I'm a professional athlete, and if you cut my abs it'll be harder for me to get back.'"
Walker's lower abs never did realign into the textbook six-pack she'd sported pre-pregnancy, but in every other way, Walker, who helped the former Sacramento Monarchs win their 2005 championship, transitioned back into the WNBA seamlessly. She rejoined the Monarchs for practice as soon as her daughter, Zachara, was cleared to fly at eight weeks old. A little over a month later, Walker was back on the court for the remaining two-thirds of the season, scoring 213 points in only 23 games and helping carry the team to the WNBA finals.
Such statements aren't altogether surprising: Pregnancy remains an undeniable business consideration in the WNBA -- and one that the NBA doesn't have to worry about, since fathering a child rarely sidelines a player for more than an evening.
But as Mother's Day approaches, the WNBA's mother-athletes maintain that they've overwhelmingly managed to balance the best their bodies have to offer, both athletically and reproductively.
"We're happy, it's an absolute blessing," said Marie Ferdinand-Harris, a three-time WNBA all-star who currently plays for the Phoenix Mercury. "My second year in L.A. [with the Sparks in 2010] we had five mothers on the team … It was a really good experience."
Blessings sometimes only materialize in retrospect, and at first, Ferdinand-Harris was terrified her personal choice would compromise her professional career.
"For a woman athlete, it's just so scary when you play ball for your whole life, and you feel like your coaches and teammates and fans -- you're just all for them. So when you go and decide to have a child … you feel like you've let them down. But it was totally different than that," she said.
The turning point for Ferdinand-Harris came after the fifth time she tried and failed to gather the courage to call her then-coach, Dan Hughes of the San Antonio Silver Stars. When she finally let the phone ring long enough for him to answer, she was stunned by his reaction.
"He said, 'Great news! How can we help?'" she recalled.
The fear of letting employers and peers down as a result of pregnancy isn't a phenomenon unique to professional women's sports. Still, in a career that relies on speed, strength and agility (not to mention the ability to withstand a hard elbowing in the midsection), pregnancy does pose additional challenges.
"This is a business," said Donna Orender, the former president of the WNBA. "And there is a physical element of giving birth. But you can't always control the timing of the blessing … So then you just roll with it."
The WNBA learned that lesson as early as 1997, when the league was in its infancy. That June, the very same month that the WNBA began play, Sheryl Swoopes -- the first player signed to the league, dubbed the female Michael Jordan -- was busy giving birth to her son, Jordan. She missed the first six weeks of the season, but was back on the court by August.
Since then, dozens of players have taken time off to start families. About 14 mothers currently play in the league, although the 2011 rosters aren't finalized.
Under the collective bargaining agreement between the WNBA and its players, an athlete who becomes pregnant is paid 50 percent of her salary, either for the length of time she is out or until the end of her contract. No set limit exists for maternity leave, but according to Pamela Wheeler, director of the WNBA Player's Association, athletes trying to take too much time off is never the problem.
"They set the bar pretty high" about returning quickly, Wheeler said. Both Candace Parker and Sheryl Swoopes were back on the court in under two months' time.
Going from labor to layups in mere months leaves no room for a pickles-and-ice-cream diet. Ferdinand-Harris, for example, limited herself to fruits, vegetables, black beans, baked chicken, fish with low levels of mercury and gallons of water and carrot juice.
"I was really disciplined about eating healthily and working out for as long as I could," she said, although she confessed to enjoying the occasional slice of pizza.
Professional athlete or not, some restrictions about pregnancy are universal: Like all expectant women, Ferdinand-Harris had to give up sushi, her favorite food. "But you best believe that after I had my son, for weeks I was making up for lost time," she said.
Ferdinand-Harris relied on generic pregnancy books and her own nutritional information, along with some gathered from teammates, to design a pregnancy plan fit for an elite athlete. But other players found the lack of athlete-specific information more frustrating.
Marion Jones, the former Olympic sprinter and now guard for the Tulsa Shock, said she found few role models or resources during her three pregnancies in 2003, 2007 and 2009, while competing solo in track and field.
"I felt that there was no blue print for me, no precedent, no book, on how to be a successful elite athlete, have a baby and then again become a successful elite athlete," Jones said.
Generations of elite athletes have had children before her, as Jones noted. But that doesn't mean sports research and resources have caught up to the reality of women competing at such a level. Jones was hard pressed to find studies specific to her condition, such as ones that tested how to strengthen ligaments weakened during pregnancy.

"Good luck finding anything out there about it," Jones said. "I think there was one German or European author who had written something during the time of the Soviets. And that was the only thing I could find."
This dearth of information and support may be changing, and not as a result of the medical establishment suddenly prioritizing the pregnancies of elite female athletes.
Jones said that she relied heavily the knowledge and support of her Tulsa teammates after her daughter, Eva-Marie, was born a year before Jones' first WNBA season. Similarly, at the request of her teammates, DeMya Walker kept a blog during her pregnancy, both to stay an engaged team member and maintain a record for future athletes.
Meanwhile, a number of players said that the examples set by legends Swoopes and Tina Thompson convinced them that they, too, could pull off the ultimate balancing act: having a child and remaining a player in the country's most successful women's sports league.
If these trend continues, children like Walker's daughter Zachara will have plenty of role models -- and serious expectations to uphold.
"I'm leaving a legacy for my daughter," said Walker, who projects Zachara will surpass her own height of six-foot three-inches. "She'll be proud to be strong and tall because she grew up around strong, athletic women."
Of course, topping six-foot-three and having a mother in the WNBA means Zachara has some seriously talented genes.
"She's going to be an All-American basketball player from seventh grade on," said Walker, only half joking. "She's going to be the first black gold medalist in swimming, too. I'm very excited about that."
Until Zachara's generation comes of age, athletes like her mother are the ones to watch. And these players say that motherhood makes the game all the more exciting.
"It further shows how miraculous women are," said Ferdinand-Harris. "And I think it makes the WNBA all the more interesting."

Popular in the Community