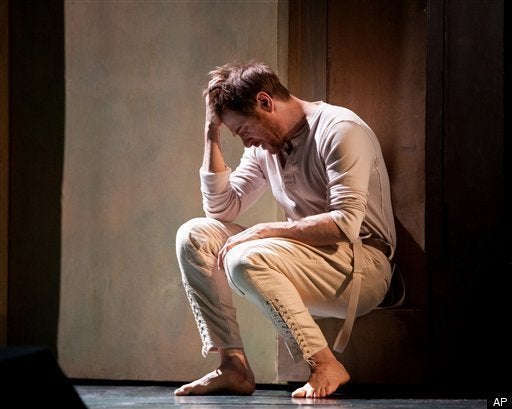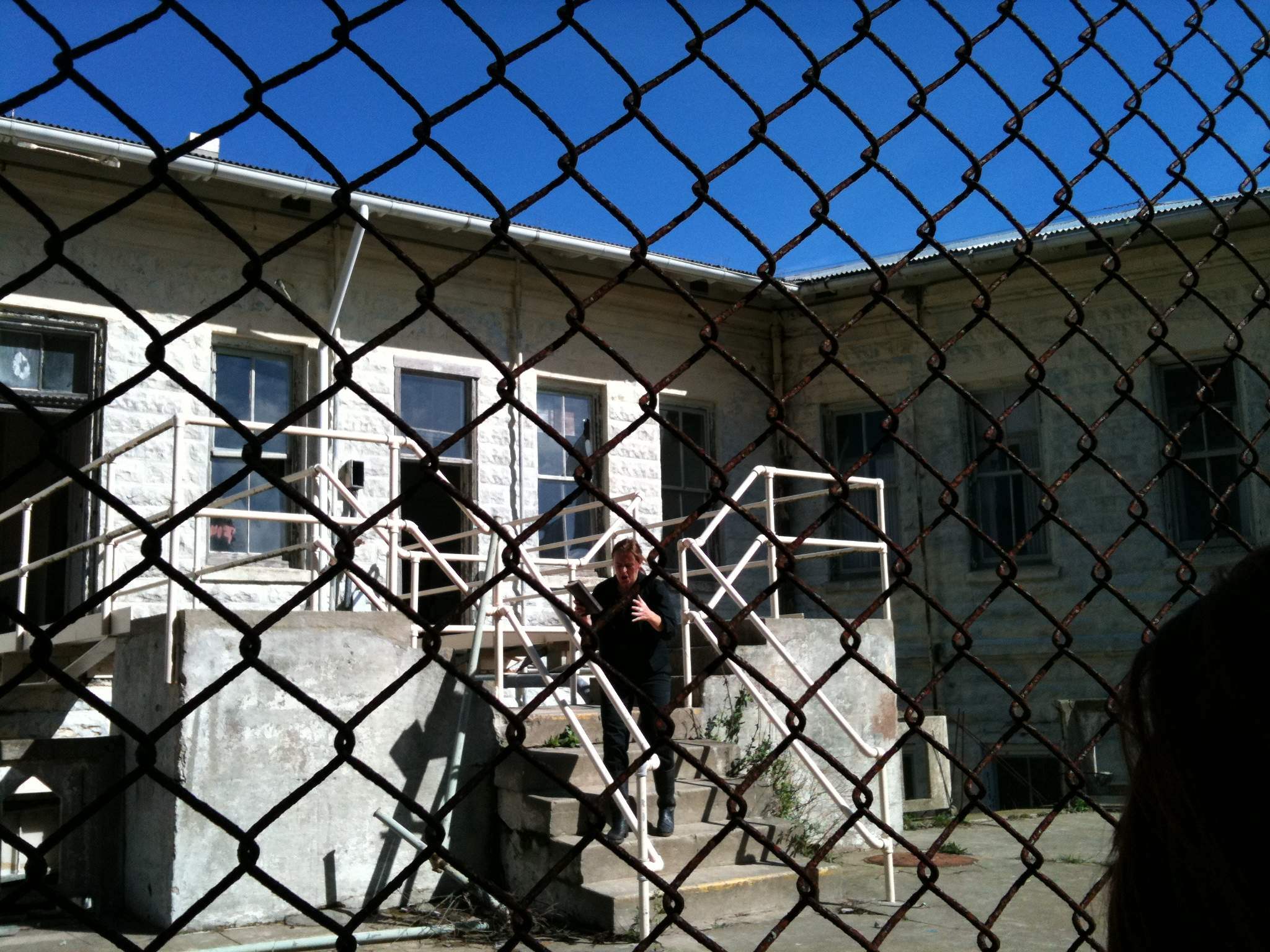 Andrus Nichols as Hamlet in We Players' Hamlet
I'm headed to see We Player's production of Hamlet on Alcatraz. On the ferry from Pier 33 across the San Francisco Bay to The Rock, I overhear three young hipster girls:
"But have you seen the movie? Hamlet the movie? With that British guy form Harry Potter?" [She meant Kenneth Branaugh.]
"All British Guys are in Harry Potter."
"But with that girl from Titanic?" [She meant Kate Winslet.]
"Oh right. I heard it was hella long."
One: Hilarious. Two: Curious. I leaned over and asked them how the heard about Hamlet on Alcatraz, why they were here, and if they are regular theatre goers?
"My friend hooked us up. I don't see that much theatre. But this just sounded so cool."
It seems that these future patrons of the arts were not here for the cultural chore, the artsy fartsyness, or literary bragging rights -- they were hear because seeing a famous play at a famous prison? It's freakin' cool.
And though this production has no international star power in the form of humans, its real draw is The Rock itself. And for a play about murder, treachery, betrayal, death, violence, and justice... this is not a bad location to summon those ancient spirits.
We docked at Alcatraz just as Marcellus enters the second floor deck. He's seen a ghost and Horatio has gotta check it out.
And we do. All of the 200 of us audience members. We trail Horatio off the boat and to the edge of the main prison, where he climbs the three story stairs to the overlooking deck and sees the ghost of Hamlet's Father is a gauzy white face mask. Then that ghost disappears and another (the same?) ghost rises over the rocky cliff fifty yards away. Uh... awesome.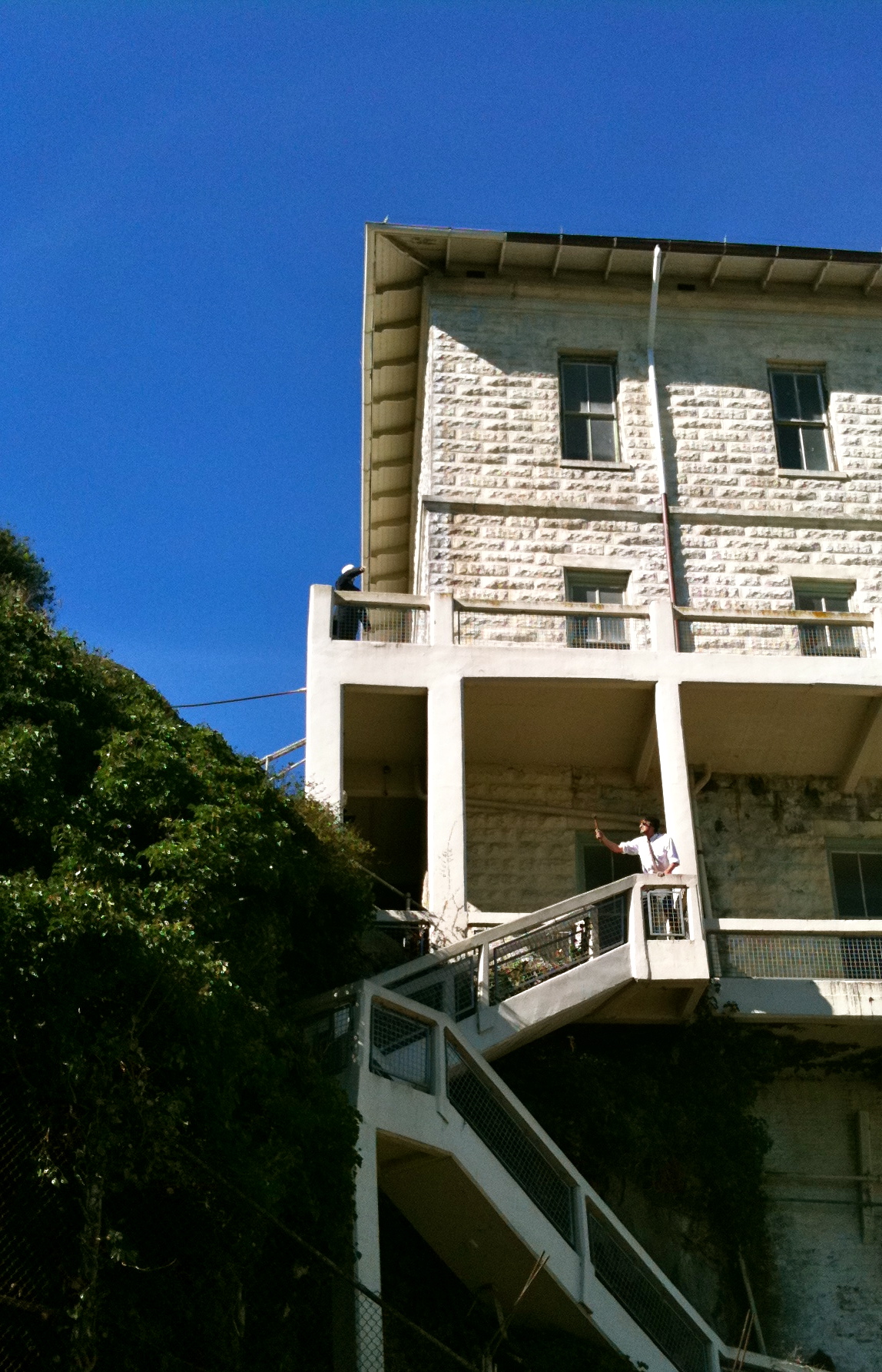 Nicholas Trengove as Horatio in We Players' Hamlet
So begins a nearly 3.5 hour long, fast-paced Hamlet hike around Alcatraz. "Adventure Shakespeare," this might be dubbed. Scenes were staged in every nook of the Island including usually restricted areas. The actor and volunteers eagerly lead the audience from spot to spot, demarcating playing areas with a swift stroke of chalk. Scenes lasted for no more than 10 or 15 minutes, some as little as a few lines before off we went again.
Basically any time the characters said "Come!" or "Go we now!" that's exactly what we did. Whereas those lines would usually take an actor offstage, in this case they took the play with them. And if we wanted to know what happened next, we had to keep up. And y'all, there's a lot of "comes" and go's" in this damn play.
The dynamism of this production was unmatched by anything I've experienced before. The audience mimicked the momentum of the action, scrambling to the next dramatic moment. There was a giddiness among us, a truly engaged charge. As Hamlet chased his Father's Ghost, so did we. As he -- actually she, Hamlet was played by Andus Nichols -- sends the players to "catch the conscience of the king," he sends us too. There was velocity, distance, spacial extremes, sounds of life and motion. And a lot of water. And yelling. And creepy echoes.
Hamlet's "wild and whirling words" were exactly that.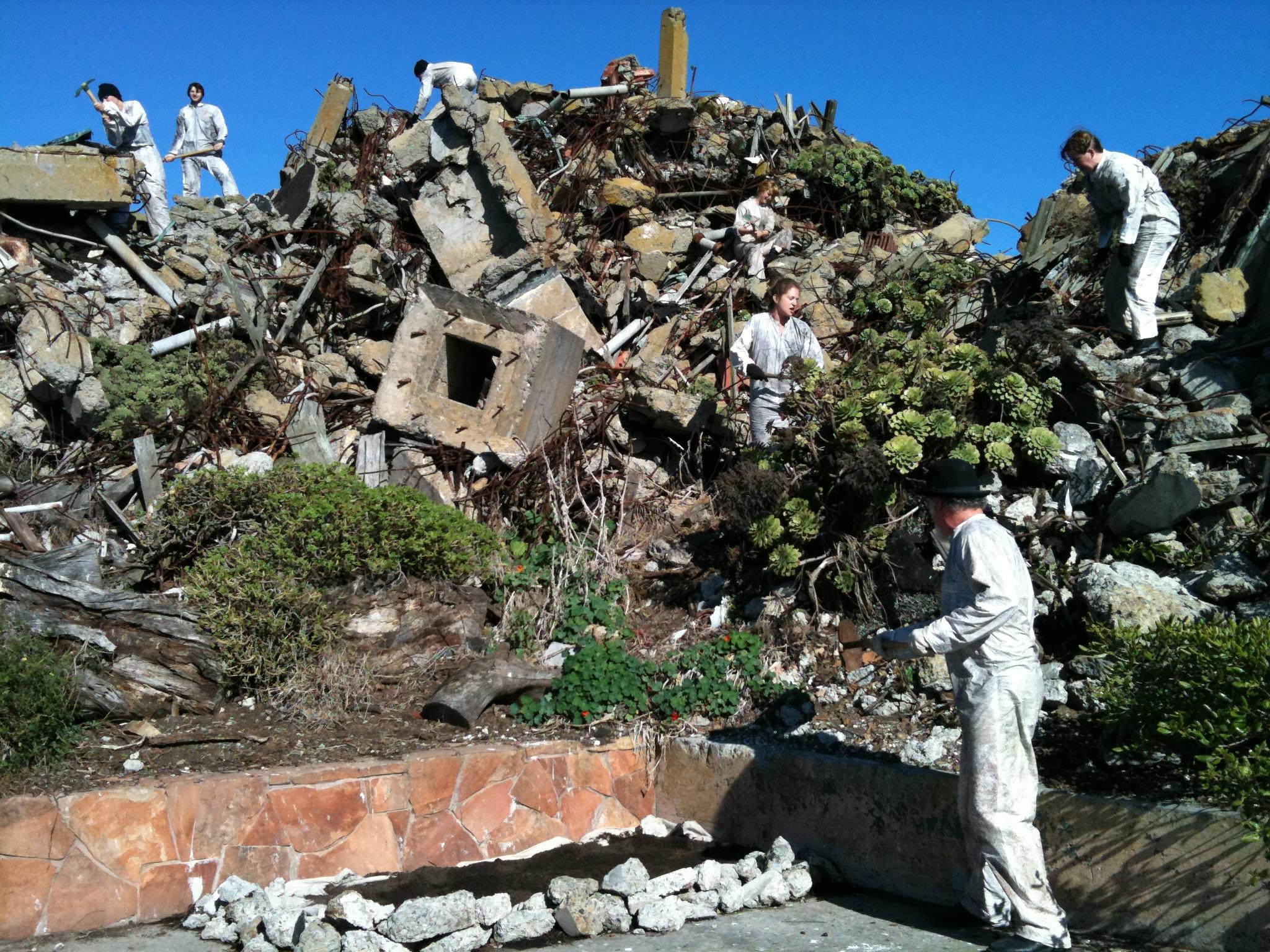 Jack Holton as The Gravedigger in We Players' Hamlet
The audience was a near-perfect cross section of ages -- young (10ish), teens, 20-somethings, moms and kids, all ages of adults. The twenty-somethings were most animated, hmm-ing knowingly at the famous lines, laughing out loud at Jack Halton's lovely Polonius and Gravedigger. And adding a few "boos" at Claudius's announcement of his marriage to Hamlet's mom (the strong, if young Carly Cioffi). As a theatre geek to the extreme, I was overjoyed to see this kind of cross-generational engagement. This just might be the future of theatre.
There also seemed to be a hero in each group -- the chap that managed to get tickets for everyone. I kept hearing, "Thanks, man, this is so great. How did you find out about this?"
I should mention the performers since it was not just an experience, but, y'know, a performance. The actors were overall sharp, smart, energetic, and poised. The language was clear, the emotional timbre spot on. They had to be crisp and fast to match The Rock's own ominous, crowded, and noisy world. But this business added to the feel that we were all in the royal turmoil of a working castle -- the rotten (and harried) state of Denmark.
Claudius's repentant speech was done in a small moss-covered abandoned cavern outside the prison which gave a tinny echo to Scott Phillips's performance that gave me chills. And though even an ardent feminist needs to get used to a female Hamlet, Andrus Nichols was wonderful, thoughtful, and muscled. Misti Boettiger's Ophelia was simple and sweet -- a humanity that made me want to give that girl a break and a mug of green tea. Laertes (Benjamin Stowe) was the sympathetic and ultimately broken brother, both delicate and enraged. The personalities were foremost. This was not just a performance of the language but of the spirit of these people. It made them (and us) seem like survivors on this awful place, not characters in a play.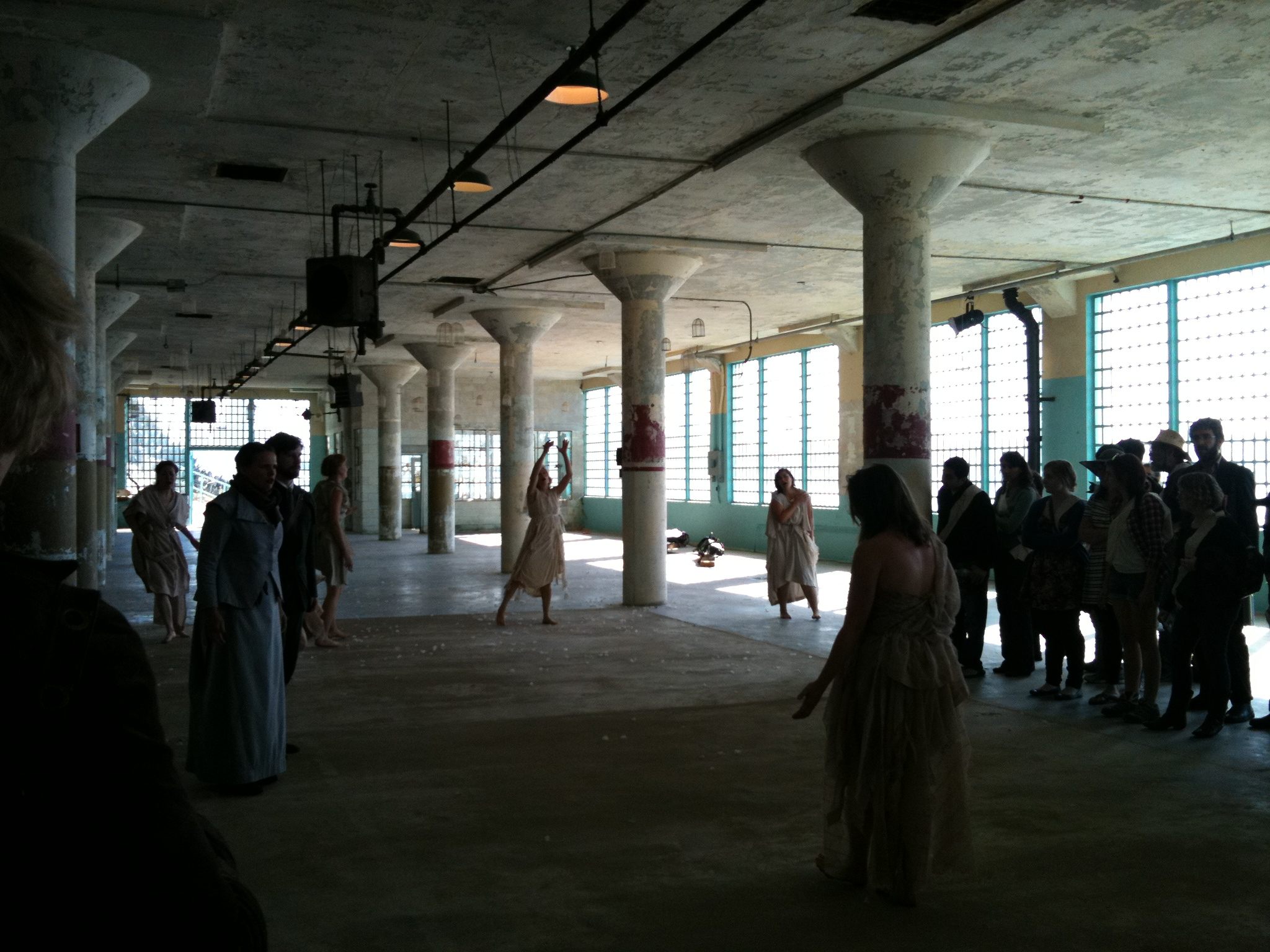 Cast of We Players' Hamlet.
The real star is director Ava Roy, whose masterful use of the entire island was both subtle and innovative; at times organic (the gravedigger scene was on a small mountain of rubble) and striking (Ophelia's madness was played inside a wide open hospital room threaded with white twine, empty birdcages, and lilting bird down.) The use of music and dance worked almost all of the time -- serving to tug at our perceptions of normalcy, space and time. And the fabulous minstrel quintet of brass, percussion, and cello kept us in the world of the play accompanying our every step.
This was a thrilling, fundamentally moving (literally) theatrical and cultural experience. Bravo to We Players. Bravo to The National Park Service. Their combined vision and artistic audacity made for an incredible adventure, an incredible interpretation of this play, and an incredible exploration of theatre and this national landmark.
If the city, the park service, and anybody with love for the arts were smart, they would fund this work constantly. Call me greedy but I want Macbeth on The Rock. I want The Odyssey and Stalag 17 and, heck, The Diary of Anne Frank on The Rock. I want new plays, poetry, and dance on The Rock. The readiness (and the funding) is all.
If the setting is celebrity and the art is visionary, please give us more. Claudius says that revenge has no bounds? Neither does theatre.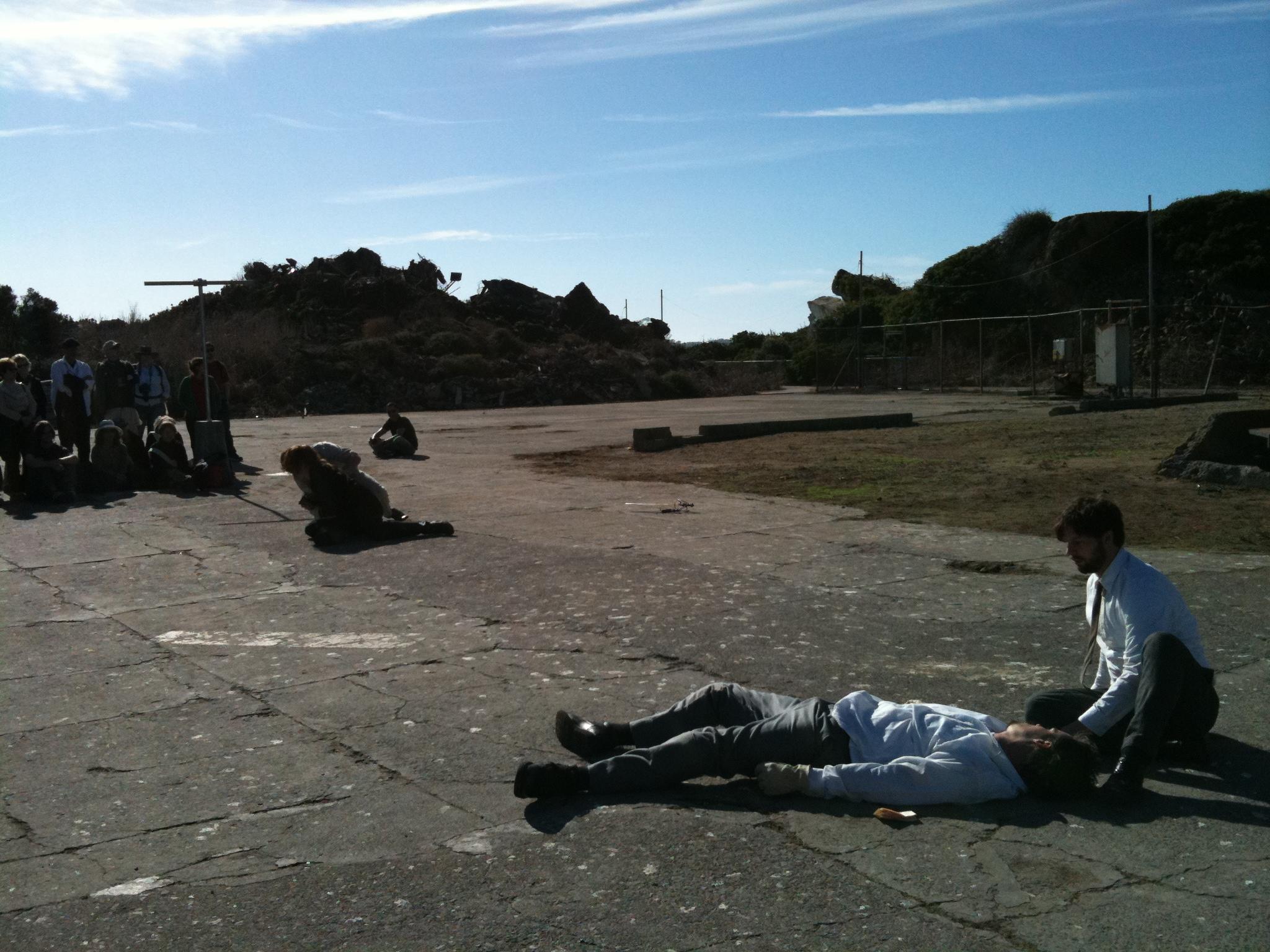 Benjamin Stowe as Laertes and Geof Libby as Osricke in We Players' Hamlet

Calling all HuffPost superfans!
Sign up for membership to become a founding member and help shape HuffPost's next chapter