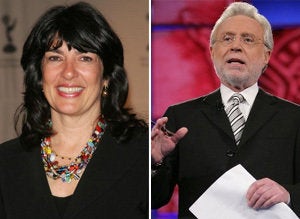 Last Friday night, the National Press Club bestowed its Fourth Estate Award on CNN reporter Christiane Amanpour, whose world travels and remarkable reportage have made her one of the most recognizable and well-regarded media figures in America. Amanpour became the thirty-sixth recipient of the award, which has gone to Walter Cronkite, David Brinkley, and Helen Thomas, among others. Friday night's celebration took the form of a roast -- a strange way to celebrate a reporter best known for traveling to far-flung and dangerous locales. One of Amanpour's roasters, Madeleine Albright, confessed to being uncomfortable with the format ("I accept that [a roast] is more fun than a eulogy," said Albright), but, in the video shot by Liz Glover, below, Amanpour's CNN colleague Wolf Blitzer made the best of it, quipping, "When leaders from all over the world...hear that Christiane is coming, they say, 'Oh, my God, Christiane Amanpour is coming here. Obviously something very, very bad is happening."
<0--3004173001--hh>0--3004173001--hh>
Here, Albright and Richard Cohen take their turn at the dais, followed by Amanpour herself.
<0--3004583001--hh>0--3004583001--hh>
Calling all HuffPost superfans!
Sign up for membership to become a founding member and help shape HuffPost's next chapter