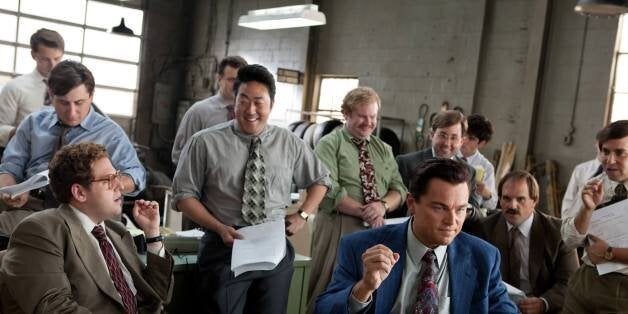 Here's an unsettling trend that should get retired in 2014: people reviewing the film or television show they wanted to see instead of the one that actually exists. This is something that popped up at the end of "Breaking Bad," when many TV writers took umbrage with the fact that Vince Gilligan ended his series in a way that was different from what they anticipated. It's a style of criticism that has now reached the film world as well, thanks to Martin Scorsese's "The Wolf of Wall Street."
"Belfort's victims, my father's victims, don't have a chance at keeping up with the Joneses. They're left destitute, having lost their life savings at the age of 80. They can't pay their medical bills or help send their children off to college because of characters like the ones glorified in Terry Winters' [sic] screenplay," McDowell wrote in an open letter to Scorsese and Leonardo DiCaprio, who plays Belfort in the film. "Let me ask you guys something. What makes you think this man deserves to be the protagonist in this story? Do you think his victims are going to want to watch it? Did we forget about the damage that accompanied all those rollicking good times? Or are we sweeping it under the carpet for the sale of a movie ticket?"
Well, no, they're not. For starters, Belfort isn't even the protagonist of "The Wolf of Wall Street." The film is told from his point of view, but at no point is the audience rooting for Belfort -- well, except for the Wall Street bankers who saw "The Wolf of Wall Street," and maybe Belfort himself, but that probably says more about them than "The Wolf of Wall Street." In actuality, Belfort is the antagonist, the black hat who gets one over on the film's real heroes -- the unseen working men and women who he swindles -- again and again, even up through the film's very last shot.
This has been one of the problems with the debate surrounding "The Wolf of Wall Street": people seem unhappy that Belfort doesn't receive a traditional punishment for his actions. That's not Scorsese's fault, though, nor is it a blind side in his duty as a storyteller. Indeed, Scorsese has often punished his characters. Henry Hill has to live the rest of his life like a schnook in a suburban enclave, a fate worse to him than jail or death. ("Goodfellas" even ends with the sound effect of a jail door closing.) Jake LaMotta winds up broken, overweight and alone, remembering when he used to be a contender. Colin Sullivan gets shot in the face. That kind of stuff didn't happen to Belfort; there was no end of Rico. Belfort went to jail, was released, wrote a book, and can now watch a movie about his life. He's still pretty rich. "Crime pays," Greg Coleman, the FBI agent who helped bring Belfort down, told New York Magazine in a recent interview.
The real Belfort is now a motivational speaker, and "The Wolf of Wall Street" ends with him motivating an audience of New Zealanders. In real life, even DiCaprio has shilled for Belfort, recording a 30-second advertisement that rubbed many the wrong way. But why? Even Dan Alonso, the former Assistant U.S. Attorney in the Eastern District of New York who helped prosecute Belfort's case, has used Belfort as a motivational speaker. Coleman, who isn't featured by name in the film but represented through an FBI agent played by Kyle Chandler, is also friendly with Belfort, and the two men go to dinner on occasion. ("He tells a good story," Coleman said.) The DiCaprio ad, which isn't even part of the film, is an extension of the American ideal that everyone deserves a second chance. Why should we make an exception for Belfort?
Maybe because we created him. Without us, someone like Jordan Belfort would have no power. The bankers in "The Wolf of Wall Street" talked people into handing their money over with nothing but a sales pitch. This is a film about a greedy king who built his empire on the desires and dreams of others. "Everybody needs money," Danny DeVito says in David Mamet's "Heist." "That's why they call it money." Jordan Belfort might as well have that on his business card.
"We never learn anything and things don't change," "Wolf of Wall Street" screenwriter Terence Winter told Los Angeles Times writer Mark Olsen when asked what the movie has to say about today. That's not the kind of message people want to hear, of course, and it's part of the reason why "The Wolf of Wall Street" received a C-grade from Cinemascore, a service that polls theater patrons during opening weekend. Yet that's the film Scorsese made, because that's this story. Just like "Zero Dark Thirty," the last major film to have some audiences questioning its intentions, was bigger than its depiction of torture, "The Wolf of Wall Street" is bigger than Jordan Belfort, a con man who wanted to be rich and achieved that goal. "The Wolf of Wall Street" is not an endorsement of Belfort's behavior; it's a cautionary tale for us. That doesn't mean everyone has to like it -- the debate makes it more interesting anyway -- but just don't hate it because it's not something else.
Calling all HuffPost superfans!
Sign up for membership to become a founding member and help shape HuffPost's next chapter