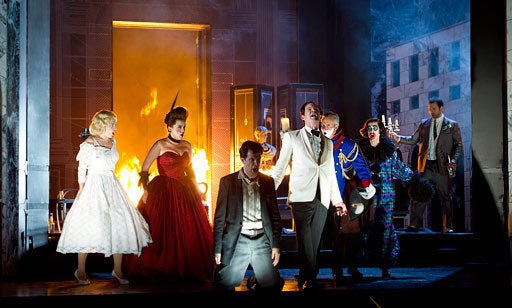 It started as a practical solution to a casting problem.
We had two perfect Don Giovannis and two ideal Leporellos. (Or would that be Leporelli?) And they were both embodied by the same two guys. So we did what any sane and fair-minded casting company would do: give both gentlemen both roles and have them sing opposite one another in alternating performances.
Not completely crazy. We've done more unusual things, truth be told. And this flip-flop casting been done before -- most notably in 1990 when Ferruccio Furlanetto and Samuel Ramey sang both roles during the course of the same production at the Met. In 2001, Dimitri Hvorostovsky went one better when he played both roles (sort of at the same time; you have to see it to understand) in the movie Don Giovanni Unmasked.
Although we seized on this idea as a way to offer an exciting opportunity to two of our performers, it has, as these things tend to, mushroomed beyond that. The singers and the creative team are poised to capitalize on the unique energy that will come from these two gentlemen having intimate knowledge of both the powerful Don Giovanni and Leporello, the man who has to suck it up and do as he's told.
Leporello's disdain for his employer's lifestyle is hardly hidden. To Elvira, a woman recently spurned by Giovanni, Leporello advises, "Let him go. He's not worth your trouble." He rarely misses a chance to tell his boss that he's completely fed up with the way Giovanni treats women. Yet when Leporello says he's had enough and threatens to quit, Giovanni manages to pretty easily bribe him back with four months' salary. In spite of his disapproval of Giovanni's lifestyle (and his abject terror about what kind of dangerous mess it's going to land them in next), would he aspire to his boss's brand of hubris and carelessness if he had the means?
Giovanni summarily dismisses Leporello's opinions, always forcing his hand. You'd think that any normal man would eventually have his recklessness tempered by the continued presence of a comparably sane sidekick. But Giovanni's ego seems impervious to Leporello's common sense.
If you had the opportunity to get inside your boss's head for a while, do you think you would gain any insight about what makes him tick? Would it give you any empathy for how easy it is to get pulled down the rabbit hole of money, power and sex?
If you were given a chance to walk in your employee's shoes, would you acquire a new perspective on what your exalted position (and, if the shoe fits, your wanton disregard for anyone who doesn't further your own agenda) looks like from afar? (I guess this exercise is more like Undercover Bosses than thought...)
To be continued. It'll be a revelatory journey. Come along.
Support HuffPost
The Stakes Have Never Been Higher
Related
Popular in the Community