The Wolf Trap Opera Company was one of the first young artist programs in the nation and has always ranked among the best. Founded in 1971, Wolf Trap Opera gives emerging singers both performing experience and mentoring to help them transition from college or conservatory training to their professional careers. And since this summer marks Wolf Trap's 40th year, fourteen of its star alumni from the company's four decades will return next week (August 24) to sing a benefit concert of "opera's greatest hits," honoring Wolf Trap's role in their success.
How valuable is Wolf Trap's program for young people who participate? The proof is in the numbers. Some 90 percent of recent WTOC alumni have become professional singers. Annually, about 50 alumni perform at the Metropolitan Opera, with hundreds of others singing at one-hundred-fifty regional and international companies. The vocal awards won by Wolf Trap alumni are too numerous to mention, and one alumna, soprano Dawn Upshaw ('85), was given a MacArthur genius grant.
Nobody works harder to foster Wolf Trap Opera's mission than Kim Pensinger Witman, who became its director in 1997 after holding several artistic positions with the company since 1985. On a recent morning as we meet in her office near The Barns, the intimate 382-seat house where Wolf Trap stages two operas each summer and holds two recitals, Witman says, "The talent pool gets bigger every year, and we're lucky that people want to be here at Wolf Trap. But over the last decade or two, the young artist phase of each singer's career has lengthened. Some of it has to do with the economy, and some of it has to do with the way this country engages singers. But the odds are against success. You have to be very dedicated and very driven."
The competition, as Witman explains, is fierce. In 2011, for example, 782 singers applied and 424 were offered auditions, held in eight cities, with Witman and her artistic staff. WTOC selected sixteen singers for this summer's Filene Young Artist Program, a paid residency from May until August, and what a gifted group they are. I had the pleasure of attending opening night of The Tales of Hoffmann on August 5, and three principals stood out, vocally and dramatically: mezzo Catherine McKay Martin as Niklausse, bass-baritone Craig Irvin who sang the four devils, and tenor Nathaniel Peake in the title role. Remember their names: you'll probably hear them at major companies soon -- and you may hear the other Filene Young Artists as well.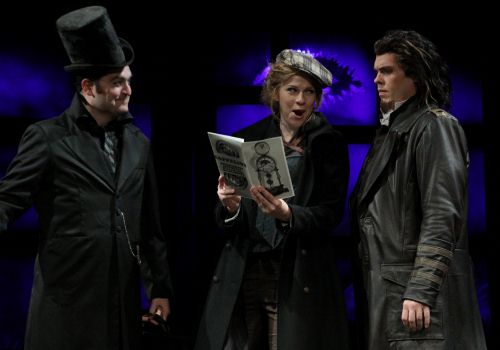 Craig Irvin (left), Catherine Martin, and Nathaniel Peake (right) brought vocal luster to WTOC's August The Tales of Hoffmann. Photo by Carol Pratt.
When I ask Witman what kind of feedback she gets from the people she nurtures each summer, she smiles. "They tell us, first of all, that within the trajectory of their career, this is the first time they are treated as a professional. They are given a certain amount of independence, autonomy, and respect, as in, 'You've been studying for a while, so this is your job. Do it. We're not going to coddle you or nag you; we're not going to check on you every step of the way. Instead, we're going to have high expectations and we're going to watch.' So they have to deliver. It's great in conservatory because singers are pushed along, and someone will help them if they need it. But what we try to do here is create a structure that gives them the most support, and we pick the repertoire that fits their gifts so we know they can succeed."
Perhaps the most unique aspect of Wolf Trap's approach, one that distinguishes this program from others, is that Witman and her staff don't choose each summer's operas until after they have selected each new group of young artists. The company has also introduced the Wolf Trap Studio Artist program which is open to college-age singers, so this year sixteen Studio Artists performed minor roles in WTOC's June production of Wolf-Ferrari's The Curious Women and Offenbach's The Tales of Hoffmann in August, both at The Barns, as well as Sondheim's Sweeney Todd, the company's one-night Operascape production which was held at the Filene Center on July 22.
"When you think about any other demanding career," Witman continues, "whether it's doctors, lawyers, or teachers, for instance, all professionals have a learning curve. There's always a splash point where someone says, 'Now you're on your own.' At Wolf Trap Opera we mimic the professional schedule: the number of weeks they have to rehearse and the number of times they're on stage. They show up, they memorize their roles the first day and get their blocking, and two-and-a-half weeks later, they go on."
Ultimately, these young artists gain a visceral knowledge of the field in which they plan to earn a living. And make no mistake: it's an art form but also an industry. "We put singers in roles that fit them," adds Witman, "and sometimes they prepare on their own a full-length featured role in the original language. For most people that's unusual. They've done small roles in the original language, but a lot of regional companies and conservatories are doing roles in English. Here they're also learning time-management skills... and they're also networking. It's not just that you're meeting people who will give you jobs later on, but you're making connections with your peers who will journey through the business with you, and they support one another which is a big deal. We are increasingly trying to help them develop their business skills. We do head shot and portfolio sessions; we give them website building advice and social networking seminars. You need to handle all this until you get a manager, and even after you have a manager, you have to understand all this to know if your manager is doing a good job. We're now realizing how much it will help them if they have some traction with the business side."
Wolf Trap Opera Company has been a summer fixture since the same year Wolf Trap National Park for the Performing Arts opened in Vienna, Virginia, on 130 acres of parkland donated by Catherine Filene Shouse. In its first decade, Wolf Trap Opera imported international stars to perform opposite such newcomers as baritone Robert Orth, who sang with Beverly Sills in La Traviata (1976) and Anna Moffo in The Taming of the Shrew (1979). Orth's three summers at Wolf Trap led to a successful and varied career, largely in new American operas. His suave, bright baritone will be on display at next week's concert, and this past April he lent his vocal elegance and superb comic timing to the world premiere of The Inspector, the second opera Wolf Trap has commissioned from composer John Musto and librettist Mark Campbell. (Their first Musto-Campbell commission was Volpone in 2004, and it's worth mentioning that the company's 2007 recording was nominated for a Grammy. Next summer, Soundmirror of Boston will release a live recording of The Inspector which ran at The Barns from April 27-May 1, prior to the start of the summer season.)
Wolf Trap Opera stopped hiring name singers in the '80s and began casting young artists in all the roles while staging full-length operas. My relationship with the company dates to 1988 when I watched rehearsals for Don Giovanni and heard Alan Held, a young bass-baritone who brought a rich sound and assured acting to the role of Giovanni's wily servant. When I attended the production at The Barns, I thought Held's performance stole the opera to the point that it could've been called Leporello. Today Held sings principal roles all over the globe, and along with appearing at Wolf Trap next week, he will return to Washington National Opera as Tosca's Scarpia next month. The two accomplished singers I've mentioned above -- Robert Orth and Alan Held -- will join twelve of their esteemed colleagues for the 40th anniversary concert at the 7,000-seat Filene Center. The other stars are Stephanie Blythe, Matt Boehler, Lawrence Brownlee, Tracy Dahl, Mary Dunleavy, Richard Paul Fink, Oren Gradus, Denyce Graves, Eric Owens, Nicholas Phan, Emily Pulley, Carl Tanner, and James Valenti. For information, visit www.wolftrap.org and click on August 24 in the calendar.
For additional information about the Wolf Trap Opera Company, visit www.wolftrapopera.org. There you'll find Kim Pensinger Witman's informative and witty blog about all-things-operatic.
Calling all HuffPost superfans!
Sign up for membership to become a founding member and help shape HuffPost's next chapter