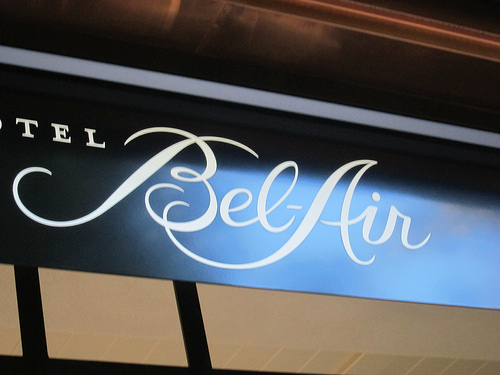 "It's about time, a decent dinner here," said the sophisticated-looking woman at the next table after my first dinner at Wolfgang Puck at Hotel Bel Air Restaurant (701 Stone Canyon Drive, Bel Air, 310-909-1644). As the whole world knows by now (or should), the pastoral, secluded Hotel Bel Air has reopened after a two-year $100 million renovation, overseen by the Sultan of Brunei's Dorchester Collection people. And some smart cookie there arranged for Chef/Entrepreneur Wolfgang Puck and his talented Fine Dining Group (with partners/chefs Lee Hefter and Sherry Yard supervising the kitchen along with Executive Chef Sonny Sweetman, while Food and Beverage Manager Nicola Dubort and Regional V.P. Tracey Spillane guide the front-of-the-house) to take over all of the food served at the hotel. Breakfast, lunch, dinner, room service. As my Huffington Post LA readers know, I have been following the preparation of the hotel's restaurant for the past few months, watching Wolf and Lee train their large staff to deliver meals with the famed high standards of the Puck empire. A little-known fact: Wolf's involvement with the Bel Air goes back to the early eighties, when he helped the then-chef create their famed Tortilla Soup, the best in the city.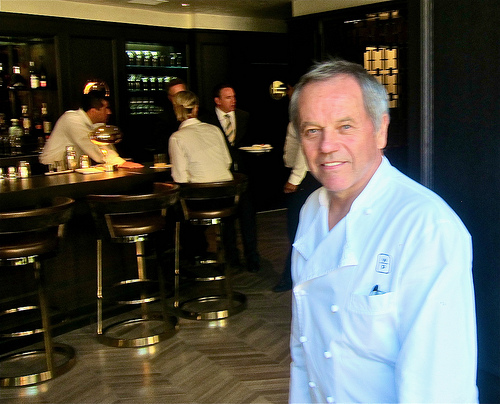 Wolfgang Puck at the hotel's Oak Bar
I had a few sampling tastes and then a full-scale dinner with my reviewing team of Penny McTaggart and David Rapoport on Wednesday, one day after they opened to the public. Puck's VP/Partner Tracey Spillane tells me that reservations are filling up quickly for the holiday season, but there is still space for evening or afternoon meals. (And breakfast will become the business place of choice, as it was before the hotel closed.) Luncheon regular Nancy Reagan was here on Wednesday and raved, while Adam Sandler already had a birthday party here, and I was sitting next to Larry King tonight.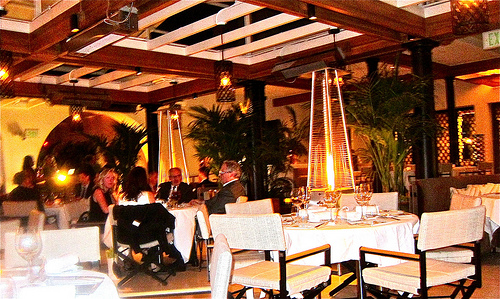 The patio dining room is the place to be.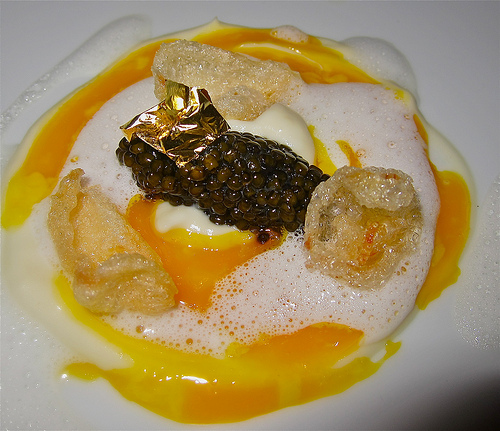 The caviar and poached egg dish is a sublime way to start your dinner.
As I wrote in my recent HuffPost article about the hotel opening, the Oak Bar was and is now again the most romantic spot in town. It has been subtly refurbished with wood-paneled walls, a grand piano and a central fireplace, but is still darkly sexy with a clubby vibe, and a spacious bar lounge has been added to accommodate more people. (Although I must admit that I don't understand the strange selection of art there.) But I suggest that you begin your dining adventure there at the incredible leather-woven bar, have a cocktail or two, perhaps in one of the three cozy garden alcoves, and then head into the exquisite dining room. Portuguese-born Alexandra Champalinaud (Caryle, Pierre in Manhattan) and the Rockwell Group (Nobu, Kodak Theatre) have designed all of the food and entertainment venues, and they have done a masterful job of keeping the 'Golden Age of Hollywood' feel of the 65-year-old hostelry while updating the actual look. The indoor dining room has several tables overlooking the roaring marble fireplace, with large retractable glass walls revealing the gardens and the terrace. The outdoor dining patio where I've eaten all my meals has been redone in the style of a Spanish courtyard to keep the intimate booths (with curtains for privacy if desired), a sassy bar, incredible seeded glass pendant lights (a popular material used in the 1700s for lanterns) and, oh yes, the floor which features heating elements to warm the feet and your heart. There is even a retractable screen covering the entire terrace for year-round comfort. They have thought of everything, these people. The private dining room for 14-120 guests is in a gorgeous glass wine cellar displaying 2400 bottles of wine. (No Justin and Laetitia yet, but I'm working on it. I brought a Justin Isoceles and Justification for sommelier Rob to sample. Laetitia's Selim Zilkha, who lives next door, was here opening night.) They can accommodate up to 350 guests for a private event.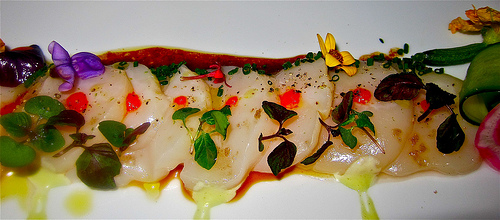 The Kampachi and Mushroom "Crudo"
In the end, with all of the glamour and glitz, it comes down to the food... and here the miracle continues, for it's absolutely sensational in the Wolfgang Puck tradition of modern California with European and Mediterranean influences. The great Lee Hefter and Exec Chef Sonny Sweetman told me later that their team was determined that the menu reflect the healthy lifestyle here while recognizing the sophisticated tastes of its guests. "We will be getting our produce from the legendary Chino Farm and local farmer's markets, while all of our poultry, meat and sustainable seafood will be natural and healthy, the best available anywhere in the world." I told Sonny that my lovely ex-wife was from Baltimore, and I actually dined at his Abarcrombie Restaurant there in 2004 when it was named the best restaurant in that city.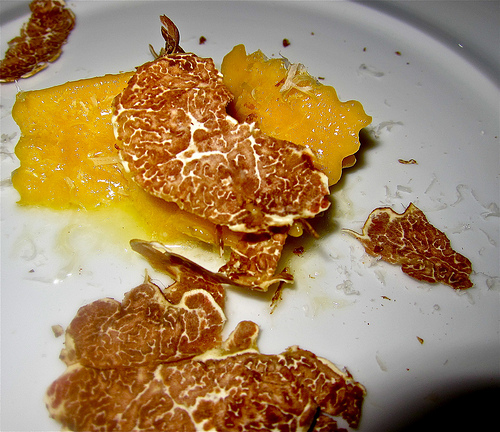 Ravioli is dressed with a plentiful shaving of white truffles from Italy.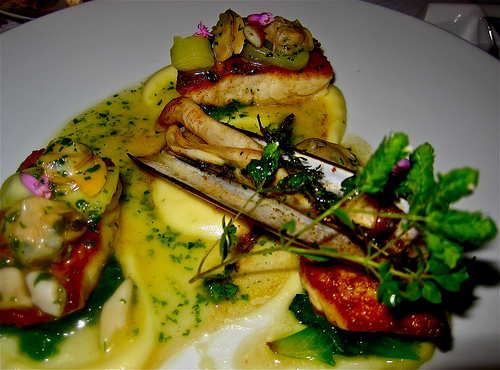 Wild striped bass is one of of the delicious seafood offerings
Unlike the huge menus of some new restaurants, which promise the sky and deliver little, this menu consists of nine appetizers and nine entrees, and I have managed thus far to eat my way through most of it. Needless to say, each dish reflects the intense drive for perfection which characterizes all of Wolf's and Lee's endeavors. Not a loser on the list, and some incredible winners which will have you gasping for words to express your enthusiasm. Yes, it is somewhat pricey, but if ever your money was well spent, it is here in search of utter culinary bliss. Splurge at the start and order the Russian Osetra Caviar ($65), a 90-minute poached egg (sous vide?), with cauliflower puree and crispy beef tendons. You will spoon up the caviar egg and your eyes will widen in surprise, believe me. Kampachi & Matsutake Mushroom "Crudo" ($23), raw fish morsels with Ruby Red grapefruit, all drizzled with Ligurian olive oil. I passed on the Roasted Kohlrabi-Turnip Soup ($14) in favor of the Blue Fin "Toro" Tuna Tartar ($26), the most fatty, luscious part of the tuna belly, with cucumber and salmon pearls. One of my favorites is the Maine Diver Scallop "Carpaccio" ($22), the shellfish tender amid yuzu citrus and smoked sea salt. Another indulgence worth having is the House Made Ravioli ($60). Yes, you've read that the price of white truffles has doubled of late because of European weather, but Wolf has never not had a heavy hand when shaving Italian white truffles, thus explaining the indulgence. Hand-Cut Steak Tartare ($25), drizzled with Tuscan olive oil and an amazing egg yolk 'jam.' Penny raved about her Comice Pear "Autumn Salad," with persimmons, pomegranates and walnut praline powder. I love beets, but passed on the Baby Beets & Roasted Celery Root ($16) while eagerly awaiting the mains.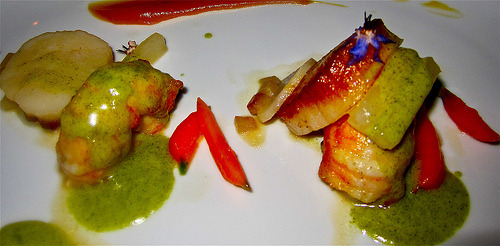 Scallops & Langoustines is one of my favorite dishes here.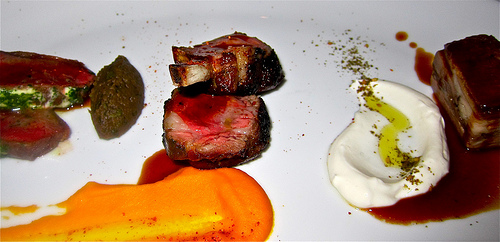 The lamb comes with three different cuts, and is wonderful.
Fish has always been a Puck strong suit, and here it reaches the pinnacle of perfection. The Wild Striped Bass ($33) is line-caught, with Littleneck and Razor clams and a smoked potato puree. The Dover Sole ($56) probably was landed from Britain just hours before, and the French Sea Bass or "Loup De Mer" ($35) is dressed with mussels, fennel, and Spanish chorizo. My personal favorite seafood dish was the Scallops & Langoustines ($36), with seaweed emulsion and orange-kohlrabi puree. You forget how tender a scallop can be until you taste these. Wolf has pioneered the use of organic Jidori chickens, and here ($33) it is served with Chanterelle mushrooms, brussels sprouts, celery root and chestnut puree, Medjool dates and thyme. David and I are lamb fans, so the Campbell Ranch Sonoma Lamb $46) was eagerly awaited and consumed. A loin, rack and belly, with smoked eggplant and Harissa spices. Sensational. I know that Cut's Ari Rosenson was working in the kitchen this night, so the Creekstone Farms Prime Sirloin Steak ($55) and the Snake River Farms Wagyu Sirloin ($85) were the equivalent of the earthy, delicious beef served at that prime steak house. My favorite dish last evening was the Natural Raised Veal Sirloin & Sweetbreads ($48), with its lardo di Colonata, black garlic, and rutabaga puree. I happen to love the taste of sautéed creamy sweetbreads, and these complimented the juicy veal to perfection. The Chef's Degustation (Tasting) Menu is Four or Six Courses, $110 or $145, and if you trust the sommelier to pair it with wine (I do!), it's $185 and $235, a fair price for a memorable dinner. The wine list is deep with interesting boutique varieties, and the cocktails are perfectly mixed and cover a gamut of tastes. A word abut desserts... Partner Sherry Yard was in the kitchen, bringing her 'berries' from today's farmer's market to the pastry chefs to use in fruit desserts, and my buddy, Pastry Chef Sally Camacho, has moved here from WP 24 to work her magic with some luscious desserts. I was pleased to see that the coffee service here has picked up some of my insistence on using French press and rich roasted coffee. (Next step is to match different coffee blends to various desserts at the table.)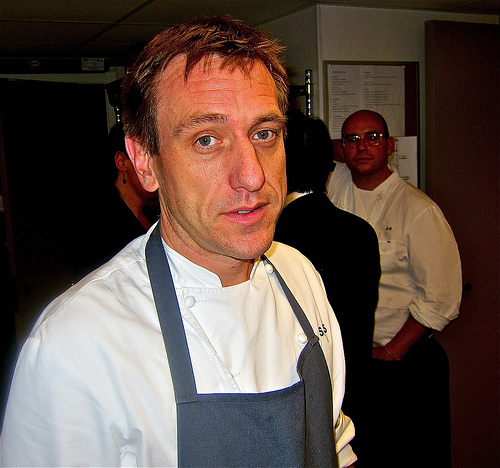 Executive Chef Sonny Sweetman is a Baltimore native.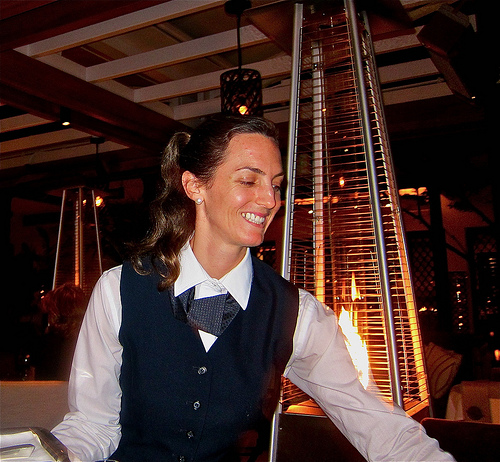 Our server Susan is typical of the charming, well-trained staff at all Puck restaurants.
I asked to see the Bar Menu and was pleasantly surprised to see its depth and uniqueness, with a Mesquite-grilled prime Black Angus burger ($26) with Vermont cheddar and fries certain to be a huge favorite. I'm going to do a separate article on this bar menu and the breakfast menu because Wolf has come up with some exciting surprises on both which warrant further discussion. Dinner is served Monday to Thursday from 5:30 pm to 10 pm, to 10:30 pm on Friday and Saturday. Breakfast is from 7 am to 11 am, and lunch from 11 am to 2 pm. There's an afternoon tea from 2:30 pm to 4 pm, and Sunday brunch (yes!) is from 11 am to 3 pm.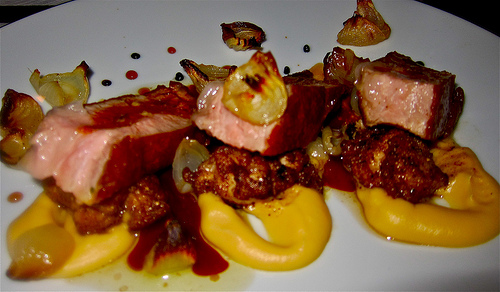 Another sensational dish is the Veal Sirloin with Sweetbreads.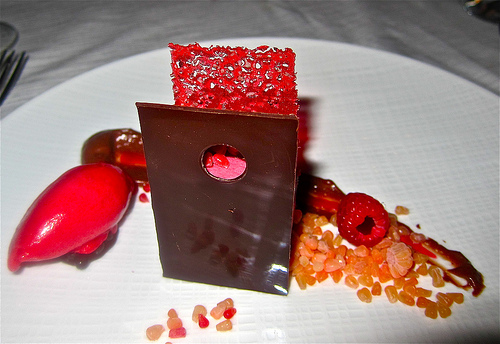 The desserts from Sherry Yard and Sally Camacho are on a par with the rest of the magnficent dishes.
Remember the ending of the movie Casablanca, when Claude Raines says to Humphrey Bogart, "In the end, everyone comes to Rick's"? I'll end this love letter to Wolfgang Puck and his people with the same thought: In the end, everyone will come to "Wolfgang Puck at the Hotel Bel Air"! I know that this will be my new haunt for years to come, and invite you to join me there. It's absolutely terrific.
To subscribe to Jay Weston's Restaurant Newsletter ($70 for twelve monthly issues), email him at jayweston

Calling all HuffPost superfans!
Sign up for membership to become a founding member and help shape HuffPost's next chapter