 Earlier this month, Wolfgang Puck, perhaps California's most famous chef, wrote a letter urging fellow restauranteurs to embrace the impending ban on foie gras.In 2004, S.B. 1520 was signed into effect, giving California eight whole years to figure out a more humane alternative to current methods. However, in all that time, nobody could come up with a way to make industrialized force feeding gentle, and so now the dish will officially be banned this July 2012.
There's been some backlash, as restauranteurs don't like being told what they can and cannot serve. It appears Puck's letter is meant to help them let go of the anger and embrace a more compassionate future. We got our hot little hands on a copy of it, and, of course, we had to share it with you.
In the letter, dated February 10, 2012, Puck writes, "As a chef, a businessman, and someone who cares about the humane treatment of animals, I'm writing to let you know why I support this particular law, and why I hope you'll give it your full support, as well."
And here in California, our own customers understand the need for all animals, including those raised for food, to be treated humanely. California voters overwhelmingly approved Proposition 2 in 2008, with nearly two-thirds of voters supporting an end to extreme confinement of farm animals. We chefs have the ability to create delicious and original dishes our customers will love without causing torment to animals.
Of course, Puck still serves all other kinds of animals on his menus. He's included in a wave of restauranteurs who participate in "Meatless Monday" and is clearly thoughtful about where his food comes from, which is distinctly California. And, more specifically, San Francisco. After all, we already have an delicious animal-friendly foie gras on the market. Perhaps Puck will soon be serving that?
The letter in its entirety, for those who enjoy reading: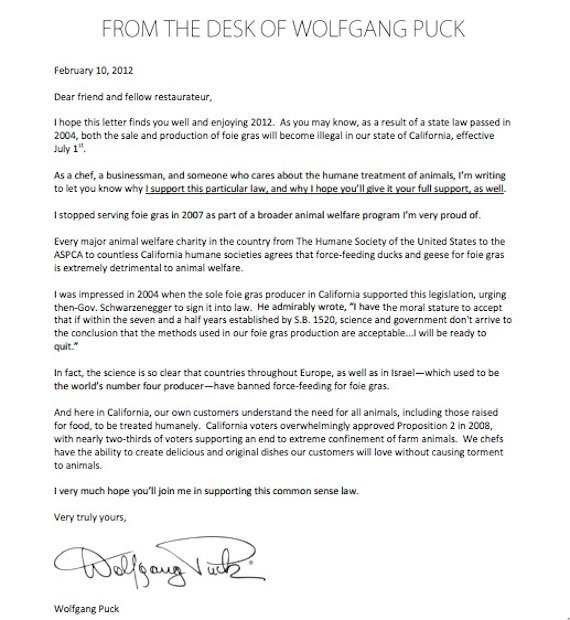 Popular in the Community