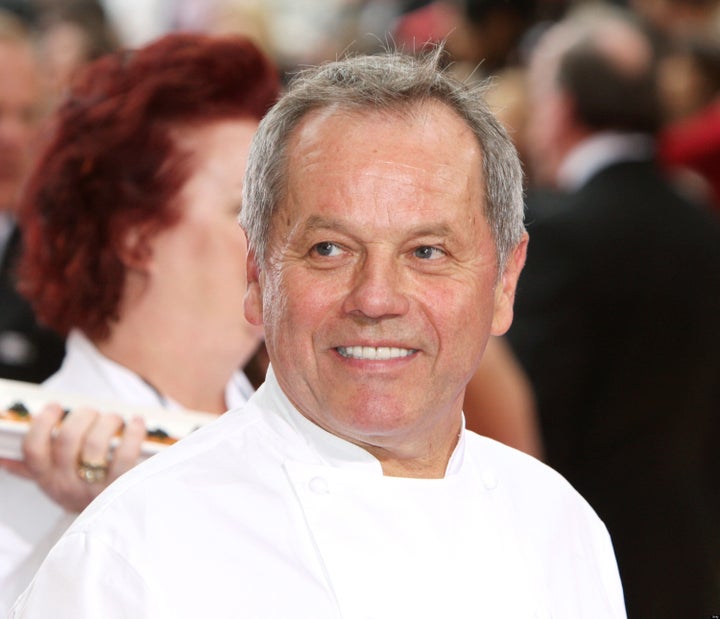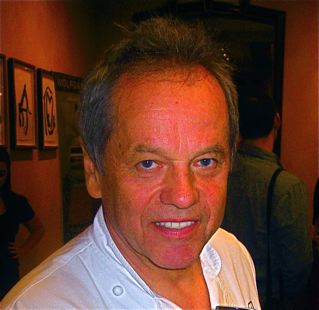 WP 24 - Wolfgang's Windows on the World West!
I have traveled the world for 60 years looking for the perfect Chinese meal. To Beijing for Peking Duck, Shanghai for Hairy Crab, Hong Kong for dimpled Dim Sum. I've been to Taipei and Tokyo for their Noodle Shops and Hainan for its Chicken Rice. I went to the opening by an American chef of an exotic Chinese restaurant atop Hong Kong's Victoria Peak (awful), and had sublime Stinky Tofu at the Elite Restaurant in Monterey Park. I have wandered up and down our San Gabriel Valley following Jonathan Gold's and Linda Burum's recommendations. I ordered Chicken's Feet Soup for Alan Arkin and Carol Burnett at the Ocean Restaurant in San Francisco while we were filming Chu Chu & The Philly Flash there. (They got up and walked out when it was served). In Los Angeles, I adore my secret favorite, Hop Woo in West L.A., and even enjoy the healthy Chinese-American offerings of Vicki Mense's Xi-An in Beverly Hills, along with celebrity-spotting and spinning noodles at the elegant and expensive Mr. Chow's.
But last night, I finally found that perfect Chinese meal! Of all places, at Wolfgang Puck and Lee Hefter's stunning new Asian restaurant, WP 24, downtown on the 24th floor of the new Ritz-Carlton Hotel & Residences at the LA Live Complex created by the deep-pocketed AEG. Who woulda' thunk it?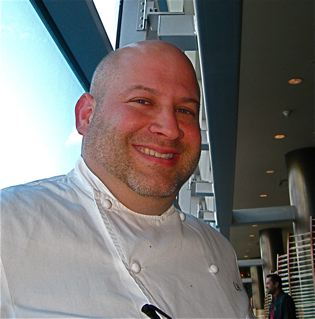 The hotel is a luxury adjunct with 123 rooms/residences beside the much-larger JW Marriott next door. It's an easy reach by driving down Olympic Blvd. through Koreatown; you'll spot the tower with the Ritz-Carlton name in the distance and make a right turn into the street at 900 W. Olympic, to valet your car at the hotel entrance. The gracious doormen and desk people are a precursor of the smiling service you'll find throughout this venue. Take the elevator to the 24th floor and enter the spacious bar with picture windows overlooking the city....Los Angeles sure looks good from this height. A smart cocktail crowd has already discovered this hideaway lounge with delicious snacks from the Chinese kitchen and the sushi chef. My companions, the ever-ready Penny McTaggart and David Rapoport, joined me for a round of exotic cocktails. I told the charming floor manager, Allison Williams, I was ordering a Hemingway cocktail ($14) in honor of the many years I have spent trying to film the writer's life story (and boastfully dug out of my wallet a photo of Mary Hemingway and yours truly with Fidel Castro while in Cuba on a scouting mission for the film.) At that moment the ebullient Mr. Puck strolled into the bar and greeted us, explaining he had to go to a birthday party for a Russian billionaire who always brought him a tin of caviar at Spago. But we were in the good and able hands of Lee Hefter, who for 17 years has been the Executive Chef of Wolf's fine dining group.... and who knows more about the intricacies of Chinese cuisine than any gaijin in the Western world. At that moment Allison told us the wonders of WP 24 awaited us...and escorted us into the dining room at the end of the corridor. We were absolutely awestruck at the view unfolded before us....floor-to-ceiling windows in a darkly elegant dining room with spacious tables set with the finest linen and silver. The room was pleasantly full, occupied by several attractive couples and one table of businessmen. Old friend Alex Resnik, a partner and director of regional operations for Puck, said Lee and Chef de Cuisine David McIntyre (a ten-year Spago veteran) were orchestrating our menu tonight. Later I learned that there are Chinese, Koreans, Filipinos and Americans all working together in the kitchen.
And then the fun and games began. Streams of tiny dishes of dumplings, egg rolls, buns and pork belly. I put a small Steamed Baby Bao Bun ($18) into my mouth and said to Penny, "It's foie gras!" Actually, it was a small disc of sauteed duck liver with a dab of sweet bean paste and sour Ume plum. Fortunately it melted in my mouth just as the Spring Rolls ($14) appeared, crisp ovals of Maine lobster, Gulf shrimp, sweet chili and garlic sauce. David motioned to a dish of Chili "Dan Dan" Dumplings ($13) and said they were incredible: organic chicken dumplings with a chili garlic sauce and crushed peanuts. A bowl of "Not Too Classic" Hot and Sour Soup ($13) was quickly inhaled: King Crab, roasted sweet corn, Thai basil, cilantro, sweet prawn wontons. Now it was time for the main courses. Will wonders never cease?
The waiter brought out a large Maine lobster adorned with a name tag: 'Jay's Angry Lobster.' Soon it would be in Jay's ample stomach. The two-pound crustacean ($48) was quickly wok-fried with spicy Szechuan chilies, fried garlic, Calamansi lime, and black bean dust! Served upright, it was but the first highlight of this incredible dinner. Bowls of Fried Rice appeared ($12), rice with lop sheung sausage, BBQ pork belly, scallions. Later we would be treated with another fried rice variation, so delicious I asked if I could take the rest home for lunch the next day with my left-over duck. It was XO Rice ($18), chunks of Maine lobster and bits of fried shallots. (XO dishes don't contain XO brandy, by the way, although lots of fine brandy is consumed at Chinese tables in Hong Kong and elsewhere.) Alex emerged from the confines of the kitchen with a platter of Steamed Live Santa Barbara Spot Prawns ($38), which actually had been live before they were steamed in an aromatic citrus-soy sauce, with hot chili-orange oil, served with a small pile of fresh vegetables. We eagerly peeled the shells off and consumed the crunchy-fresh shellfish with relish.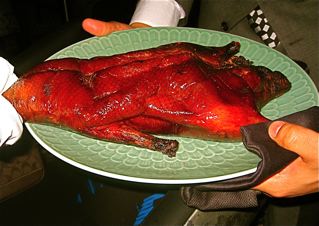 I have eaten duck all of my life all over the world. From Mallards in the north woods of Canada to Duck à l'orange in a three-star Paris restaurant, Peking Duck at the famed Beijing restaurant of that name, to duck confit at Spago...and the Whole Roasted Duckling 'Peking Style' here is as good as it gets. I don't know if they traditionally pumped in air with a bicycle pump and slathered it with hot oil from time to time, but it came out of the kitchen bronzed and burnished and utterly delicious. You know how, in Chinese restaurants, the chef grandly comes out of the kitchen with his mighty cleaver and deftly slices off pieces of skin and meat, then plates them for you to insert into a bun? Here, the captain deftly slices the bird into pieces, cracks the leg bones to extract more meat, and gives each diner a portion. On the table are the requisite hoi sin sauce and scallions, along with the most delicate soft buns. Swab a little sauce in, add the scallions, skin and meat, and enjoy one of the most delectable tastes on earth. (Incidentally, if they take the carcass back to the kitchen, as inevitably every restaurant does, speak up and ask to take it home...as I did. Had a very happy cat that night and a happier owner the next day.)
An unexpected treat came with the duck. A large bowl of Shanghai Noodles ($14). These are fresh egg noodles thicker than any Italian fettucini, cooked until tender and piled into a bowl containing slow-cooked oxtail meat, fresh chilies and pungent Thai basil leaves. Oh, my, this was a definite highlight of the evening as we all scarfed them up.
We were fast approaching the bursting point, but Lee walked by the table and slyly smiled as he whispered: "Don't think you are done by long shot." At which point out came several dishes comprising the Beef element of the meal. Szechuan-style Prime Filet of Beef 'Au Poivre' ($42), the Chinese equivalent of Pepper Steak. The beef had been dressed with a smoked chili-shallot reduction, some unknown aromatics, and something called 'La You' hot oil. An extraordinary dish, made even more welcome with the accompanying Hunan Spicy Eggplant ($12), the meltingly soft vegetable made with roasted Shishito peppers, chili and crispy garlic. (As good as that at my Hop Woo, which is saying a lot.) When the captain said that there was one more dish on its way, I eased up and told David to take the peppered beef home for him and Penny to enjoy tomorrow. Lee Hefter knows of my addiction to all forms of offal, the parts of the animal which usually make my dates blanch. So he was saving this treat for the end...a Hot Pot of Slow-Cooked Kobe Beef Cheeks & Veal Tongue ($38). I tried to wheedle the sauce ingredients out of the two chefs, but all I could get was star anise, young greens, eggplant and wild mushrooms. An amazing dish to conclude the main part of a memorable meal.
I must mention that we have merely skimmed the surface of this menu...and you know I will be back for the rest of it. There is a whole Loup de Mere ($46) from France, baked in a fragrant salt crust and served with Zhen Jiang black vinegar, ginger, shallots, scallions and Mala oil. Also to be looked forward to are Black Cod coated with ginseng honey and soy ($36), Indian-spiced Assam Prawns ($34), Grilled Lamb Chops ($44) and a Lacquered Carpenter Ranch Squab ($36).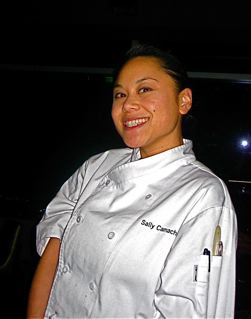 But will wonders never cease? Not in the case of Wolf and Lee, aided and abetted by their long-time pastry chef, Sherry Yard. She had indicated to me some weeks ago that we would have a pleasant surprise when we dined at the new restaurant, for they had discovered an extraordinary young pastry chef named Sally Camacho. Oh, yes, they had! Chinese meals usually end with a bowl of ice cream or some fresh fruit. Not here, not now, not with this crew. An assortment of the most astonishing desserts made their way to our table, and though we were fully surfeited by then, once we spied the beautiful pastries we reached down into our inner beings and gave ourselves over to them. Marjolasian, layers of dark chocolate, white espresso mousse, cashew nougatine, milk chocolate glace...for a starter. Then came Calamansi Vacheron, made with Szechuan peppercorn meringue, calamansi cream, macadamia, and star anise crumble. A Roasted Almond Panna Cotta...something called Flavors of Thai Oveltine, and finally a Tamarind Ginger Cake. (All desserts are $14). Yes, Sally is a absolute winner. Wolf's brother, Klaus, matched the wines to each dish, primarily Austrian and German whites to handle the spiciness of the Asian food.
In my world, the love of Chinese food is universal. And it would be arrogant of me to say that this was the best Chinese restaurant in the city, for many of them here specialize in various regional dishes and do them well. But for an overall dining experience, combining the three elements which I look for in any restaurant, ambiance, service and food...WP 24 comes as close to perfection as anything I have encountered in many,many years. How fortunate we are to have the 60-year old Puck constantly reinventing himself for our benefit. Imagine, my perfect Chinese dinner comes from an Austrian chef!

WP 24 is open for dinner every day except Sunday; breakfast in a month.
To subscribe to Jay Weston's Restaurant Newsletter, email him at jayweston@sbcglobal.net.
Support HuffPost
The Stakes Have Never Been Higher
Related
Popular in the Community