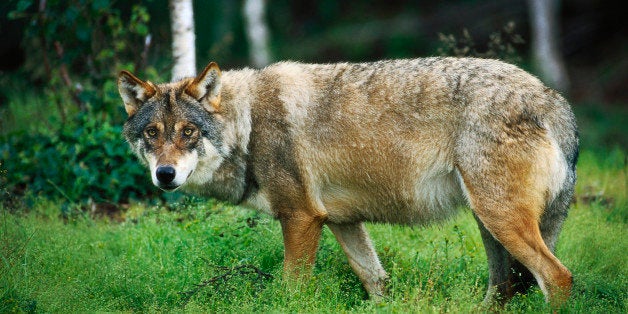 Despite several threatening bills and riders from the likes of U.S. Rep, Cynthia Lummis, (R-Wyo.) and other anti-wildlife members of Congress, I'm elated that gray wolves in Wyoming, the Great Lakes region and across the lower 48 States have retained much needed protection under the Endangered Species Act.
This is in no small part thanks to the hundreds of thousands of members of the public who called their congressional representatives and the White House to let them know they wanted wolf protections to stay in place and thus a victory for both wolves and democracy. It is also due to wolf champions in Congress like Rep. Raul Grijalva, (D-Ariz.), Sen. Barbara Boxer, (D-Calif.), Sen. Barbara Mikulski, (D-MD) and Rep. Nita Lowey, (D-N.Y.).
Too often, year-end political games in Congress routinely transform our federal budgeting process into a corporate wish-list where everything from endangered species to perks for the oil and gas industry are traded like so many plastic poker chips.
The most egregious example of this dangerous game this year is Congress' disturbing decision to use a budget rider to lift the ban on export of U.S. oil, demonstrating that it's not just the Endangered Species Act and the species it protects that conservatives are taking aim at. Not only should we not export this oil to other countries where it will worsen the climate crisis, we should leave it in the ground.
This Congress saw more attacks on endangered species, public lands and protections for our air, water and climate than ever before. Correspondingly, campaign contributions from the oil and gas and other polluting industries have flooded the halls of Congress. As but one example of what these industries have been getting for their money, a report we release this year documented a 600-percent increase in Republican-led legislative attacks on endangered species like the greater sage grouse, American burying beetle and others since the Supreme Court's landmark Citizens United ruling.
Federal protections for wolves are safe for now, but the fight continues. The government has appealed court decisions restoring protections in Wyoming and the Great Lakes and the U.S. Fish and Wildlife Service's proposal to remove protections across much of the rest of the country remains in play.
And at the state level, Oregon wildlife regulators just last month removed state endangered species protections for wolves even though the state is home to only about 80 wolves that live in little over 10 percent of the suitable habitat that's available.
This past year California saw the establishment of the first wolf pack in nearly 100 years, but wildlife regulators released a state management plan that called for the possibility of dropping state protections for wolves when the population reaches as few as 50 to 75 wolves.
So while all who love wildlife should celebrate the stay of execution awarded to hundreds of Great Lakes and Wyoming wolves, there's no time to rest.
There's much work left to be done, both to protect our most imperiled wildlife and to wrest our government back from the pay-to-play special interest groups - from the livestock industry to the oil and gas polluters -- who are doing everything in their power to push science and the will of the majority of Americans from the halls of Congress.
Related
Popular in the Community