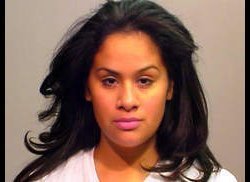 Ruth Ramirez, a 26-year-old Chicago woman, was arrested Tuesday for allegedly smashing a glass into another woman's face at a bar fight in the Gold Coast.
She apparently didn't make it too hard for detectives to crack the case, bragging about the attack on Facebook the next day.
The Chicago Sun-Times reports that Ramirez and another 29-year-old woman were allegedly exchanging words at The Leg Room on April 22 when things got heated. Ramirez raised her hands to the woman, who slapped them away. Ramirez then allegedly returned with a glass, which she slammed into the woman's head. The victim required 32 stitches on her face, according to CBS 2.
The next day, though, a friend of the victim's saw a Facebook post bragging about an incident that seemed similar to the one that injured the victim, the Chicago Tribune reports. When the recovering woman was shown the post, she identified its author, Ramirez, as the woman who attacked her.
Ramirez, a mother of one, is charged with aggravated battery, and her bail was set at $100,000 on Wednesday.
Related
Popular in the Community