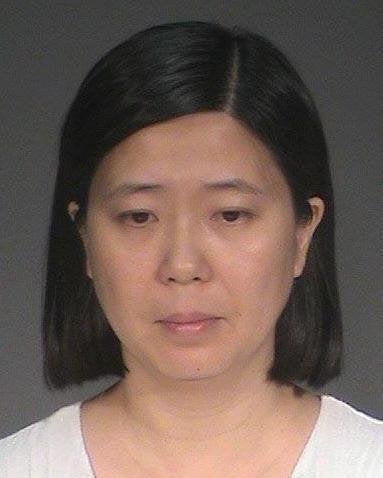 A Chinese woman's American dream turned into a nightmare, authorities say, when she was enslaved by a Minnesota woman who starved and beat her while forcing her to work 18-hour days with little pay.
The 58-year-old woman's horror story came to an end Wednesday, according to Washington County prosecutors, when she escaped the Woodbury, St. Paul-area home with two black eyes and numerous broken bones.
Lili Huang, 35, who the woman claims employed her as a nanny, was arrested a day later on five felony counts related to human labor trafficking, according to the prosecutor's office.
In a statement sent to The Huffington Post Tuesday, Huang's attorney, Daniel S. Le, said his client has denied abusing the woman and identified her as a former family friend.
Le further vowed that Huang "will be vindicated through our system of justice."
"Human labor trafficking is a crime that no one can believe exists in their community. However, it is here, it is being committed by some of our citizens, and it amounts to nothing less than slavery in the 21st century."
"We are determined, as part of this office's Major Prosecution unit, to attack this issue just as we have attacked sex trafficking of juveniles," he added in a statement.
The nanny flew over to live with Huang and her family in March with the expectation of receiving $890 a month in pay along with room and board.
Police say the woman appears not to have received any of the money but was instead savagely beaten and treated like an animal while forced to cook, clean and care for Huang's children.
When the nanny asked to return home to China, Huang allegedly took away her passport and told her "she was 'not going anywhere,'" prosecutors stated in a release.
After a series of violent attacks – including one in which she allegedly was forced to crawl on the ground like a dog ― the woman managed to flee the home after Huang allegedly threatened to stab her to death with a knife after the nanny accidentally spilled food.
A later medical examination revealed that she had suffered broken ribs and a broken sternum and was underweight. The woman said she was given rationed crackers and scraps for meals.
During a search of Huang's home, police confirmed finding the nanny's passport in Huang's purse. They also found a bag of hair beneath a mattress in the home which the nanny said Huang had ripped out of her head.
In a statement Monday, Woodbury authorities thanked the public for their show of support to the nanny.
"Both state and county victim advocates have been coordinating the resources needed for immediate care and continued support," their Facebook post read.
Woodbury Police Public Information Officer Michelle Okada told HuffPost that details on the woman's current conditions are not being released but that she is "by no means in critical condition."
"We do, as an agency, feel comfortable that she is being helped to get back on her feet," she said.
Okada noted that both Huang and the alleged victim in this case came to the U.S. legally.
Huang was jailed on $350,000 bail that has conditions including her wearing an ankle monitor and surrendering her passport.
Her charges include labor trafficking, false imprisonment, second- and third-degree assault and unlawfully taking another person's passport.
Related
Popular in the Community