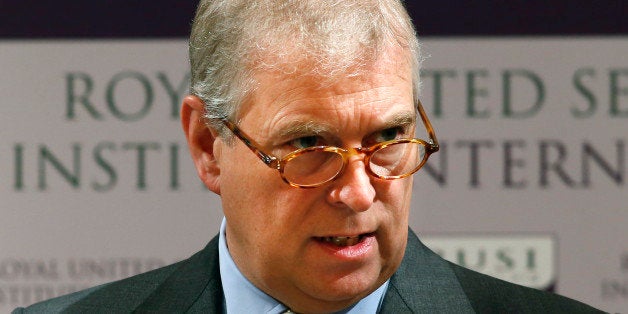 TAMPA, Fla., Jan 2 (Reuters) - Buckingham Palace on Friday denied allegations by a woman who said in Florida court documents that she was forced as a minor to have sex with Britain's Prince Andrew and other high-profile figures linked to a wealthy U.S. businessman.
The woman, referred to as "Jane Doe #3" in legal papers filed this week in the U.S. Southern District of Florida, said financier Jeffrey Epstein made her have sex with the Duke of York in London, New York and on a private Caribbean island, as part of "an orgy with numerous other under-aged girls," according to the filings.
"Epstein instructed Jane Doe #3 that she was to give the Prince whatever he demanded and required Jane Doe #3 to report back to him on the details of the sexual abuse," the documents said.
Her accusations came as part of an ongoing civil case brought against the U.S. government by several women who say they were abused by Epstein, who served jail time on state child sex charges but was not prosecuted in federal court as part of a plea agreement.
The accuser is seeking to join litigation dating back to 2008, in which several women who say they were victimized by Epstein claim that federal prosecutors violated their rights as crime victims.
Prince Andrew has not been named as a direct party in the lawsuit.
"However, for the avoidance of doubt, any suggestion of impropriety with underage minors is categorically untrue," said Buckingham Palace spokeswoman Meryl Walter.
The unnamed accuser said Epstein kept her as his "sex slave" between 1999 and 2002.
She also said she had sex on private airplanes and in multiple locations in the United States with Alan Dershowitz, a professor emeritus at Harvard University and prominent American attorney who had represented Epstein.
Dershowitz called the woman's claims "completely false."
"The story is completely and totally made up," said Dershowitz, adding that he planned to file a complaint seeking to have her lawyers disbarred. "I will not rest until the truth comes out."
A Florida-based attorney representing the woman did not immediately respond to a request for comment.
Epstein is no longer jailed and listed St. Thomas in the U.S. Virgin Islands as his permanent residence in 2013, his most recent Florida sex offender filing.
The scandal has long dogged Andrew, 54, the divorced second son of Queen Elizabeth. He publicly acknowledged he made a mistake after a photograph of him with Epstein in New York was published in a British tabloid in December 2010. The former investment banker was then a registered sex offender.
Between 2001 and 2011, Andrew traveled the world as the United Kingdom's Special Representative for International Trade and Investment. He has not commented on newspaper reports that the association with Epstein prompted him to step down. (Additional reporting by Stephen Addison in London Editing by Colleen Jenkins, Bernard Orr)

Related
Popular in the Community