This woman truly knows how to candy crush the competition.
A clip from a Chinese game show called "I'm the Winner" in which a woman completely destroys her competition in a cotton candy-eating competition recently went viral — and after one viewing, you'll totally understand why.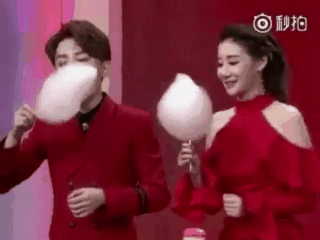 People absolutely adored it.
According to a HuffPost translation of the video, which was originally posted on the Chinese social media network Weibo, a host on the show can be heard asking her male opponent to "take a look to his left" as the woman stands finished way ahead of him, her mouth filled with candy.
"No matter what game it is, want to beat me? Not going to happen," the woman wrote in the status of her post.
She also shared another clip of a game show where she was challenged by the hosts to transport cream from one bowl to another using only her face.
In the status of this video, she wrote:
This scene [of me with cream of my face] reminds me of myself many years ago — so honest yet embarrassing. Now I eat up cotton candy in three seconds gracefully. I only want to say to my mom, look how much your daughter has grown!
She told the outlet that her male opponent was talking smack before the competition and she knew she had to win.
"My urge to beat my competitor was too strong," she said.
Support HuffPost
The Stakes Have Never Been Higher
Related
Popular in the Community