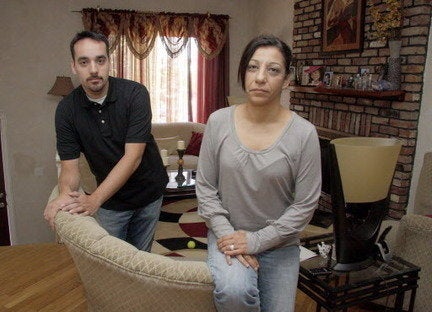 As part of the Huffington Post's efforts to bear witness to the effects of the current economic environment on ordinary Americans, we're rounding up some of the most compelling stories reported by local news organizations around the country.
Darleen Burbridge, a widow in Staten Island, New York, blames her husband's fatal heart attack on stress from dealing with a bad mortgage, reports Karen O'Shea of Staten Island's SI Live. Her late husband, John, died after months of struggling to change their mortgage plan once Darleen was laid off.
The two struggled to keep up with their payments, even borrowing money from their son, who also lost his job this year. In May they missed their first mortgage payment. In June John had a heart attack as he was getting ready for work. Darleen blamed the stress and anxiety caused by Bank of America's unresponsiveness to their repeated efforts to get a loan modification.. "I hold you responsible for killing my husband," she told them. She is still fighting to hold onto her house.
Burbridge now owes more than the home is worth, but has since acquired the assistance of state Sen. Andrew Lanza (R-Staten Island), whose office has seen an uptick in calls for help. The bank maintains that it is continuing to work with Burbridge to finance her home.
Kassy Fatooh and her husband had a good life. Then, reports Chris
Colin of SF Gate, everything fell apart. First her husband lost his job. Then the two divorced. Then Fatooh and her two children got sick with mono, which turned into Chronic Fatigue Syndrome for her and her teenage son. This turned into fibromyalgia, a condition that causes pain and extreme reactions to physical pressure. The medical bills piled up, Fatooh became too ill to continue going to work and, before long, the bank foreclosed on her house.
Now she and the children are living in a friend's mother's house. Fatooh, who lives in the county with the highest per-capita income in the nation, has been considering moving into a campground after being placed on a three-year-long waiting list for the county housing authority's affordable housing units. Too many people are in her position, she said, and the lines for assistance are too long.
"I hear the recession is over," she said, "but I don't see that."
Kenneth and Diane "Dee" Hetrick, of North Canton, Ohio, were already struggling under thousands of dollars of medical bills from Kenneth's muscular dystrophy. Then he lost his job and the bottom fell out. They filed for bankruptcy in 2005, reports Robert Want of the GateHouse
News Service, but were still lost and confused about how Kenneth could continue to receive treatment. A counselor at a local medical center suggested a solution: get divorced. If Kenneth Hetrick were single he would be eligible to qualify for Medicaid. So, knowing that it would help Kenneth with the medical support he desperately needed, they did. Not because they didn't love each other, but so that he could continue to get treatment. (It's not rare a suggestion as
it should be.)
"It was awful standing up there in divorce court saying I didn't want
to be married to the love of my life," Dee Hetrick later wrote in an
e-mail. "He has to sign a waiver at the hospital just so they can talk
to me after his surgeries, because I'm not his wife!"
The strain of their debt turned into real relationship trouble, and earlier this year Kenneth moved out. What started as an administrative divorce to get him the medical care he needed turned into a real problem for a couple that just wanted to stay healthy. "I hope that the [health care] problem gets solved, so other people don't have to live through what I've suffered through," he said. "It don't have to be this way."
A couple near Martinsville, Ohio, are suing Bank of America for threatening to foreclose on their home. Gary Huffenberge of the Wilmington News Journal
reports that Michael and Tamara Florea have been paying their loan as agreed upon under a mortgage modification made in January with Countrywide Home Loans. Later that month Countrywide was acquired by the Bank of America, which allegedly ignored the modification.
According to the Floreas' lawyers, Mrs. Florea made several calls to
Bank of America and each person said the Floreas' loan modification
was still being processed. In late July, Mrs. Florea was told by phone
that the Bank of America would initiate foreclosure proceedings if she
and her husband did not pay the past due balance and resume monthly
payments of $924.
The case is still underway, but on Tuesday the Floreas had a minor victory when a court barred the bank for filing foreclosure while the case is pending.
HuffPost readers: Seen a good local story? Heard about a heroic judge, neighbor, or doctor helping people stay in their homes? Tell us about it! Email jmhattem@gmail.com.
Related
Popular in the Community